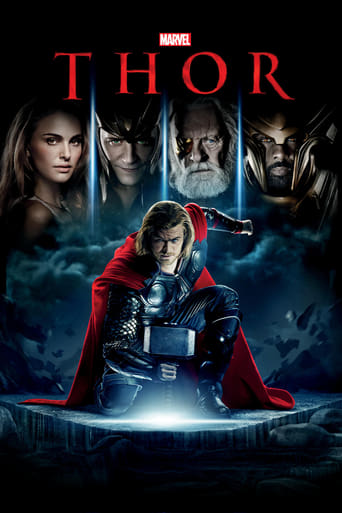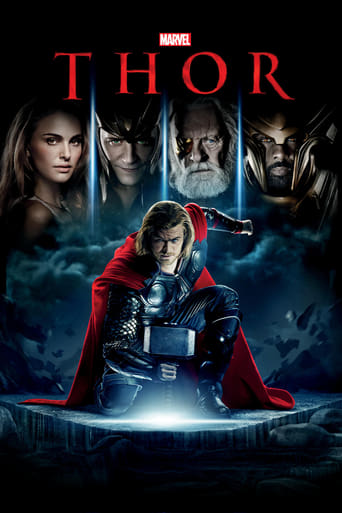 Thor
April. 21,2011 PG-13
AD:This title is currently not available on Prime Video
Against his father Odin's will, The Mighty Thor - a powerful but arrogant warrior god - recklessly reignites an ancient war. Thor is cast down to Earth and forced to live among humans as punishment. Once here, Thor learns what it takes to be a true hero when the most dangerous villain of his world sends the darkest forces of Asgard to invade Earth.
Reviews
Poor story development, very predictable, No real plot behind the pretentious effects. Very lousy love story between Jane and Thor. I expected more from a Marvel production but I was very disappointed.
... more
More enjoyable than expected. Some very good visuals and photography and a subtle love story I thoroughly enjoyed. Stellan Skarsgard's character was the "comic relief" in the film, and in my opinion would have been better without. Natalie Portman is convincing in her role and Chris Hemsworth makes for a fine, determined god. A few flaws that needed to be omitted, and I actually can't believe professionals in the industry did not see this. When they drive just 50 miles to the 'crash site' it starts off in broad daylight, but they arrive there when it is pitch dark. The security at the crash site is quite laughable, actually!I must admit, I'm not a superhero movie fan, but this was entertaining enough to keep me interested.
... more
I am not a fan of Marvel Films, I believe that they are overrated and fail to tell the story of very interesting charities. But I believe that Thor is a great film and the best that Marvel has produced. In a story about god and other world never has a Marvel film felt so human. One of my biggest criticisms with Marvel films is the characters. Marvel has a wide range of brilliant characters but yet they ruin them all by give them very little character development. And that's the key word character development one of the most important parts of any story is something that is almost non-existent. But Thor has the best example of character development. At the beginning Thor is an egotistical flow and is unfit to rule a kingdom. But in his time in Earth he becomes wise and stops being egotistical. Thor brother (Loki) is the main villain of the film and is the best villain of all the Marvel films. He tries to take over and kills the Frost Giant's king. The reason why this is such good character development is that Thor would have done the exact same thing. And you can't argue with that, Thor goes to the Frost Giants world and tries to kill them. This shows the character development that Thor just went throw. When Thor fights Loki at the end of the film it feels like Thor is fighting himself. The reason why Loki is the best Marvel villain is because of his motivation. One of the most important if not the most important things about a villain is his or hers motivation. The motivation of most Marvel villains is they want to take over the world or destroy the world or have more power and that is why Marvel villains are so bad. But Loki's motivation is not to take over the world nor is it to have power, all Loki whats is the love and appreciation of his family. In one scene Loki lies to Thor saying that his father is dead. But you can easily see from Loki's face that he is disgusted for lying to his brother. And in the every end of the film Loki is hanging from a brig and he sees his father and sees that he is disappointed and ashamed of Loki. And Loki commit suicide by letting go of the bridge. This is why Thor is the best examples of character development and is made better by the brilliant acting. That is why I give Thor a 8 at of 10.
... more
Thor is one of the most memorable Marvel movies to me probably because it was one of my first. I actually liked all the Thor movies unlike most. I'm it's a great start to the Thor trilogy and a pure classic movie to me.
... more