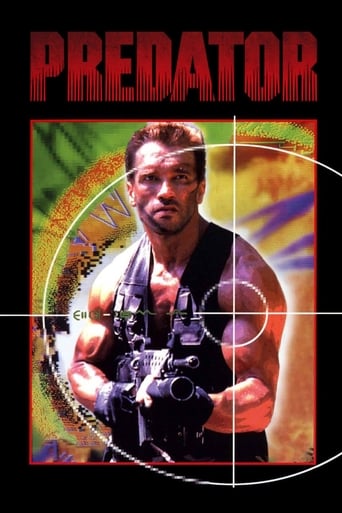 A team of elite commandos on a secret mission in a Central American jungle come to find themselves hunted by an extraterrestrial warrior.
Reviews
Too much of everything
... more
That was an excellent one.
... more
It is an exhilarating, distressing, funny and profound film, with one of the more memorable film scores in years,
... more
This is one of Arnie's best movies, and it still holds up quite well. There are some effects that are outdated, but otherwise it's still very good, and the only good movie with a Predator in it. The effects have improved in recent movies but they still haven't put one out that's as exciting as this debut. I'm curious with the new upcoming movie by Shane Black-who starred in this original. If you enjoy this, I'd Alien Vs Predator (the first one) is not too bad. Also Predators is ok, but I have yet to rewatch Predator 2. There are also a lot of really good comics with Predator in them, including crossovers with some super heroes.
... more
Ok so this movie may have a few flaws but there's no such thing as a perfect movie, and I will never get tired of watching this movie or any of the other entries in the series
... more
Good film , and , nowadays , considered to be a masterpiece of the action/SciFi genre. This is first and best Predator movie in which Arnold leads a team of CIA hired mercenaries into the Central American Jungles . Moving and extremely violent movie with plenty of chills , thrills and resulting to be very entertaining. It deals with a group of elite Mercenaries to carry out a dangerous mission in the Central American jungles . But they are hunted by a relentless alíen race, here called Predator. As they encounter an alíen force that begins to attack one by one . As extraterrestrial dispatches human beings before the breathtaking final Duel. Action movie told in terms of jungle warfare in which a misfit and motley bunch formed by strange roles battle a malicious and ominious extraterrestrial force . The plot is plain and simple, as an expert squadron has to confront nearly invisible alien , even over an eight-foot-tall wielding an armoury of sophisticated weapons tear apart . The ending part is particularly exciting and suspenseful , though it makes not great sense .The result is throughly violent but undenieably thrilling action movie with a decent cast headed by the great Arnold Swarzanegger supported by an acceptable secondary cast such as Carl Weathers , Jesse Ventura , Bill Duke , Sonny Landham and R.G.Armstrong . And Elpidia Carrillo , she was first brunette actress who appears in Predador series, and following Maria Concha Alonso and Sonia Braga.Evocative and atmospheric cinematography by Donald McAlpine, showing splendidly the lush jungle . Stirring musical score , today a classy soundtrack, by Alan Silvestri, composed by synthesizer.The motion picture was stunningly directed by John MacTiernan. He is a good filmmaker , though the present-day is retired, and known for directing high-energy, violent action adventures and powerful thrillers such as Die hard, Die hard with a vengeance , 13 warrior, The hunt for Red october, The Last great hero, Rolllerball , Nomads , among others.This Predator has got several sequels , remakes and spin-off , such as : 1990 Predador 2 in which the Alíen has inexplicably returned to L.A., being directed by Stephen Hopking with Danny Glover, Maria Concha Alonso , Ruben Blake, Bill Paxton, Gary Busey. Predador 2010 by Nimrod Atal with Adrien Brody , Olek Taktarov , Alice Braga , Ali, Danny Trejo. Furthermore , Aliens vs Predators 2004 by Paul Anderson with Sanaa Lathan, Raoul Bova, Tommy Flannagan , Colin Salmón. AlíenS vs Predador 2 by Strause Brothers 2007 with Steven Pascual, Rey Aylesworth , Johnny Lewis, John Ortiz , Robert Joy . And a new reboot Predator 2018 by Shane Black with Yvonne Strahovski , Olivia Munn , Thomas Jane, Lochlyn Munro.
... more
Arnold Schwarzenegger and his team are hunted by an alien warrior in the Vietnamese forest.
... more