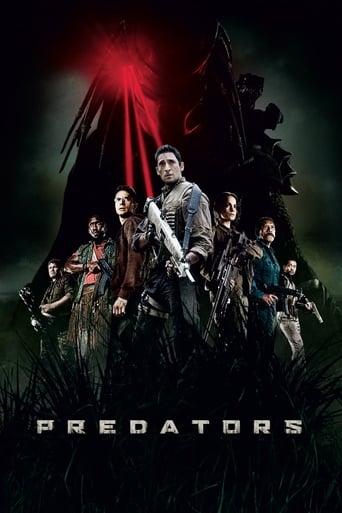 A group of cold-blooded killers find themselves trapped on an alien planet to be hunted by extraterrestrial Predators.
Reviews
Nice effects though.
... more
Excellent, Without a doubt!!
... more
The best films of this genre always show a path and provide a takeaway for being a better person.
... more
The plot isn't so bad, but the pace of storytelling is too slow which makes people bored. Certain moments are so obvious and unnecessary for the main plot. I would've fast-forwarded those moments if it was an online streaming. The ending looks like implying a sequel, not sure if this movie will get one
... more
The problem with Predators is that it's predictable. It is a fun action/horror film, but it spends way too much time setting up plot lines and twists that the audience has already figured out. It feels unoriginal. The visual effects were impressive, though, and I like the premise. This movie made me nostalgic for the original Predator.
... more
After reading reviews i was interested, as many said it played homage to the original, which i love.However, apart from a lot of the music and strangely some of the lines too, this is not what you want as a fan of the original.The original was subtle and took time to develop, keeping the viewer interested and scared. This is the opposite.I would recommend but only to avoid.
... more
Movie Review: "Predators" (2010)This picture directed by Nimród Antal, known for independent underground thriller "Kontroll" (2003), comes along as an life-infusion visionary to a believed dead science-fiction character "The Predator". Excellently cast against type-ratings with actor Adrien Brody as hard-boiled mercenary Royce, actress Alice Braga performing as seemingly fragile, but highly knowledgeable and resistant character of Isabelle and Laurence Fishburne in a supporting role of foreign planet's hermit Noland, who shares rank orders in the tribe of inhabited Predators; living on a jungle environmental planet, where a group of heavy randomly armed people gets thrown into, after a major accelerating skyfall, seemingly under surveillance with reminiscences of the low-budget feature "Cube" (1997) directed by Vincenzo Natali, which gets closely followed by editor Dan Zimmerman to 100 minutes of death-trapping science-fiction action, which has decent, at times thrilling action scenes to entertain throughout without making use of an talented cast in terms of heavy beating character conflicts to be remember in awe.© 2017 Felix Alexander Dausend (Cinemajesty Entertainments LLC)
... more
Predators is a cool concept, it takes place on an alien game preserve, with stunning visuals of a foreign planet and space but there is a video game type feeling, which lessens the quality of the movie itself. It's all out action right from the start, with little character development and very little hope for the characters into which they are put into. One of the main characters played by Topher Grace was completely unnecessary having no redeeming qualities and a rather dumb ending narrative. The film pays a ton of homage to the original Predator, such as the bridge stand-off, the lead females actresses looking very similar and the purposefully placed cheesy one-liners. Don't get it wrong, Predators is a kick-ass film with mindless action sequences that goes by quickly but it provides nothing new to the table.
... more