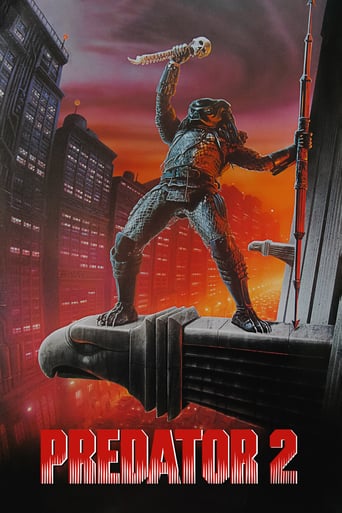 Predator 2
November. 20,1990 R

Watch Now
A police chief in the war-torn streets of Los Angeles discovers that an extraterrestrial creature is hunting down residents - and that he is the next target.
Reviews
Best movie of this year hands down!
... more
It's not great by any means, but it's a pretty good movie that didn't leave me filled with regret for investing time in it.
... more
If the ambition is to provide two hours of instantly forgettable, popcorn-munching escapism, it succeeds.
... more
In other words,this film is a surreal ride.
... more
Predator 2 is an alright movie but comparing it to the original is futile. None of the main cast return and the setting isn't a lush jungle anymore, it is downtown los angeles. But there are some decent set pieces and one in particular where the Predator descends upon a gang is quite good. Ably supported by well known faces like Danny Glover and Bill Paxton Predator 2 is better than a bad movie but not as good as a great one. Still if you have seen the original you can watch this.
... more
Never understood why this was not liked - it has a 25% score on RT, come on!!The acting is the first thing that gets you. Glover and Busey, then Paxton and of course the great Kevin Peter Hall.Then the mystery. They reveal just enough so you don't know what's happening but still get into the story and never lose attention. Some of the quotes are iconic; like mentioned by the other reviews: "Danny boy", "Do you want some candy", "I don't think he gives a $hit", "You can't see the eyes of the demon, until him come callin'", "Lions! Tigers! Bears! Oh my!", etc...And there are the weapons, that flying homing Discus grinder thing, or the folding javelin, or the cutting net. oh my!
... more
Predator 2 lacks the suspense of the original. It makes up for it somewhat with pure action - shooting, explosions, slicing, dicing and heads ripped out of bodies. Going from Arnie to Danny Glover is an inevitable let down. I just didn't care as much about Roger Murtaugh tussling with a predator then I did the Terminator. It is very fast paced, which is both a plus and a flaw, as it never gets too boring but has no real tension leading up to the kills and is just keen to amp up the body count. Also has hammier acting and a sillier feel, mainly thanks to Gary Busey and Bill Paxton chewing that scenery real good. Has its moments, but not enough of them. One to watch when just in the mood for action and nothing else. If you want something truly exhilarating though watch the original.
... more
I really liked this movie. Despite the absence of Arnold Schwarzenegger, Danny Glover really held his own as a character. The special effects (including, of course, lots of explosions,) were just as great as they were in the first movie. I enjoyed the urban setting. I also think Bill Paxton did a great job. I've never seen him in a role quite like he played in Predator 2.While very different from the first film, Predator 2 is still a fun, thrilling action movie that I think fans of the series will be pleasantly surprised by. I'm a big action fan, and this one really got me excited. I can't think of anything that made me feel like the plot was slow or that the production was anything short of outstanding.The ending is chilling as well. I definitely did not see it coming!
... more