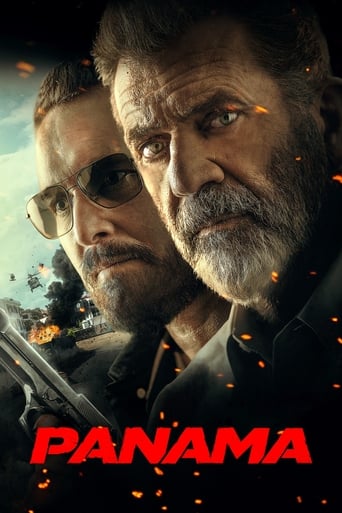 An ex-marine is hired by a defense contractor to travel to Panama to complete an arms deal. In the process he becomes involved with the U.S. invasion of Panama, and learns an important lesson about the true nature of political power.
You May Also Like
Shark Bait
A group of friends enjoying a weekend steal a couple of jetskis racing them out to sea, ending up in a horrific head-on collision. They struggle to find a way home with a badly injured friend while from the waters below predators lurk.
Shark Bait
2022
WarHunt
1945. A U.S. military cargo plane loses control and violently crashes behind enemy lines in the middle of the German black forest. Major Johnson sends a squad of his bravest soldiers on a rescue mission to retrieve the top-secret material the plane was carrying, led by Sergeants Brewer and Walsh. They soon discover hanged Nazi soldiers and other dead bodies bearing ancient, magical symbols. Suddenly their compasses fail, their perceptions twist and straying from the group leads to profound horrors as they are attacked by a powerful, supernatural force.
WarHunt
2022
Minions: The Rise of Gru
A fanboy of a supervillain supergroup known as the Vicious 6, Gru hatches a plan to become evil enough to join them, with the backup of his followers, the Minions.
Minions: The Rise of Gru
2022
AMC+
See for Me
When blind former skier Sophie cat-sits in a secluded mansion, three thieves invade for the hidden safe. Sophie's only defense is army veteran Kelly, who she meets on the See For Me app. Kelly helps Sophie defend herself against the invaders and survive.
See for Me
2022
Sword Art Online the Movie -Progressive- Aria of a Starless Night
One month after Kayaba Akihiko's game of death began, the death toll continues to rise, two thousand players having already lost their lives to the ultra-difficult VRMMO world of Sword Art Online. On the day of the strategy meeting to plan out the first-floor boss battle, Kirito, a solo player who vows to fight alone to get stronger, runs into a rare, high-level female player. She gracefully dispatches powerful monsters with a single rapier that flashes like a shooting star in the night...
Sword Art Online the Movie -Progressive- Aria of a Starless Night
2021
The Passenger
Four people traveling in a van run over a lone woman while she is walking in the dark down a country road. After loading her into the vehicle to take her to the nearest hospital, they notice that she is behaving rather strangely. The occupants of the van soon realise that the time has come to fight for their lives, and together they agree on one very simple rule: "do not sit next to her."
The Passenger
2022
Dragon Knight
Many years after the war has been lost, and all the dragons slain, a lone knight travels the lands of Agonos seeking to raise an army against the demon lord Abaddon. When a healer's vision reveals that one dragon still lives, and together with an eager young squire, the knight sets off in search of the fabled creature. As the armies of Abaddon descend on the human kingdoms, the dragon is their last hope of fending off the horde, before it lays waste to the lands of men. But does the creature even exist? And if it does, will it fight for them once more?
Dragon Knight
2022
Epix
Unhuman
After their school bus crashes, a group of high school students is thrown into a terrifying fight for survival as they try to take down a group of unhuman savages… before they kill each other first.
Unhuman
2022
9 Bullets
A former burlesque dancer turned author discovers a second chance at life and redemption when she risks everything to rescue her young neighbor after he witnesses his parents' murder. Now on the run from the local crime boss, who happens to be her longtime ex, she makes a desperate attempt to get the boy to safety.
9 Bullets
2022
The Commando
An elite DEA agent returns home after a failed mission when his family makes an unexpected discovery in their house – a stash of money worth $3 million. They soon face the danger and threat of a newly released criminal and his crew, who will do whatever it takes to retrieve the money, including kidnap the agent's daughters. Stakes are high and lives are at risk in this head-to-head battle as the agent stops at nothing to protect his family against the money-hungry criminals.
The Commando
2022
Reviews
The Worst Film Ever
... more
The Age of Commercialism
... more
Save your money for something good and enjoyable
... more
It's easily one of the freshest, sharpest and most enjoyable films of this year.
... more