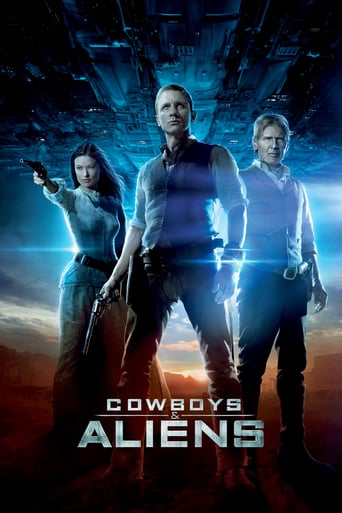 A stranger stumbles into the desert town of Absolution with no memory of his past and a futuristic shackle around his wrist. With the help of mysterious beauty Ella and the iron-fisted Colonel Dolarhyde, he finds himself leading an unlikely posse of cowboys, outlaws, and Apache warriors against a common enemy from beyond this world in an epic showdown for survival.
Reviews
Very very predictable, including the post credit scene !!!
... more
Memorable, crazy movie
... more
Highly Overrated But Still Good
... more
Seems to be really miscast with James Bond playing Indiana Jones, Indiana Jones playing a bit of a bad guy and Clancy Brown playing the kindly preist. It all works really well though and it's a very entertaining movie though.
... more
This film tells the story of a man who wakes up in the middle of the desert with a strange device on his wrist, and no memory of what happened whatsoever. He soon discovers that he is a wanted criminal in a cowboy town that is savaged by aliens.The title says it all, and cowboys and aliens are exactly what you get. The story is fun and light, as the hybrid between cowboy and alien is fresh and interesting. There is much contrast between the lack of technology in the human world and the hi tech alien ships. It is an enjoyable brain off blockbuster film, with a bit of everything to please everyone.
... more
Spielberg is still Spielberg! A master story tell, and even for a concept that, on the surface, seems just plain out silly, this movie holds one's attention all the way through. Contrasting with High Plains Invaders: it's notch (or so) better camera work, a notch (or so) better acting, and about 3 notches better screenplay. (Story is intricate enough without being overdone, gives a richness that was missing from Invaders.) And of course, several notches higher on budget. That always helps, when you know what to do with it.Daniel Craig and Harrison Ford, of course, deliver wonderful performances. Not Harrison's finest role, but he gives it his usual presence and under-stated power. Daniel Craig... well. He's always playing Daniel Craig, and he does it so very well.
... more
Craig stars as Jake Lonergan, a stoic outlaw in Arizona sometime in the late 19th Century who wakes up with no memory and some metal device on his wrist. When he arrives in the town of Absolution, the sheriff discovers he's wanted and attempts to ship him off for a reward. That's when the aliens attack, bombing the town and roping up locals before flying off into the night. Lonergan's bracelet activates as a weapon and suddenly he's the only one capable of defeating these things. He joins a rescue party led by a grumpy Civil War vet named Dolarhyde (Harrison Ford) and they all set off to find out what happened to their loved ones.The script introduces characters willy-nilly and provides little satisfactory explanation for anything that happens. The story paints Lonergan as a quiet badass, but one who has flashes of some woman he loved. Because his past slowly unravels with nothing revelatory to show for it as the film wears on, it's tough to care much or even see him as capable of romantic feelings. Regardless, a woman named Ella (Olivia Wilde) keeps approaching him with questions he doesn't have the answers to and she evolves into a love interest for nothing but the sake of it. Sam Rockwell has little to no bearing on the film other than serving an example of an otherwise peaceful man who will do whatever it takes to get his wife back. He's a waste in the role. As for Ford, he just gets on screen and acts grumpy and impatient. We've seen everyone on board do so much better. Did these folks not read the script? Probably not considering the number of drafts alone.
... more