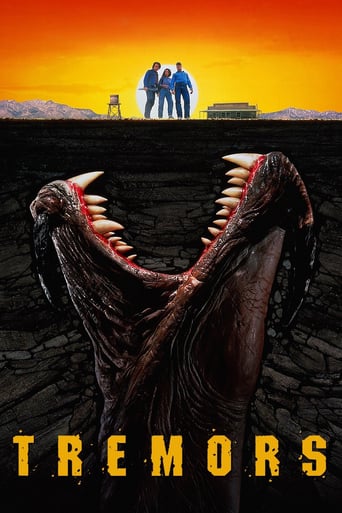 Tremors
January. 19,1990 PG-13

Watch Now
Hick handymen Val McKee and Earl Bassett can barely eke out a living in the Nevada hamlet of Perfection, so they decide to leave town -- despite an admonition from a shapely seismology coed who's picking up odd readings on her equipment. Before long, Val and Earl discover what's responsible for those readings: 30-foot-long carnivorous worms with a proclivity for sucking their prey underground.
Reviews
Highly Overrated But Still Good
... more
Best movie ever!
... more
While it doesn't offer any answers, it both thrills and makes you think.
... more
This is one of the best movies I've seen in a very long time. You have to go and see this on the big screen.
... more
Tremors is a very well executed, well-made B movie. Fred Ward and Kevin Bacon are two handymen in the middle of nowhere town Patience, Nevada. Fed up when we meet them, they decide to head out for better opportunities when they come across a dead body. This leads to the discovery of another body and the revelation of the presence of an underground snakelike creature (called graboids) that is the cause of all this chaos- and there are a few of them. What ensues is a war between the tiny populace of this insignificant, socially isolated town and the terrorizing slithers. Tremors does not take itself seriously, provides ample amount of entertainment because of great, relatable characters and the endearing leading pair of Bacon and Ward. Pacing is excellent, and the special effects are so good it makes me wonder why real puppetry and models are not used to the scale it used to be- CGI has overstayed its welcome and films like Tremors prove live action work has not. This is a fantastic film. Watch it.
... more
Very good indeed. The action, humor and horror are so well balanced and the acting is great, too. Kevin Bacon and Fred Ward are perfectly cast. The effects are very realistic and there's even a few great scares and suspense scenes. I thoroughly enjoyed this one!
... more
Kevin Bacon plays redneck handyman Val, a performance that is surprisingly profound in that it makes you realize one thing. Kevin Bacon doesn't play rednecks nearly enough! Val is in a completely hetero relationship with Earl, played by Fred Ward. Despite the potential for a Brokeback Desert romance, these two handsy men have their sights set on one thing and that's money. Apparently, one of America's most desolate regions is the place to seek a fortune even if you're not an oil prospector. Bacon and Ward meet seismologist and quickly become pole-vaulting pals. That's when they realize that there's a bad case of the shakes in the desert. They retreat to the hamlet of Pefection where we have charming characters like Melvin, the boy who cries Graboid. Then there's Walter, the cute little Asian store owner. Then we have Burt, a gun-loving man's man who is as true blue as Uncle Sam's poo. But even Burt isn't prepared for the subterranean beasts as we see one burst into his basement with phallic ferociousness. When these monsters aren't puking up pogo sticks, they're chomping on Chinese as Walter is the first of the townsfolk to go down to subterranean town. After this sorrowful scene, you'll find yourself hoping this film isn't so insensitive that the next target would be the other minority character Miguel. Luckily Miguel is around to spout such wisdom as, "Hey, so like we don't vibrate, right?"Reba rages, cars sink, sheep get shanked and pole vaulters make a mad dash for a dozer! This movie is a mega monster fun feast!
... more
This is no Hollywood blockbuster with a big budget and top of the line special effects, but this is pure fun. This feels like a B horror film from bygone years but has plenty of humor in it too and doesn't take itself seriously. Which leads a good insight into the movies idea and special effects shots. Set in the fictional town of Perfection, Nevada, the film follows a day in the life of two handy men (Fred Ward and Kevin Bacon) riding out an existence in the bad lands of America, until they decide they have had enough and head for the nearest city, only to find that something horrible is eating its way through every one they've known, and is eyeing up the residence of Perfection valley for afters, their only hope is to make a stand with the help of Burt Gummer, a gun crazed militaristic fanatic and the owner of the local shop, played by John Carpenter staple Victor Wong.The perfectly cast Kevin Bacon and Fred Ward lead the cast as the handy-men Val and Earl, who become entangled in the feeding antics of the giant 'graboids', the film goes on from there. The film's special effects are appropriately down-to-earth and managing to work around the film's relatively low budget and use the creature's subterranean nature to the film's advantage. Despite this subdued approach to effects, the film never feels like anything but a Hollywood blockbuster. Blissfully large in scale and featuring monsters with a real bite, the films effects fire on all cylinders. The film as a whole is like that: a little action, a little gore, and then a joke to ease the tension. It's fast, funny, dry, humorous and has a cracking cast. Its a film you will never be bored with.Overall rating: 8 out of 10.
... more