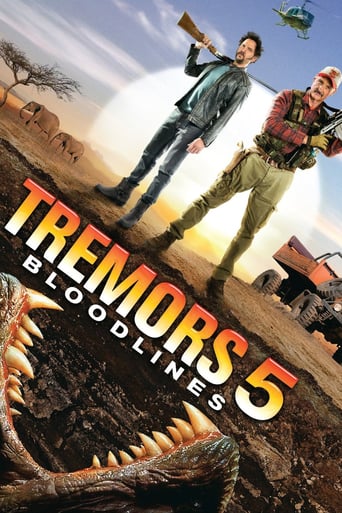 The giant, man-eating Graboids are back and even deadlier than before, terrorizing the inhabitants of a South African wildlife reserve as they attack from below-and above.
Reviews
This movie is the proof that the world is becoming a sick and dumb place
... more
One of my all time favorites.
... more
Absolutely brilliant
... more
The story, direction, characters, and writing/dialogue is akin to taking a tranquilizer shot to the neck, but everything else was so well done.
... more
I seen bad reviews, but the movie doesn't deserve it. Looked like they could use more budget, however the characters are fun, Burt Gummer is still awesome, the movie is action packed. They used practical effects too, not only CGI. There are goofy jokes, but the movie also has it's horror elements, the body count, etc. The female character has some serious Lara Croft - action, even her clothes look like hers. I would say if you love the franchise, you are going to like this movie too.
... more
Michael Gross made his triumphant return to the Tremors franchise, as Burt Gummer, Graboid killer, this time traveling to South Africa with camera operator, Jamie Kennedy, to eradicate a new breed of an old adversary. Recruited by Daniel Janks from SA to find and capture a Graboid that murdered an archaeologist couple and slaughtered a poacher (who happened to unluckily fall into a cave housing it's offspring), Gross and Kennedy find more than they bargained for. Brandon Auret is the other poacher who witnessed his friend killed, a bit miffed with Gross' arrival. Yummy Pearl Thusi is a doctor (with a daughter often playing in a garden; the expected child in peril scenes involve her) who Kennedy takes a liking to (and who could blame him?!), also desired by chief of security, Rea Rangaka. Ian Roberts has a memorable part as a copter pilot who is brothers of a feather with weapons expert Gummer, surviving a Graboid swallowing when it spits him out! This Graboid has tentacle tongues with heads on them that extend long distance and it can spin out of the earth into the air as if shot from a cannon and gulp victims whole! The mix of practical and computerized effects aren't too shabby considering the budget available, especially cool are the flame-ass bird-like creatures that often swoop down and snatch away human victims. Gross is an absolute blast, deservedly the star of the franchise now. While this won't compare in quality to the first film--my opinion one of the best monster films of it era and horror comedies of the 90s--it certainly breathes fun life into a franchise many hadn't thought much about lately. Kennedy is thankfully tolerable, and his courage helps make him acceptable particularly when he braves the offspring cave and rides a dirt bike to distract the main Graboid. Pearl with her bow and arrow skills come in handy during one Graboid kill involving a burning Jeep and direct shot to its gas tank. Lots of guns and explosions, as expected with Gummer running around. The location shooting is similar to the previous entries, but I can't envision a Tremors movie not in the desert. Memorable sequence involves Gummer trapped in a cage as a lion approaches, eventually urinating on him! Kennedy's secret involving Gross comes out of left field, and Gross' reaction is a hoot. Chopper missiles bomb a cave, creatures yank folks into their bellies, off into the sky, or off screen, with plenty of anticipated monster carnage. The plot doesn't escape familiarity, but exciting casting and no shortage of action with a pace that doesn't catch a breath compensates.
... more
Tremors is one of my favorite "creature features", thanks to its perfect combination of humor, suspense, likable characters and excellent special effects made by the legendary studios Fantasy II Films and Amalgamated Dynamics; and everything was set in a wild and realistic setting which inspired horror in the daylight, something unusual in this genre. Afterwards, three sequels (well, two sequels and a prequel) were made, in which Michael Gross was established as the main actor, but they were mediocre. The last film of the series (Tremors 4: The Legend Begins) had been released in 2004, and it had been set in the Old West, so there isn't a substantial connection to the fifth film, and having watched it isn't indispensable to appreciate the lean pros of Tremors 5: Bloodlines. The transplant of the graboids to South Africa doesn't add too much novelty to the story; it was probably a financial strategy to take advantage of the tax incentives offered to North American producers by that country; but the arid settings are certainly attractive to look at. Unfortunately, co-screenwriters William Truesmith, M.A. Deuce and John Welpley weren't able to fully exploit the premise, telling a bland story with abundant ideas copied from various classic movies (seriously, that scene in the kitchen with the monster stalking two persons is a shameless copy of Jurassic Park). On the positive side, Gross carries the movie with aplomb once more, and besides, he has a good chemistry with Jamie Kennedy, who also makes a decent work in his role. However, my favorite element of Tremors 5: Bloodlines were the special effects from the Bulgarian studio Cinemotion, which brought the creatures to life displaying remarkable "shaders" and a perfect integration with the South African settings. Pity that the appearances of the monsters were too sporadic; but whatever way it is, an excellent work from a European studio which can easily compete with its North American colleagues. As I said on the beginning of this review, none of the sequels (or prequel) of Tremors are nowhere near the level of the original film, but at least, they are moderately entertaining despite their mediocrity. I didn't find Tremors 5: Bloodlines better or worse than its predecessors, something which invites me to give it a slight recommendation to those accustomed to watch "B" movies who know what is expecting them. Personally, I wouldn't dislike another visit to the graboids world, as long as they don't let other 11 years go by before making it; I wouldn't like to see Burt Gummer hunting monsters in a wheelchair, unless he gets pushed by Kevin Bacon and Fred Ward. That would be a genuinely glorious.
... more
Tremors 5 was amazing i can't believe it that people hated this film so much it wasn't meant to turn into an Oscar contender movie or have an amazing acting and cast and effects and other things like that. What it was instead it was an action packed sequel to a Franchise that gets better with each sequel. Bloodlines is basically a sequel to Tremors 3 and a pretty good one if i can say Jamie Kennedy did a pretty cool job and i think everyone were great although the highlight as always was Michael Gross as Burt Grummer who absolutely kicks some serious butt in this one. Sure it has some weird scenes like that scene when Burt drinks his pee but it was meant for him to survive i think the best moment were the slow motion scenes with the Graboids when they were attacking some random people. Overall a cool sequel to a very good Franchise.
... more