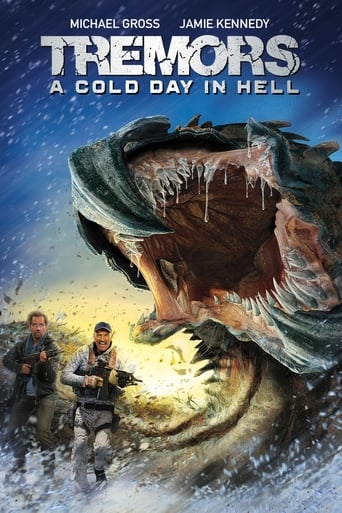 Burt Gummer (Michael Gross) and his son Travis Welker (Jamie Kennedy) find themselves up to their ears in Graboids and Ass-Blasters when they head to Canada to investigate a series of deadly giant-worm attacks. Arriving at a remote research facility in the artic tundra, Burt begins to suspect that Graboids are secretly being weaponized, but before he can prove his theory, he is sidelined by Graboid venom. With just 48 hours to live, the only hope is to create an antidote from fresh venom — but to do that, someone will have to figure out how to milk a Graboid!
Reviews
Sick Product of a Sick System
... more
Save your money for something good and enjoyable
... more
After playing with our expectations, this turns out to be a very different sort of film.
... more
There are moments in this movie where the great movie it could've been peek out... They're fleeting, here, but they're worth savoring, and they happen often enough to make it worth your while.
... more
One of the worst movie in recent times. The acting is so bad. The characters in the movie or not serious about the monster. Glad I didn't pay to watch this it is on Netflix
... more
OMG! The BEST part 4 me was the music/dancing/actor 2 "Mustang Sally" !! Played it over & over &....
... more
The last 2 Tremors movies (this one and Bloodlines) have been better than nothing. But they are both WAY far inferior to the original films in terms of plot development, characters and plain old story telling. There's really no excuse. The first 3 direct to video sequels and TV series of the 90s and 2000s make #s 5 and 6 look pretty lame. (and I can say this because I just watched all of them again). Whoever owns the rights to the Tremors franchise these days needs to get the original creative team--S.S. Wilson and Brent Maddock-- back on the job. When they had control, the characters were all funny and believable and there was a new development with each film (Graboids, Shriekers, Ass-Blasters, etc). These new films seem like placeholders.
... more
I like the fact that after 6 films they at least attempted to do something a little different. Honestly, it doesn't change the dynamics or what I enjoy about them. I think Jaime Kennedy & Michael Gross actually have a good chemistry. While it's not on the Fred Ward/Kevin Bacon level, there's a good rapport between them that manages to be highly entertaining. One of the only things I felt maybe lacking over some of the other films was the production value. While it doesn't look horrible it does look cheaper. The creatures don't look quite as fleshed out and at times a bit too CGI, but not so bad it ruins things. Also, a few of the supporting characters, mainly the quote-unquote bad guys were pretty wooden and really didn't add much to the overall story. They do, however, lead to a few comical moments of dialogue. You more or less know what you're getting with these movies at this movie. If you've never seen any of them, I would go back and start with the first one and work your way through. That's still the pinnacle of the series, followed closely by the second. They're goofy, schlocky fun. Something that's always made me gravitate to the films is they seem to know what they are. It's one of those things where it looks like they probably had fun making them and it shows on screen. Part 6 is no exception to that rule. So, if you're a fan of the other films in the franchise. This is worth a worth.
... more