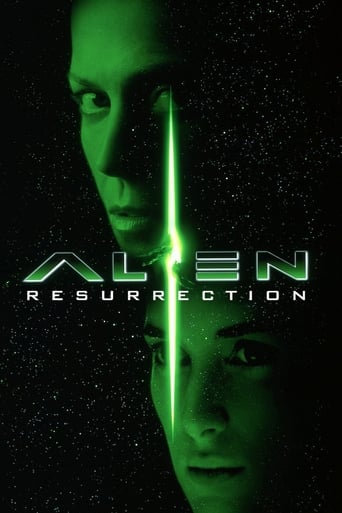 Two hundred years after Lt. Ripley died, a group of scientists clone her, hoping to breed the ultimate weapon. But the new Ripley is full of surprises … as are the new aliens. Ripley must team with a band of smugglers to keep the creatures from reaching Earth.
Reviews
In truth, there is barely enough story here to make a film.
... more
An old-fashioned movie made with new-fashioned finesse.
... more
The acting in this movie is really good.
... more
It is interesting even when nothing much happens, which is for most of its 3-hour running time. Read full review
... more
Lien is a great film though I personally feel that James Cameron's Aliens is a much better film. It starts with seven crew members aboard a towing hauler, who are suddenly awakened from their deep slumber in cryo because of a distress signal they've received. They land on a distant planet only to find a massive derelict ship which has probably crash landed. There they find an alien organism- one which has acid for blood and grows at a menacing pace. This film reeks of atmosphere and to this day many films and video games have been directly inspired by its production design and vibe. Alien also holds the distinction of having, what many people consider the greatest tagline and trailer.
... more
After the terrible 'Alien 3' and this being the 4th installment in a franchise, I wasn't very keen on watching this, but when I saw it was directed by Jean-Pierre Jeunet, I was very interested. This didn't seem like the fourth film. It felt fresh and new thanks to Jeunet's unique vision. We saw a very different side to the alien creatures, held captive for study and experimental purpose. I thoroughly enjoyed the experienced cast, and once all hell broke loose, it was exciting fast-paced non-stop action. The film's final moments does get a bit weird, but in general this was a very enjoyable entry to the franchise.
... more
The paraplegic, wasn't his ear supposed to be burnt off, thus causing major medical issues for him? If not burnt off, then at least severely injured, because right after Jean-Pierre went so far as to zoom in on his ear, in Vriess's next shot, his ear was A okay. Oh well, I guess these mistakes happen, it's just that, when they happen in a movie so draining, it's hard to focus on anything else.The Alien series is truly a disappointment. Its been over 250 years, and these aliens are still what they were back in 1979, because this entire series is filled with repetition and gimmicks, with zero story.There was an Alien, that alien came from a queen alien, then an alien lay an embryo inside Ripley and Ripley killed herself. She got cloned and had her DNA mixed with another queen alien, that then gave birth to another alien, and now Ripley has moved from being prey, to being mommy. The 1st sentence is literally all 3 of the first Alien movies, and the second sentence, is a convoluted mess meant to resurrect a kicking horse.I don't know how I would've felt watching these films back in the day, but watching them today, I can't help but see shoddy pieces of work, that get crippled more and more with every sequel, by their predecessors. Heavy hitting names are attached to this series; Scott, Cameron, Fincher and Whedon, which is why I feel so at war with myself, however, I can't ignore what the situation is. 4.4/10.
... more
This is my FAVORITE in the Alien series. It is very dark, suspenseful and has just a greater setting in space than the others in the series. I hated Aliens ( a cat and Bill Paxton ruined this film for me as I hate cats and Paxton has his worst acting in this film!) and Alien 3 with a passion and this was a breath of new life the series desperately needed. I also love the overall story and action scenes in this movie and recently grabbed in on Blu Ray to add to my collection. Definitely worthy against those who disliked it, and I have noticed fans that didn't like this movie also like stuff I hate. So this is DEFINITELY one of the only movies that split up the fanbase like how JJ Abrams has ruined Star Wars forever! Anti-Disney. Anti-Abrams because he is one of the worst directors EVER!
... more