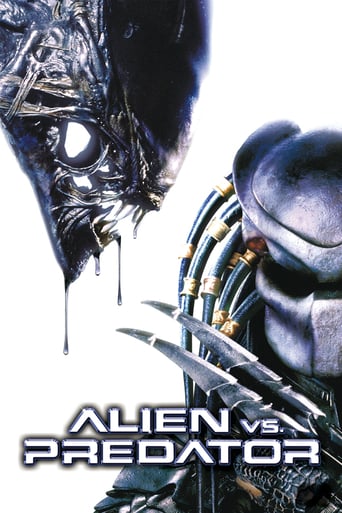 When scientists discover something in the Arctic that appears to be a buried Pyramid, they send a research team out to investigate. Little do they know that they are about to step into a hunting ground where Aliens are grown as sport for the Predator race.
Reviews
One hour and a half of nothing
... more
Bad Acting and worse Bad Screenplay
... more
In truth, there is barely enough story here to make a film.
... more
what a terribly boring film. I'm sorry but this is absolutely not deserving of best picture and will be forgotten quickly. Entertaining and engaging cinema? No. Nothing performances with flat faces and mistaking silence for subtlety.
... more
After so many years I took the effort of watching this again but the impression is still the same. PWSA is a good director of movies based on crappy writing and stupid ideas. It seems he is one of the rare actually willing to do so. No one with just a tiny bit of common sense would swallow such nonsense as this movie. I'm not talking about the general idea here. Predators hunting aliens and humans? Why not? But not with so many plot holes, undeveloped characters, bad FX, dialogues stupid beyond belief, illogicalities and all other kinds of stuff that would make Ed Wood proud. Sometimes one needs to watch such movies at least two times before forming the final opinion. Anyway: avoid, then avoid and then still avoid. It may look entertaining but it's actually insulting your intelligence.
... more
It's so easy to jump on a bandwagon when your a sheep, and that's exactly what happened to this movie. AvP is a solid action sci-fi film, and there' just no getting away from that. To start with, it looks great! Director Paul W.S. Anderson (the man who gave us the ONLY good video game film ever in Mortal Kombat) has a remarkable eye for visuals, and here is no exception. It's a pretty film with decent CGI and some really stunning set design.The story is interesting as well, and to address the elephant in the room, yes the first third of this film is pretty much Identical to the start of Prometheus, only AvP got there first by nearly a decade. When things kick off the action is fantastic and it's just a well made and fun film all round, plus it's GREAT to see Lance Herikson back, and he does afar better job as a Weyland than Guy Pearce.Is it perfect? No. It's not as good as any of the first three Alien films not is it as good as the first two Predator films. There's a real lack of character development and most people there are just meat sacks waiting to be killed. Some questionable representation of the gestation cycle of the Aliens is on show here and having the lead teaming up with a predator was just a bad idea. Another fault is that, even though the action is fantastic there's just not enough of it.Still, these minor quibbles aside I found AvP to be a great and fun action sci-fi film, with plenty of thrills, spills and monster madness. Infinitely better than the atrocious sequel which followed.Don't listen to the sheep. Something being "not as good as..." doesn't automatically = "Bad".
... more
This is not a Shakespearian tragedy, so don't expect emphasis on dialogue. But as a action sci-fi movie goes it excels in regards to fight scenes with Aliens and Predators. I have watched this repeatedly since viewing it in the cinema 2004. Great popcorn flick, a worthy entry into the Predator Alien universe.
... more
For me, it was an okay film, it was well directed and has pretty good action sequences. The scenes with the human characters are a little dull, but you can care about them sometimes. The dialogue isn't too good, but the action sequences are amazing and the practical effects are awesome. I liked the way the facehugger eggs opened up, how the actual aliens and predators look, even the queen looks impressive. Usually with such a small budget but with enough of a budget, you can do so much with practicality. The CGI does look bad, but that just means there's more room for practicality. Paul W. S. Anderson did such a good job at trying to make a good film, its hard not to respect him for that. Again, the writing isn't that great. Not great writing, but not the worst either. The climax of the film is the best part. Seeing the queen battle the predator and our main star makes for good visual storytelling. The set design? Just great! The sets look so real. It looks like they're in a pyramid built by predators. But what really gets me is the different styles of writing in the pyramid. In this universe, humans clearly did learn writing from the predators, with the Aztec and Cambodian writing (supposedly) things get kinda confusing, because these are two different styles of writing. So how do you blend the two together?Well that's my review of AVP. If you're a typical film-goer just looking for two aliens fighting, you're gonna get it. It's just really late in the film so you can't do a whole lot with it. But if you're an Alien/Predator fan, you might not like this film. Although, I would prefer to spend more time with our main human characters rather than watch mindless fighting between our two title.
... more