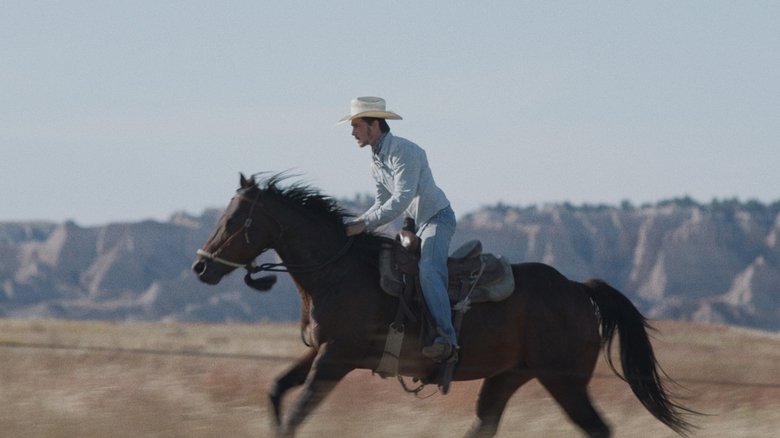 Once a rising star of the rodeo circuit, and a gifted horse trainer, young cowboy Brady is warned that his riding days are over after a horse crushed his skull at a rodeo. In an attempt to regain control of his own fate, Brady undertakes a search for a new identity and what it means to be a man in the heartland of the United States.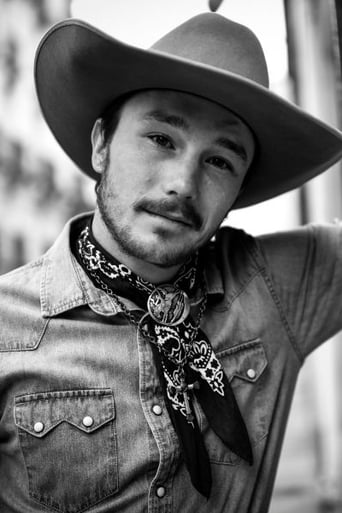 Brady Jandreau
as Brady Blackburn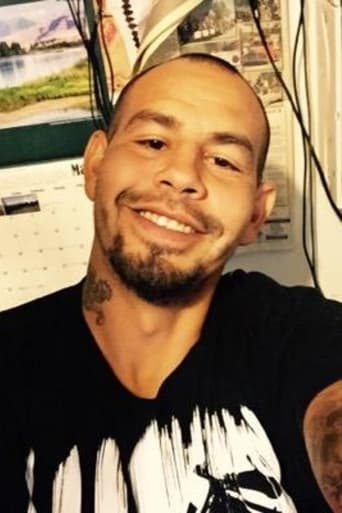 Derrick Janis
as Victor Chasing Hawk
Reviews
The film makes a home in your brain and the only cure is to see it again.
... more
The plot isn't so bad, but the pace of storytelling is too slow which makes people bored. Certain moments are so obvious and unnecessary for the main plot. I would've fast-forwarded those moments if it was an online streaming. The ending looks like implying a sequel, not sure if this movie will get one
... more
It's simply great fun, a winsome film and an occasionally over-the-top luxury fantasy that never flags.
... more
The Rider takes on the lives of a young boy and the life of a cowboy and his family. Drawing most of the film from a handful of actors that the story is based on, lined up the film to fall on pretty flimsy shoulders. Good thing for the Rider and for Chloe Zhao, they brought their A-game and not only that, they provided authenticity and understanding to everything they were acting, because it was all real to them. In many scenes you follow the main character Brady through him accomplishing cowboy tasks, where in all actuality he is just doing what he has done his whole life. Where the film excels in the scenes where he is having to bring emotion and storytelling to the film. In these scenes, which are most of the film, he provides a wonderful performance that is hard to match from a first-time actor. From long takes, and truly emotional scenes and relationships, Brady Jandreau may find himself asked for more roles. Further down the line from the great acting performances, the story is captivating, especially to someone who is unaware of the life of a modern-day cowboy and rodeo rider. Now it won't be a movie that knocks your boots off, it is definitely one that will bring a fresh perspective on the world.
... more
In the bonus segment of the DVD of "The Rider," there was a fascinating question-and-answer session with the lead actor Brady Jandreau, who reenacts his own life story in the film. Jandreau described the film as the story of "an Indian cowboy in the heartland of America."But what Jandreau does not mention in the Q&A is how the writer-director Chloé Zhao twisted his biography from a skilled horseman and trainer into a tragic saga of a victim of rodeo violence. The real-life Jandreau seemed optimistic about his life, health, and career in South Dakota. By contrast, the filmmaker turned this remarkable life into a pity party.The film focuses far too much on the head injury of the protagonist and his wrenching decision whether or not to risk his life by returning to rodeo. As if the personal dilemma of the life-and-death situation were not enough, Zhao relentlessly reminds the audience of the hardscrabble, impoverished life, the health of other characters, the death of the mother, the dead-end life in a trailer, and the troubled relationship of father and son.Zhao has some filmmaking skills, as apparent in the beautiful landscape scenes and the training of the horses, which was not simulated in the film. The look of the film had the feel of Terence Malick's filmed poem "Days of Heaven." But it is curious why Zhao would adopt such a limited, one-dimensional view of the life of Brady Jandreau. In the DVD segment, Jandreau described the film as 60% true and 40% fiction. But the fictional part shifted the film to a quasi documentary that would be suitable for a segment of the PBS series "The American Experience." The 100% true-to-life story of Brady Jandreau the Horse Whisperer sounds much more interesting.
... more
In The Rider, South Dakota's stirring pastures have been gorgeously lensed by Joshua James Richards, who also shot the overcast rural landscapes of Yorkshire in 2017's God's Own Country. The Rider is a beautiful film to look at, its authentic vision set against a minimalist score by Nathan Halpern. It helps that star Brady Jandreau, playing a version of himself (as are all the actors here, it seems), is handsome and subtly charismatic.But the film sputters throughout its running time, especially in the first half. I have no doubt that what I've seen in The Rider is a very close and faithful account of reality--this is what these people wear, what they believe, how they talk, what they dream of, what misfortunes befall them, etc.--yet something about writer/director Chloé Zhao's style makes so much of this movie feel fake. For instance, there is a scene early in the film where Brady and three of his young friends drive out into the middle of the prairie to get drunk, play the guitar, take turns jumping over a bonfire, and hang out. All the details of this situation are, I'm sure, 100% accurate, yet the manner in which they take turns telling very detailed, narratively clear, expository stories about the worst times each of them was injured at a rodeo seems explicitly false. Is this how close friends talk to each other? Surely they've heard about these injuries before--in fact, I wouldn't be surprised if they were all there to witness each one. Of course sometimes with friends we reminisce about the details of significant events that have happened to us, even if none of that is "news" to any of us, yet I couldn't help but feel that the way in which this scene unfolds in The Rider is simply because Zhao needed an easy way to guarantee that her viewers would understand the physical stakes of being a rodeo rider. And when it seems so blatant that the things I'm seeing on screen are only happening because there's a director right behind the camera--especially in a movie that strives for realism/naturalism like this one--it's hard for me to become fully invested.That's one example, but there are frequent moments like that throughout the film. I wonder if Brady's story and Zhao's purposes would have been better served if she had simply made an over-the-shoulder documentary instead of striving for whatever narrative nonfiction thing this movie would be characterized as. It might've required a lot more footage, but I'm sure the payoff would have been more genuine.In any case, what's here is certainly worth a look, and certain other memorable scenes--such as one in which Brady wrestles with a teenager who's just beginning to aspire to be a rodeo rider--don't possess the weakness I've just described. More importantly, the story's message is thought-provoking, meaningful, and nicely nuanced. Brady lives in a world where there are narrow expectations, opportunities, and pathways in life for the humans who inhabit it, and even fewer for the horses who live with them. What happens when a cruel twist of fate slams several of those already limited doors shut? How can dignity remain in a world that's been designed to close out those who are impaired? Where can sources of hope and support be found in a world that's not very amenable to change or difference? The Rider grapples with these questions in a resonant and authentic way, even if the movie isn't always as effective as it could've been.
... more
If you are in bad need of sleep, then go to see this film, and I'm sure it will be more effective than any sleeping pills. Also, it has no side effects. The film is made and acted just by some amateurs, and there is no plot at all.
... more