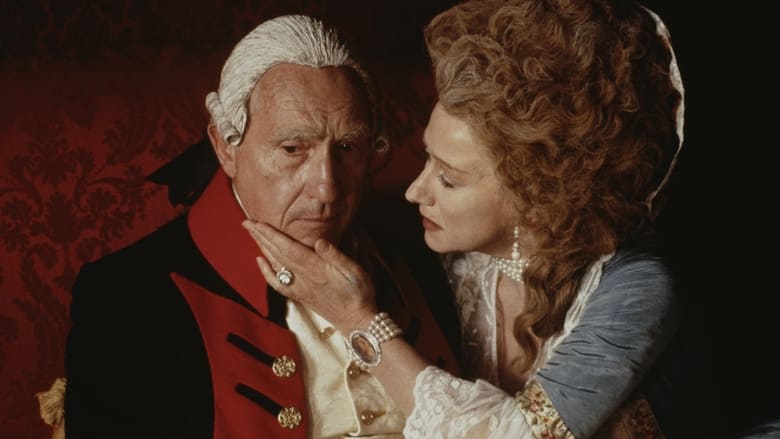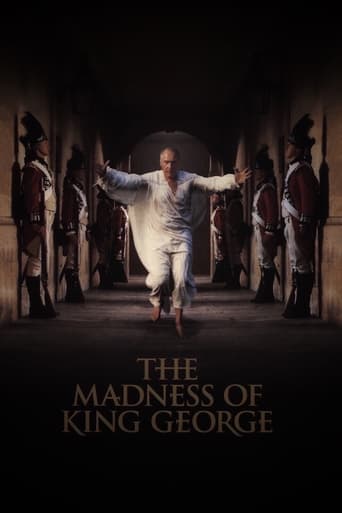 The Madness of King George
December. 28,1994 PG-13

Watch Now
Aging King George III of England is exhibiting signs of madness, a problem little understood in 1788. As the monarch alternates between bouts of confusion and near-violent outbursts of temper, his hapless doctors attempt the ineffectual cures of the day. Meanwhile, Queen Charlotte and Prime Minister William Pitt the Younger attempt to prevent the king's political enemies, led by the Prince of Wales, from usurping the throne.
Reviews
This movie is magnificent!
... more
The first must-see film of the year.
... more
Exactly the movie you think it is, but not the movie you want it to be.
... more
The movie's neither hopeful in contrived ways, nor hopeless in different contrived ways. Somehow it manages to be wonderful
... more
As an under-educated American, I was totally unaware of the Regency crisis of 1788, or for that matter any information about the health of the tyrant George III. (Although to be sure, he fell far short of modern tyrants, the Stalins, Husseins, and Pots of the world.) And since I do not get my history from feature films, it may not be true. (Take that, Oliver Stone) There was a lot of nice acting in this historical drama however, particularly from the inimitable Nigel Hawthorne. Would that Helen Mirren had a larger part, as she is always superb. One of the things that most struck me was how everyone of that period, even royalty was held hostage to the ignorance and barbarism of medieval medicine. I wonder what people will think of current medicine two hundred years hence.
... more
British King George III has just recently lost his American colonies. At home, he is treated as a cross between a feared dictator, and a petulant child by his handlers. While politically, he is being marginalized and beset by ambitious self promoters on all sides. He is suffering from mental deficiencies, and his doctor is hopeless.It's a fascinating look at the royal court. Nigel Hawthorne is terrific instilling power and energy in the manic regent. Helen Mirren is Queen Charlotte. Mostly this is great acting from interesting Brit actors. And Ian Holm is funny as the clueless doctor. It's a piece of history rarely shown on film.
... more
During the viewing of The Madness of King George I never really felt like I was watching a movie. I was absorbed into the characters and the representation of the factual events. If that does not describe an excellent movie then I do not know what does.The story represents power and power struggle and the concept of subservience. Certain situations and constructs of underlings are built to a fine conclusion to resolve the characters. Befitting power and Royals the end conclusions is not "Disney-esque" for all characters.The sets and characters are fabulously done. There is no sense of egotistical pompousness on the part of the cast and crew (no over the top Johnny Depp-ness here). There is a purpose to the story and the content is more important than the cast and crew.Well worth watching.
... more
I had never known about King George III before "The Madness of King George" came out, but what I saw in the movie sure blew me away. I would say that George's mental state, more than anything, is an example of what happens when these monarchs refuse to marry outside their boundaries: they end up with all sorts of problems.But even ignoring that, the movie does a fine job showing what happened. And they know that even when dealing with a serious topic, there's always room for a joke or two (and not particularly clean ones). Through their performances here, Nigel Hawthorne, Helen Mirren, Ian Holm, and the rest of the cast all reaffirmed themselves as some of the greatest actors of our era.As for what I wrote in the 5th grade history class. We were studying the American Revolution (you may recall that George III was king at that time in history, and some people blamed his mental state for the loss of the 13 colonies). I wrote a story about two brothers in Virginia arguing about whether or not to break away from England. One of the brothers called referred to "good King George", and the other called him "mad King George". A lame joke, I admit, but that's what I wrote.
... more