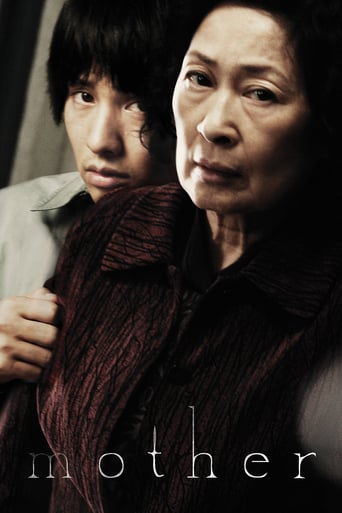 Mother
May. 28,2009

Watch Now
A mother lives quietly with her son. One day, a girl is brutally killed, and the boy is charged with the murder. Now, it's his mother's mission to prove him innocent.
Reviews
It is a performances centric movie
... more
It's not great by any means, but it's a pretty good movie that didn't leave me filled with regret for investing time in it.
... more
Pretty good movie overall. First half was nothing special but it got better as it went along.
... more
If you like to be scared, if you like to laugh, and if you like to learn a thing or two at the movies, this absolutely cannot be missed.
... more
Was looking forward to this film after enjoying the director's earlier films, Memories of murder, The host n Snowpiercer. The film is about a mentally challenged kid who is also being overprotected by his single mother who is a specialist in herbs n acupuncture. The kid is arrested n charged with the murder of a young girl but the mother believes he is innocent n she goes out to prove his innocence. The best part about this film is the acting by the lady who played the mother. Another good aspect is the details. When the dead body of the girl is kept on the terrace of a dilapidated house for the whole town to see, we as viewers really wants to know the reason n the reason is explained towards the end well suiting. The direction n cinematography were brilliant. The only problem was the editing. Found it to be a bit slow n long.
... more
This movie's about a mother who tracks down the killer of a young girl, Je-moon, who was supposedly killed by the mother's son. We see Yoon Do-joon get arrested after a drunken night while his mom suspects his best friend Jin-tae. My favorite character was Jin-tae as he had some great scenes with Mother, especially when the two were investigating the dead girl's classmates. I recommend this movie if you don't mind reading subtitles, like foreign films, or like investigation movies. I watched this on Netflix.
... more
I put off watching this film for a while. I heard it was very different from other movies in the same genre and I thought that meant it was going to be pretentious. But I was wrong. Mother is one of the best crime thrillers I've ever seen. At the beginning of the film, the main character, Do-joon is run over by a car. He and his supposed friend, Jin-tae seek revenge. This scene serves to demonstrate the personality of our main character and his relationship with his friend. We learn that Do-joon is mentally retarded or at least slow in the head with a bad memory. Soon after this, Jin-tae invites him for a drink. His friend fails to show up. Then our main character is accused of murdering a girl he was seen following the night before the murder. The police coerce a confession out of him. His overprotective mother doesn't believe he's guilty. She does whatever she can to help her son. First, she struggles to obtain enough money for a lawyer. When he proves incompetent, she begins her own investigation. She takes part in acts that range from questionable to heinous. She's willing to do anything to save her son, all the while being chastised and running into other kinds of problems. As the film progresses, you learn more about the kind of person mother is. And you discover things about her as well as other characters that may surprise you.The film follows a route you're probably not used to. This will surprise some, upset others, but at the very least should be a refreshing crime thriller for those who think they've seen them all.
... more
I can definitely sure, she is a great mother. She takes the basic responsibility to be as a mother. Loving her child by not allowing any one bully him, caring about her son by caring him every little piece of life, and protecting her baby even though she needs to be a killer,all of them are what a great mother will do for her baby. Her love is everywhere in the movie, it is almost every of her performances in the movie is to describe the love, no matter by a simply words or by a small gesture. The mother here convinces me that she is the retarded boy's mother. It doesn't matter looking from the expression, the movement or the tone, she exactly the mother of the poor boy. Even she drops the conscience away to take the responsibility of a mother. Quarrelling with others to defend her son, doing something under table to help her son, and even killing a people to protect him, all of them can tell the audiences who she is, can shame those mothers without taking their responsibility, and also can make some idiots aware of what would a mother do for a son like them.However, from the great mother, there are also problems that, I think, the director want to show us. It is also the great mother who told his son to kick back when someone bully him, which leads to the killing he did. It is again the great mother exposes her selfish to the audiences when she decided to kill the junkman and put another poor boy into prison instead of her son. She even wants to believe anyone else can be the murder except her son. Those are also why I am confused about, maybe the movie want to tell us a great mother, not a great person and maybe the two ones can not be the same person.Anyway, there is no doubt that it is a great mother here is being talked about. The last thing makes me feel a little bit better is that our great mother cries when she talks with the innocent boy who catches the crime for her son, and that means she still has conscience.
... more