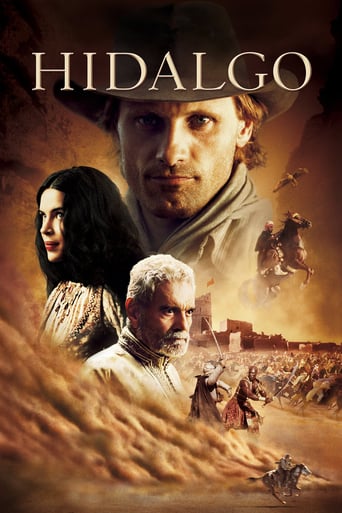 Set in 1890, this is the story of a Pony Express courier who travels to Arabia to compete with his horse, Hidalgo, in a dangerous race for a massive contest prize, in an adventure that sends the pair around the world...
Reviews
In truth, there is barely enough story here to make a film.
... more
It's not bad or unwatchable but despite the amplitude of the spectacle, the end result is underwhelming.
... more
The movie's neither hopeful in contrived ways, nor hopeless in different contrived ways. Somehow it manages to be wonderful
... more
what a terribly boring film. I'm sorry but this is absolutely not deserving of best picture and will be forgotten quickly. Entertaining and engaging cinema? No. Nothing performances with flat faces and mistaking silence for subtlety.
... more
Can't believe I have never watched this. It's the type of film you have to go into with an open heart & mind. Rest assured it will then blow your mind. There are parts hard to watch which add to what makes it epic. This was an experience. Definitely ignore every nay sayer on this one and do yourself a favour and don't go so long like myself never having watched it having never heard of it before. You won't regret it. If you have a love for all life then this is the film for you. Wish I could live that experience again from scratch.
... more
Typical cowboy movie? Maybe, maybe not... mostly not. Personally, I hate cowboy movies. My dad's sat me down and made me watch too many bad cowboy flicks, but "Hidalgo" had me hooked from the start. This had plot twists around every corner, a (somewhat) diverse set of characters, and great practical and special effects, each are ingredients to the recipe for a good movie.To be brief, the movie starts out at the end of a race in America, during the Cowboy age. Frank Hopkins (being the somewhat typical white-washed "Hollywood cowboy" with a Native American twist) has just won yet another long-distance horse race. Frank's show name in an American entertainment show gets him wrapped up in a famous race in the far-off country of Arabia. He is given vague advice, some poor instructions, and is sent off to compete in the race. Being an underdog character and a tough-as-nails, adaptable-to-everything cowboy stereotype, Frank is able to survive a massive sandstorm, locusts, starvation, heat, corruption, and anything else thrown at him. In an odd addition, Frank is sent on what can be described as a "side quest" to save the daughter, Jazira, of Sheikh, the one holding the race. Once Jazira is safe, Frank simply goes back to racing. Of course, as everyone anticipated, Frank and Hidalgo win the race after almost every damn odd was stacked against them. The casting for this movie is arguably... "okay". Frank, played by Viggo Mortensen, was introduced as a cowboy character for the most part, but with the addition that he was half Native American. This detail could have been removed/replaced and made the movie look a little less white- washed, as Frank looks entirely white. Oddly enough, the horses' acting is worth noting. The animals, no matter was situation they were put in, reacted extremely well and fitting to their scene, it's quite remarkable. Some characters could have been removed, such as Lady Anne and her forced-feeling relationship with Frank (but the cowboy always has to get the girl, right?) as well as the slave boy and Jaffa, whose parts are irrelevant other than giving Frank advice. The clashing of Frank's American culture and the Arabic culture was mixed well. Frank respects, although not happily, their customs. Not touching the Shiekh's hand (in the beginning), not helping the other racers (at first), and putting up with their "fate has been chosen already" rants. The Arabics accept that he has a "painted" horse, and is not one he bred himself, but instead tamed and befriended. Though, the Native American touch could have been ditched for something a bit more fitting, say... more American grit? Second thought, this movie has so much grit already it might burst if there is anymore added.All things considered, "Hidalgo" isn't half bad of a movie. It's got great emotional feel the whole way through, the costumes and scenery were gorgeous, and the ending was a bit disheartening yet certainly satisfying. Although, what American (such as myself) doesn't love an underdog movie with cool animals and awesomely choreographed fight scenes?
... more
In the old west, Frank Hopkins (Viggo Mortensen), a half-breed American, is dispatched with a message to the military brass that orders the massacre of a tribe of native Americans at Wounded Knee, if necessary. It becomes apparently necessary. Hopkins takes to drink and joins Buffalo Bill's Wild West Show which dramatizes, with flash and fury, and guns a-blazing, the triumph of the noble white man over the pernicious savage. Strange to think how this idea was perpetuated by popular culture (the movies) until the 1950's and beyond. Anyway, fate intervenes - an Arab Sheikh (Omar Sharif) has taken an interest in long-distance horseman Hopkins and his wild mustang, Hidalgo, and soon the two are crossing "the great water" to compete in a prestigious horse race across the Arabian desert, against a different breed of horse – and horseman – altogether.In "Hidalgo" breeding is everything. In Arabia Hopkins encounters a world in which the privileged few – princes and sheikhs – hold sway over the multitudes, and lesser races are relegated to slavery (Hopkins was born in 1865, during the demise of American slavery). Hopkins and his mustang are sneered at by the breeders of generations of Arabian thoroughbreds, and the valiant riders of these princely animals are not above cheating and engaging in other forms of deadly chicanery in order to win the race. Mortensen plays Hopkins as a particular breed of man – one with honour, integrity, self-reliance and the ability to take care of himself – and this "infidel" eventually endears himself to Sheikh Riyadh who holds similar ideals (a little hokey, I admit, because this type of laconic American hero, the likes of Gary Cooper, has been so prevalent in American movies).I liked the "breeding" angle, which carries well throughout the movie, and I liked Viggo Mortensen's performance. Most of all, I liked the horse, Hidalgo, who pretty much steals the show. I found the race sequences to be a bit sketchy, and I had trouble believing that the participants actually covered the great distance we're told they did. It's an amiable adventure movie with stock action scenes, though not always that rousing. Writer John Fusco is purportedly a great fan of Hopkins whose claim to have participated in the Arabian horse race is held in question, according to my minimal research. But it's a good tall tale.
... more
Hidalgo is a very entertaining, action-packed film that is well-directed and has a great lead actor fresh off his Lord of the Rings films. It's beautifully shot and the cinematography of the "Old West" and the Arabian Peninsula is gorgeous. The script is thinly-written, but Joe Johnston easily takes care of that in this entertaining flick. I also learned a thing or two about horses and the different types of breeds.Joe Johnston's film is about a cowboy and a horse racer who heads to the Middle East to participate in a 3000-mile long race. However, there is an evil plot in the works that this cowboy may end up being involved in.Viggo Mortensen is an underrated actor and it's a shame he doesn't get many leading or high-profile roles, with the Lord of the Rings trilogy being an exception. He does have the grace and capability of being a leading man as shown here.Overall, this is a fun, very entertaining film. It's a pleasure to look at and the story is involving. This is nothing special, but it's a pure escapist film after the long, grueling Oscar season. I had a fun time watching this and there are many important themes here. I rate this film 9/10.
... more