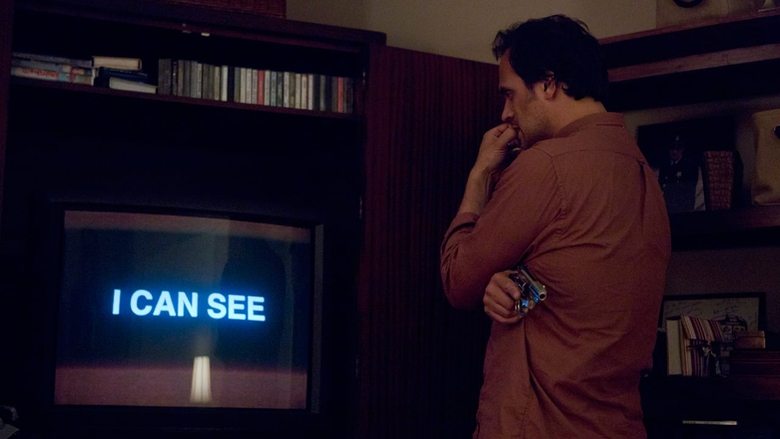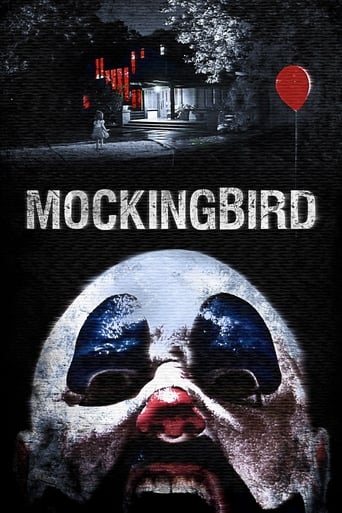 Mockingbird
October. 07,2014 R
A couple are given a camera and a set of instructions which they must follow or else someone will die.
Reviews
That was an excellent one.
... more
Highly Overrated But Still Good
... more
This is one of the few movies I've ever seen where the whole audience broke into spontaneous, loud applause a third of the way in.
... more
All of these films share one commonality, that being a kind of emotional center that humanizes a cast of monsters.
... more
It's a bit sad, almost pathetic even, how this film desperately tries to attract wider audiences by referring to "The Strangers" all the time. "The Strangers" unexpectedly became one of the commercially successful horror hits of 2008. Okay, writer/director Bryan Bertino previously made "The Strangers". So what? It wasn't exactly a masterpiece of horror cinema, now was it? "The Strangers" was entertaining at best and, moreover, Bertino shamelessly recycles the very few good aspects of his previous film here. Once again, he ventures into the domain of home invaders, invisible but omnipresent assailants and shock-endings that honestly aren't that shocking. The only aspect that is added in "Mockingbird" is the dreadful found-footage filming style. Found-footage, really? I thought that annoying horror trend had died by 2014 already? The plot - or a lack thereof - mixes the lives of several people who supposedly won a video camera in a supermarket contest and receive instructions to keep filming whatever they do. There's a couple with young children, a single woman and a loser in his late twenties who still lives with his mother. The couple and the single woman soon notice they are unable to turn off their cameras and find themselves harassed by sinister figures moving around their houses. The slacker - Leonard - receives instructions to dress up like a clown and complete increasingly humiliating assignments, and he does them, too! You quickly see where all this is going: these poor suckers are driven to madness before being brought together in a place where things will end dramatically for them, as they always do for innocent people. Only at the end it's revealed who's responsible for sending the cameras etc. and why, but it's the same old, dire and irritating revelation as always. The climax is thus very short, predictable and dull, but everything leading up to the climax is even worse! "Mockingbird" is an indescribably boring film, full of uninteresting footage and anecdotes of uninteresting people. Bryan Bertino fails miserably at generating any suspense or atmosphere whatsoever, the shaky camera handling still makes me nauseous and the nice classical music deserves to be used in a more qualitative film. This is honestly one of the worst excuses for a horror film that I've seen in years, avoid at all costs!
... more
This movie was one of the worst I have ever seen. The story did not make any real sense and was not believable. It wasn't scary in the slightest and bordered on plain irritating. I'm not a huge fan of found footage type films and this movie is the reason why! I suppose in my mind I wouldn't be concerned about carrying around a huge camera in that type of situation, but clearly that's the first thing you do! I suppose if you are extremely gullible then you could fall for the nonsense this film portrays but in real life I highly doubt you would randomly stumble across more than one person who would fall for it therefor making it not very believable. It was definitely not worth the watch and I would not recommend this movie to anyone.
... more
After 8 years of either being unwilling or unable to make The Strangers II (even after massive prodding from fans), Bryan Bertino has emerged with what has to be the oddest entry to date in the Found Footage genre. Excuse all the comparisons to The Strangers in this review --- but the two films are extremely similar in story.When The Strangers was released, I saw it on opening day and it had a huge build-up from a very disturbing trailer. Although it had a lot going for it in the scares department, helped immensely by solid performances from Liv Tyler and Scott Speedman, I was ultimately disappointed by it. I savaged it in my review on IMDb as being too thin and derivative and that might not have been entirely fair. It did have its virtuoso moments and a prevailing creepy mood. I just felt it didn't add enough original layers of fear beyond being chased by a bogeyman.Most traditional horror films have some kind of Act One Setup. Though The Strangers attempted this, I never thought it succeeded. I never thought enough time was spent on the characters of Kristin and Jim (Tyler and Speedman) to engage us fully in their terror and fight for survival. Perhaps Tyler and Speedman were just too convincing and thus harder to disengage from when Bertino gave them little to work with, plot-wise.With a storyline this thin (little background on protagonists, no motivation for antagonist, almost immediate intro of A Threat), an almost constant barrage of non-stop terror is required and that is difficult to sustain for a full-length feature. Again, the Strangers tried but, after the one hour mark, largely lost steam. Only two other movies that I've seen have really been able to do this effectively throughout: namely Them (2006) and High Tension (2003). And the fact that The Strangers is almost a direct crib of Them didn't impress me (with the slight change being the age of the antagonists).The good news about Mockingbird is that, even though it doesn't develop it's characters much more than The Strangers, they aren't characters that are critical to develop. Bertino also segments the narrative with frequent title cards that encourage even more disengagement. At times, Bertino seems to be egging us on to --- yes --- "mock" his triumvirate of gullible idiots in Mockingbird. More emotional distance would seem to mean more traditional scares are in store, right? Well, not really.There is The Family, The Woman, and The Clown, all of them kind of pathetic characters in some regard, who basically spend the entire film being terrorized and mentally tortured by an unseen adversary with a lot of time or money on their hands. The premise is simple: accept a free video camera and keep filming, or die. I found that idea a little more interesting, cryptic, and diabolical than the standard stalk-and-slash. I equate real terror more to dread and fear (at the movies anyway) and Bertino nicely controls this with Mockingbird, and he gets fairly inventive with the torments too. The scariest part of The Strangers, to me, was the first forty minutes when the antagonists were virtually off screen. Mockingbird is more like an extended version of that segment, with more palpable tension because the terror is simply spread out in one unrelenting, though low frequency, undercurrent. Unfortunately, it's offset by the fact that it's fairly easy to see where things are going from about the movie's halfway-point. The reason why these victims were chosen becomes a bit too obvious.The ending, too, is vastly anti-climactic and yet another steal from Them. Bertino is well capable of creating ominous moods and surprising us with occasional jump-in-your-seat scares. But with Mockingbird, one senses he needs some fresh inspiration. I have a hard time believing his core cult audience for The Strangers (the people who spend hours writing potential sequel stories and posting them on the message boards here) are going to be able to sit still long enough for Mockingbird to really get rolling and then be happy with the results. If you want in-your-face scares, Mockingbird isn't that kind of fowl at all --- but it's still kind of foul in its own gleefully sadistic way.
... more
Lol. What a horror show. Keep filming or die! Well, that doesn't leave you with a lot of options dies it. I am filming don't you see?!! I'm doing what you want, just leave me alone. Come outside it's your birthday. Pick it up. Pick up the box. Lol. Who even has VHS tapes and cameras in their possession any more. I think that's the real horror to witness here. No wireless internet either. Whatever shall we do! Forget about the believability of it all. We want to see these people get terrorized until they can't take it any more. The clown needs money and he's hot on the trail. He'll do whatever he has to to get out of his mother's basement. So venture outside, but beware. Don't be afraid. Pick up the box...Pick up the box! There's a gift inside for you.
... more