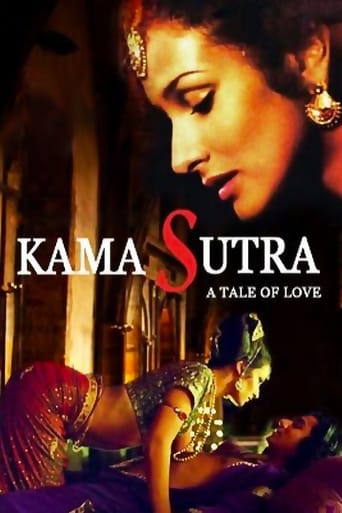 Tara and Maya are two inseparable friends in India. Their tastes, habits, and hobbies are the same. Years later, the two have matured, but have maintained their friendship. Tara gets married to the local prince, Raj Singh, who soon succeeds the throne as the sole heir. After the marriage, Raj gets bored of Tara and starts seeking another female to satisfy his sexual needs. He notices Maya and is instantly attracted to her. He has her included as one of his courtesans, and is intimate with her. Watch what happens when Tara finds out and the extent she will go to keep her marriage intact.
Reviews
Purely Joyful Movie!
... more
Good story, Not enough for a whole film
... more
A terrific literary drama and character piece that shows how the process of creating art can be seen differently by those doing it and those looking at it from the outside.
... more
Kama Sutra: A Tale of Love (1996): Dir: Mira Nair / Cast: Naveen Andrews, Sarita Choundhury, Roman Tikaram, Indira Varma, Rekha: Looks more like a documentary than a feature film and sometimes contains the feel of a porn flick. It regards the confusion between love and lust and the physical and emotional. Set in India where it follows the sexual conquests of two males towards a woman named Maya. Actually it is two sisters who are the initial competitors. One is set to marry a ruler while the other is given to his courtesan. Maya seduces the ruler in a spite of revenge and flees. She encounters a tribesman with a chisel and he carves her image as a statue. The ruler will pay him for her identity. Laced with sex, sex and more sex before arriving at a very fatal conclusion. Beautiful music and stunning set pieces with fine directing by Mira Nair. Fine cast includes Naveen Andrews as the vengeful Prince whom will never receive the love he seeks due too his pride. Sarita Choundhury is Tara, Maya's sister. Roman Tikaram is the tribesman who faces fatal consequences for his dance with erotica. Indira Varma plays Maya whom must live with her actions. Rekha plays some sort of teacher of Kama Sutra. So, basically, she is a sex education representative. It is a film about sacrifice but Kama Sutra means various acts of lovemaking. Is this film suppose to be a guide? Score: 6 / 10
... more
I came across this film quite randomly and expected something pretty intolerable, but with bewbs. Instead, I got beautiful cinematography and arresting visual content behind a very candid study of the difficulties of navigating human desire. Even in a culture with clear conventions and few inhibitions regarding the acts of love, relationships advance by trial-and-error, defying the participants' intents and expectations, elevating some while trampling others underfoot.The film at once delivers the exotic with its costumes, sets and dancing, and tells a timeless and easily recognizable human tale. Also, some very beautiful people take off their clothes =D
... more
I believe that I would like to place a moment of blame on this film. Due to the title alone, I was nervous about viewing it with the windows open. Prior to my viewing, I was unaware that it was directed by famed director Mira Nair, and was fully prepared to draw my blinds as I embarked on this film adventure. The title was Kama Sutra: A Tale of Love, what was I to assume. After watching nearly two hours of this film, I was disappointed. I was upset with not only the lack of commitment to the characters, the tired storyline, and the anti-climactic ending, but also due to the lack of sexuality surrounding this film. "Kama Sutra" headlines this feature, but alas, it is not the central focus, and this is where I believe Nair failed us and my moment of blame was born. I would like to make it clear that I did not desire a film of pornography, I knew that this was a "mainstream" film, but I did want something deeper and centered around the art of "Kama Sutra" instead of just another cliché story of rival girlfriends. I realize that I am generalizing the overall theme of this film, but at the core of this movie it was not about the art of sex, but instead the decay of man.I did not like this film. I understood this film to be considered an adult fairy tale, but alas, I never saw the elements of a fairy tale in this story. Written in part by Nair, I saw this film as her opportunity to demonstrate the power of a woman's sexuality over even the strongest of men. In a very small part she succeeded, but her attempt to build this opportunity failed with her characters. When you make a film centered on love, or the passion of its act, you must hire actors that will give the audience that sensation. The audience must feel the sweat, the energy, the excitement of what is happening on screen or it will fall swiftly into just another Skin-a-Max midnight movie. Sadly, Nair could not accomplish this. When her characters, whether it was Maya, Tara, Raj, or even Jai, were "forced" into the "Kama Sutra" part of the film, it felt scripted and staged. There was no instant passion between these characters, which destroyed, utterly ripped from its roots, any attempt that Nair had to create the theme of sexual independence. Without the fire behind her actor's eyes, the rest of the film fell to the wayside as just your "average" film.Nair had another opportunity to capture back her audience with this film, but she never took it. Nair could have pulled a Gandhi-esquire moment for us by countering the horrible acting with beautiful images of India. Nair could have coupled the beauty of "Kama Sutra" with the beauty of the land, thus creating at least one moment of visual eye-candy for the viewers, but again, she did no such thing. The few moment of fresh scenery that we had seemed like it came from National Geographic stock footage. I realize that she was actually in India, but what concerned me was that I didn't feel like I was in India. Throughout the film I realized that I was sitting on my couch watching bad acting with recycled images of India. I was nowhere close to being swept away by a lavish love story. Wait. This wasn't an original lavish love story. This was nothing more than the cliché story of two friends whom find themselves fighting over the same man with a foreign twist. Perhaps I needed more influx into India's culture or even more back-story on our smaller characters, but nothing took my breath away. The character's lack of passion cheated me, and now Nair's choice of scenery felt just as plastic.Finally, I would like to say that (without giving anything away); the ending was rather lackluster. Void of emotion to our characters and obvious cliché India images only strengthened the forgettable ending. Again, the title of this film was Kama Sutra, which invokes images of lust and passion, sadly the ending evoked nothing of the sort. There wasn't a care in the world for our characters, so why should we feel impassioned about them in the final climactic moments? I didn't. As I watched this film I felt as if I was on a Disney ride through India. The tracks were in place so my cart couldn't go off the forsaken path, while the robotic characters did what they were supposed to do without any surprises or excitement. The only character (and I hate to go back on this rant again, but it is the central reason this film fell hard) worth enjoying was that of Naveen Andrews, but I think it is because of his Lost connection. By the time the ending finally happened, I was sculpting my own story in rock and hoping that Hollywood would produce it.Overall, this film did have potential, but by giving it a name like Kama Sutra it over promised and ultimately did not deliver. Again, I would like to make it clear that I was not hoping for a heavily sexual film, but it needed to be a stronger point in the story than just a "quick-cut" or a side quest. Kama Sutra failed because of its characters and their obvious lack of devotion to the story. There were no surprises, there was no excitement, and there was no romance, just cliché plot points that you can see in any film across the fine Earth. Could Nair been more adventurous? This reviewer thinks so. She could have taken us off the beaten path, deeper within the darkness, but instead she glossed over the truth giving us a Kama Sutra that was more pastel than passionate.Grade: ** out of *****
... more
I do confess that I have read the Kama Sutra and there's an awful lot of misconceptions about it . It is NOT some hot porn manual that will get your juices flowing , it's a very thick book about the art of love . If you've bought a copy simply to use as masturbation fuel then you've certainly wasted your money . Likewise if you bought the book to wave around during some moral crusade with a rather dubious agenda The film is very similar to the book . Many people who have stated their opinion have obviously watched the movie either expecting to be shocked or to be brought to orgasmic ecstasy but that's their problem because like the book with the same name this film while being somewhat erotic is also rather dull . It's not an adaptation per se just a rather unconnected and tenuous example of a book and movie sharing the same name . The only reason it's called KAMA SUTRA is down to the fact that it's taught to a group of courtesans , the rest of the plot involves something of a love triangle . It's also a movie that's not well made with a visual look of something that appears to have been shot on very poor stock film I will praise it on one aspect - The casting . For this type of movie to come close to any type of success the casting of the lead female must be right and Indira Varma as Maya simply steals the film . He is strikingly beautiful but he also oozes a type of pure innocence . It's very easy to see why Raj Singh has fallen in love with her . Singh is played by Naveen Andrews who everyone in the world will now know via a very successful American show but you'll never be reminded of Sayid Jarrah while watching this because Andrews is very convincing . I do feel slight sympathy for Sarita Choudhrey as the other pivotal female role of Tara because her part feels rather underwritten and understandably she doesn't have the same type of breathtaking beauty as Varma unfortunately This could have been a very poor film and to be honest it's not a great one either , but some clever casting and fine acting make it worth watching at least once
... more