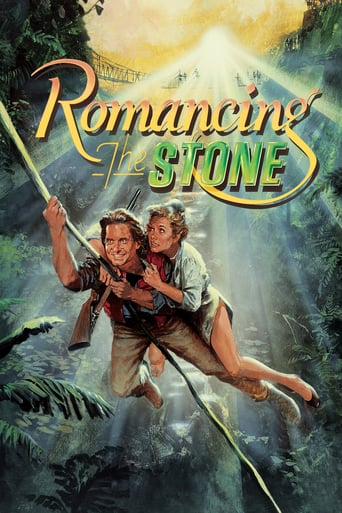 Though she can spin wild tales of passionate romance, novelist Joan Wilder has no life of her own. Then one day adventure comes her way in the form of a mysterious package. It turns out that the parcel is the ransom she'll need to free her abducted sister, so Joan flies to South America to hand it over. But she gets on the wrong bus and winds up hopelessly stranded in the jungle.
Reviews
People are voting emotionally.
... more
It's not bad or unwatchable but despite the amplitude of the spectacle, the end result is underwhelming.
... more
A terrific literary drama and character piece that shows how the process of creating art can be seen differently by those doing it and those looking at it from the outside.
... more
Someone told me that 'Romancing the Stone' was actually a romantic comedy, rather than an action movie. Yeah, I guess there's an element of 'romance' in as much as the two lead characters are male and female, therefore if you even know what a 'film' is you'll realise there's going to be an element of two people getting together in the midst of an outlandish adventure. However, I still always see this film as an 'action' movie, rather than luvvy-duvvy stuff!A writer (Kathleen Turner) finds her sister has been kidnapped in a South American country and sets off to rescue her (or rather just pay the desired ransom). Once in the jungle territory she finds herself woefully out of her depth, but luckily she seems to bump into the only other American in the continent (Michael Douglas) who is skilled in the ways of jungle survival. I can't quite recall which came first - this, or 'Indiana Jones and the Temple of Doom. Either way, they seem to co-exist in the same universe when it comes to tones (although Temple of Doom strays into the supernatural, as opposed to a drugs cartel, but for the early part of the film they're near identical in terms of tone). Not just do our bickering heroes have each other and the terrain they're stranded in, they also have Danny DeVito's slimy little character hot on their heels, not to mention a tonne of drug lords and, of course, the kidnappers. So there's plenty of time for conflict to come into play here. Personally, I think the film has stood up to the tests of time in terms of action and entertainment. There's clearly plenty of chemistry between the two leads and the film's a lot of fun. However, you can tell it was filmed in the eighties (not just by Douglas' 'mullet') due to how the woman is basically portrayed as a 'damsel in distress' type character and the man is clearly in charge at all times. Then you also have the stereotypical South American characters who are all shady (at best!) or simply drug dealers. If you can get over the fact that this was just how films were made thirty years ago then you should find this a fun film to watch on a lazy Sunday afternoon (and make sure you see the 'full' version rather than the one that's been 'cut for TV' as it contains a lot more 'croc action!').
... more
A romance writer sets off to Colombia to ransom her kidnapped sister, and soon finds herself in the middle of a dangerous adventure. Romancing the Stone is a 1984 Adventure Comedy directed by Robert Zemeckis and stars Michael Douglas, Kathleen Turner and Danny DeVito. Personally i found this film to lack the aspect of comedy and action at times it's very silly and over the top and that is what hurts it the most plus DeVito's performance is very silly and not in a good way, the 2 main stars have a good chemistry together and the movie is watchable for the most part despite being really dumb at times. The soundtrack is good and the action is okay. It's not one of Zemeckis best films but it's not one of his worst either but it could have been much better if it tried a bit more at least . (7/10)
... more
Plot; A romance novelist goes to Columbia where she teams up with a mercenary to rescue her Sister and find a priceless treasure.Romancing The Stone is a prime example of talent working together to lift the material. That's not to say that it's a bad script (a tad politically incorrect at times, but not bad). In fact, it's reasonably witty and evokes classic movies like The African Queen. But thanks to sure direction by Robert Zemeckis and great chemistry between charming leads Michael Douglas and Kathleen Turner (and a humorous turn by Danny DeVito as one of the baddies), it rises above what in lesser hands would've been disposable, B-movie fare. It's certainly no Raiders Of The Lost Ark, but then what is?
... more
"Romancing the Stone" is not really Robert Zemeckis' best film, but it is worth watching. I am not sure if I have a whole lot say about this movie, but I'll give it a try. "Romancing the Stone" is about a lonely author Joan Wilder, who is writing her latest novel receives a phone call from her sister that she has been kidnapped in Colombia by a group of bad guys, then tells her to bring the map of treasure if she ever wants her sister back and alive again. So she travels to Colombia, and comes across a smuggler Jack T. Colton as they both teamed up to not only get her sister back, but find the emerald. The movie does have some good laughs, but I only wish if it could use some more humor. Although the movie isn't trying to be a comedy because all it wanted it is to be an action-adventure movie with romance as what the title says "Romancing the Stone." That is just me, in my opinion. With that said, I thought the action in this movie is well done but there are not as exciting as some of the action in the "Indiana Jones" movies. The cast in this movie did great. I thought Kathleen Turner and Michael Douglas both made a very good chemistry with each other, and they do carry out as the pacing goes along. Also, I thought Danny DeVito did good too. Alan Silvestri does a fine job with score, but nothing too special about it. The movie is also well written; well filmed; and it is well directed by Zemeckis. It is interesting to know that this movie did well for Zemeckis as he would later go on to directed the "Back to the Future" movies; "Who Framed Roger Rabbit?;" and many others as well as winning best director for "Forrest Gump." So that is how much I got to say about this movie. Again, it's not Zemeckis' best film, but it is worth watching. I give it an 8 out of 10.
... more