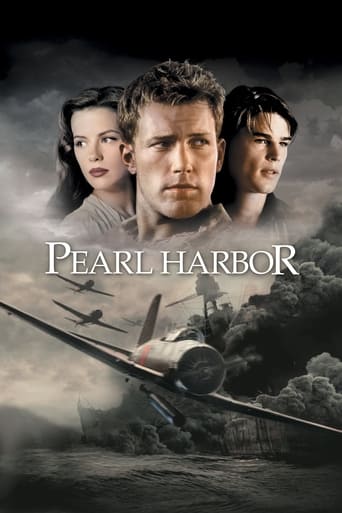 The lifelong friendship between Rafe McCawley and Danny Walker is put to the ultimate test when the two ace fighter pilots become entangled in a love triangle with beautiful Naval nurse Evelyn Johnson. But the rivalry between the friends-turned-foes is immediately put on hold when they find themselves at the center of Japan's devastating attack on Pearl Harbor on Dec. 7, 1941.
You May Also Like
Shudder
Night's End
An anxious shut-in unwittingly moves into a haunted apartment and hires a mysterious stranger to perform an exorcism which takes a horrific turn.
Night's End
2022
Showtime
Demonic
A young woman unleashes terrifying demons when supernatural forces at the root of a decades-old rift between mother and daughter are ruthlessly revealed.
Demonic
2021
HBO max
Troy
In year 1250 B.C. during the late Bronze age, two emerging nations begin to clash. Paris, the Trojan prince, convinces Helen, Queen of Sparta, to leave her husband Menelaus, and sail with him back to Troy. After Menelaus finds out that his wife was taken by the Trojans, he asks his brother Agamemnom to help him get her back. Agamemnon sees this as an opportunity for power. So they set off with 1,000 ships holding 50,000 Greeks to Troy. With the help of Achilles, the Greeks are able to fight the never before defeated Trojans.
Troy
2004
HBO max
Spawn
After being murdered by corrupt colleagues in a covert government agency, Al Simmons makes a pact with the devil to be resurrected to see his beloved wife Wanda. In exchange for his return to Earth, Simmons agrees to lead Hell's Army in the destruction of mankind.
Spawn
1997
Starz
The Patriot
After proving himself on the field of battle in the French and Indian War, Benjamin Martin wants nothing more to do with such things, preferring the simple life of a farmer. But when his son Gabriel enlists in the army to defend their new nation, America, against the British, Benjamin reluctantly returns to his old life to protect his son.
The Patriot
2000
CineMAX
Knock Knock
When a devoted husband and father is left home alone for the weekend, two stranded young women unexpectedly knock on his door for help. What starts out as a kind gesture results in a dangerous seduction and a deadly game of cat and mouse.
Knock Knock
2015
Prime Video
Armageddon
When an asteroid threatens to collide with Earth, NASA honcho Dan Truman determines the only way to stop it is to drill into its surface and detonate a nuclear bomb. This leads him to renowned driller Harry Stamper, who agrees to helm the dangerous space mission provided he can bring along his own hotshot crew. Among them is the cocksure A.J. who Harry thinks isn't good enough for his daughter, until the mission proves otherwise.
Armageddon
1998
HBO max
Black Hawk Down
When U.S. Rangers and an elite Delta Force team attempt to kidnap two underlings of a Somali warlord, their Black Hawk helicopters are shot down, and the Americans suffer heavy casualties, facing intense fighting from the militia on the ground.
Black Hawk Down
2001
Prime Video
Valkyrie
Wounded in Africa during World War II, Nazi Col. Claus von Stauffenberg returns to his native Germany and joins the Resistance in a daring plan to create a shadow government and assassinate Adolf Hitler. When events unfold so that he becomes a central player, he finds himself tasked with both leading the coup and personally killing the Führer.
Valkyrie
2008
Prime Video
Enemy at the Gates
A Russian and a German sniper play a game of cat-and-mouse during the Battle of Stalingrad in WWII.
Enemy at the Gates
2001
Reviews
To me, this movie is perfection.
... more
As somebody who had not heard any of this before, it became a curious phenomenon to sit and watch a film and slowly have the realities begin to click into place.
... more
It's the kind of movie you'll want to see a second time with someone who hasn't seen it yet, to remember what it was like to watch it for the first time.
... more
The film never slows down or bores, plunging from one harrowing sequence to the next.
... more
Cool action scenes but the rest is on kind of average summer block buster level. The cinematography is interesting to study. I find a lot in this movie interesting to study in regards to how it was made, so that is a good thing about this movie.
... more
So what did I think of Pearl Harbor? Awful, just awful. The only reason I'm giving this movie two stars is because the effects were good, yet the 1970 classic Tora! Tora! Tora! did a better job with no CGI, but with real fire, explosions, and models. Pearl Harbor gets some things correct, but most of it was wrong. Here are some examplesADMIRAL YAMAMOTO NEVER COMMANDED THE JAPANESE STRIKE FORCE. So, first off, the movie shows Admiral Yamamoto on the aircraft carrier Akagi. This is wrong because Yamamoto was in Japan during the operation. The Striking Force was commanded by Vice Admiral Chuichi Nagumo. While Yamamoto planned the attack, he did not command the fleet that carried it out.BEN AFFLECK IS FIGHTING WITH THE BRITISH, EVEN THOUGH THE AMERICANS WERE NOT INVOLVED IN THE WAR YET.Affleck's character is fighting in the Battle of Britain with RAF fighter pilots. One, he is fighting a Spitfire or Hurricane with POLISH markings on it, because there were Polish volunteers in the air war, and Poland was invaded at the beginning of the war, which is why the war started, so the Polish could fire at the Germans. Two, America was not in the war until after Pearl Harbor, American pilots only started fighting with British pilots until September of 1942! So doesn't their need to be a state of war between the US and the Nazis for Affleck to be firing at German planes?THE HOSPITALS WERE NOT FIRED ON DURING THE ATTACK.During the attack, the town and hospital are strafed and bombed by the Japanese. Honolulu was never strafed during the attack! Yes, it is true that civilian fire trucks were strafed and some civilian firefighters were killed... NO NURSES WERE KILLED! I was just very mad and angry to see the nurses weeping over their friend the nurses death, not because she was killed by the Japanese, but because it never happened.THE QUEEN MARY WAS A TROOPSHIP IN 1941, NOT AN OCEAN LINER.Affleck and whats her face steal a police boat and get on the RMS Queen Mary. The Queen Mary was one of the fastest ships in the world through the late 1930's, throughout the 40's, and in the early 50's. Today, she is a hotel and tourist attraction in Long Beach California. Just one problem... When the party on board is supposed to be happening, the ship was a troop transport, transporting troops across the Atlantic to Europe. PEOPLE!!!! THERE IS A WAR GOING ON!!! ARE YOU GOING TO TAKE A MILITARY VESSEL FROM COMBAT AND SAY "HEY! LETS HAVE A PARTY!" They could have done those scenes in say, a nightclub in NYC.So... Did you people not do any research into the war? You combined two Japanese admirals into one, sent an American pilot to fight in Europe, which was against the rules of war, killed a nurse and bombed a hospital to make us cry I guess? And you take a military vessel from service on war duties for a party.If you people want a better Pearl Harbor movie, watch Tora! Tora! Tora! from 1970.
... more
I've seen about a third of this movie, and the 2 star rating applies to that hour. I don't care about the other 2. The movie tries to recreate "Titanic" using a forbidden love story around the story of 12/7/41. My youth pastor doesn't like this movie either, mainly because it uses one of America's greatest moments in history and turns it into a love story. I was bored by it. I first saw it when I was 10ish and I was bored. I thought it might be since it was long. In 10th grade we had to watch the attack scene, which is why the rating is 2 stars and not 1. Roger Ebert gave this 2 out of 5 stars (or 1.5/4 on his scale) , so he didn't like it either. I'll paste his review below. There's 3 people who don't like it. It has a 6/10 on IMDB. Does it sound like many people care for it? Roger's Review:"Pearl Harbor" is a two-hour movie squeezed into three hours, about how on Dec. 7, 1941, the Japanese staged a surprise attack on an American love triangle. Its centerpiece is 40 minutes of redundant special effects, surrounded by a love story of stunning banality. The film has been directed without grace, vision, or originality, and although you may walk out quoting lines of dialog, it will not be because you admire them. The filmmakers seem to have aimed the film at an audience that may not have heard of Pearl Harbor, or perhaps even of World War Two. This is the Our Weekly Reader version. If you have the slightest knowledge of the events in the film, you will know more than it can tell you. There is no sense of history, strategy or context; according to this movie, Japan attacked Pearl Harbor because America cut off its oil supply, and they were down to an 18 month reserve. Would going to war restore the fuel sources? Did they perhaps also have imperialist designs? Movie doesn't say. So shaky is the film's history that at the end, when Jimmy Doolittle's Tokyo raiders crash-land in China, they're shot at by Japanese patrols with only a murky throwaway explanation about the Sino-Japanese war already underway. I predict some viewers will leave the theater sincerely confused about why there were Japanese in China. As for the movie's portrait of the Japanese themselves, it is so oblique that Japanese audiences will find little to complain about apart from the fact that they play such a small role in their own raid. There are several scenes where the Japanese high command debates military tactics, but all of their dialog is strictly expository; they state facts but do not emerge with personalities or passions. Only Admiral Yamamoto (Mako) is seen as an individual, and his dialog seems to have been singled out with the hindsight of history. Congratulated on a brilliant raid, he demurs, "A brilliant man would find a way not to fight a war." And later, "I fear all we have done is to awaken a sleeping giant." Do you imagine at any point the Japanese high command engaged in the 1941 Japanese equivalent of exchanging high-fives and shouting "Yes!" while pumping their fists in the air? Not in this movie, where the Japanese seem to have been melancholy even at the time about the regrettable need to play such a negative role in such a positive Hollywood film. The American side of the story centers on two childhood friends from Tennessee with the standard-issue screenplay names Rafe McCawley (Ben Affleck) and Danny Walker (Josh Hartnett). They enter the Army Air Corps and both fall in love with the same nurse, Evelyn Johnson (Kate Beckinsale)--first Rafe falls for her, and then, after he is reported dead, Danny. Their first date is subtitled "Three Months Later" and ends with Danny, having apparently read the subtitle, telling Evelyn, "Don't let it be three months before I see you again, okay?" That gets almost as big a laugh as her line to Rafe, "I'm gonna give Danny my whole heart, but I don't think I'll ever look at another sunset without thinking of you." That kind of bad laugh would have been sidestepped in a more literate screenplay, but our hopes are not high after an early newsreel report that the Germans are bombing "downtown London"--a difficult target, since although there is such a place as "central London," at no time in 2,000 years has London ever had anything described by anybody as a "downtown." There is not a shred of conviction or chemistry in the love triangle, which results after Rafe returns alive to Hawaii shortly before the raid on Pearl Harbor and is angry at Evelyn for falling in love with Danny, inspiring her timeless line, "I didn't even know until the day you turned up alive--and then all this happened." Evelyn is a hero in the aftermath of the raid, performing triage by using her lipstick to separate the wounded who should be treated from those left to die. In a pointless stylistic choice, director Michael Bay and cinematographer John Schwartzman shoot some of the hospital scenes in soft focus, some in sharp focus, some blurred. Why? I understand it's to obscure details deemed too gory for the PG-13 rating. (Why should the carnage at Pearl Harbor be toned down to PG-13 in the first place?) In the newsreel sequences, the movie fades in and out of black and white with almost amusing haste, while the newsreel announcer sounds not like a period voice but like a Top-40 deejay in an echo chamber. The most involving material in the film comes at the end, when Jimmy Doolittle (Alec Baldwin) leads his famous raid on Tokyo, flying Army bombers off the decks of Navy carriers and hoping to crash-land in China. He and his men were heroes, and their story would make a good movie (and indeed has: "Thirty Seconds Over Tokyo"). Another hero in the movie is the African-American cook Dorie Miller (Cuba Gooding Jr.), who because of his race was not allowed to touch a gun in the racist pre-war Navy, but opens fire during the raid, shoots down two planes, and saves the life of his captain. He's shown getting a medal. Nice to see an African-American in the movie, but the almost total absence of Asians in 1941 Hawaii is inexplicable. As for the raid itself, a little goes a long way. What is the point, really, of more than half an hour of planes bombing ships, of explosions and fireballs, of roars on the soundtrack and bodies flying through the air and people running away from fighters that are strafing them? How can it be entertaining or moving when it's simply about the most appalling slaughter? Why do the filmmakers think we want to see this, unrelieved by intelligence, viewpoint or insight? It was a terrible, terrible day. Three thousand died in all. This is not a movie about them. It is an unremarkable action movie; Pearl Harbor supplies the subject, but not the inspiration.This is one person's comment on it: "One of my least favorite movies. A person that likes 'Pearl Harbor" must immediately begin proving that he/she is not an idiot, and I doubt that can be done." Is there anything more to say? It may have been an important event but it's not an important movie.
... more
A tale of war and romance mixed in with history. The story follows two lifelong friends and a beautiful nurse who are caught up in the horror of an infamous Sunday morning in 1941. Although i can understand the reason why some people hated this film the entire love story plot arc wasn't as bad as viewers and critics made it sound like plus the scenes regarding the Pearl Harbor attack were amazing and the cast did do a good job. As far as flaws go i didn't like the love triangle thing it wasn't needed and the first 2 acts did needed a bit more faster pacing at times but other than that it's still a great movie both as a romance and as a war epic and an overall underrated war film. (8.0/10)
... more