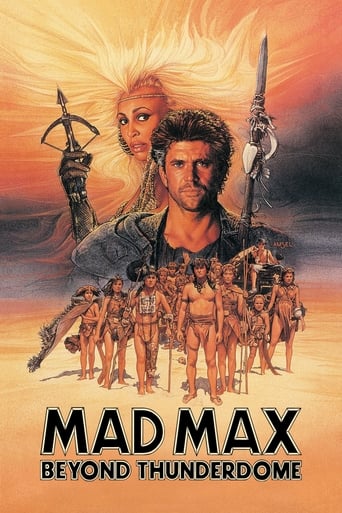 Mad Max Beyond Thunderdome
June. 29,1985 PG-13
Mad Max becomes a pawn in a decadent oasis of a technological society, and when exiled, becomes the deliverer of a colony of children.
Reviews
it is finally so absorbing because it plays like a lyrical road odyssey that's also a detective story.
... more
This is one of the few movies I've ever seen where the whole audience broke into spontaneous, loud applause a third of the way in.
... more
A movie that not only functions as a solid scarefest but a razor-sharp satire.
... more
The story, direction, characters, and writing/dialogue is akin to taking a tranquilizer shot to the neck, but everything else was so well done.
... more
After being exiled from the most advanced town in post apocalyptic Australia, a drifter travels with a group of abandoned children to rebel against the town's queen. I think 'Mad Max Beyond Thunderdome' gets alot of hate for truly nothing. It actually showcases the human side of Max (something that Fury Road completely forgot) plus alot of other movies did the post apocalyptic thing with children and the scene where the kids cut Max's hair reminded me a similar scene from Logan. Sure it's slower than the first 2 but it's still entertaining, the soundtrack is terrific and Turner did a decent job too. (8.5/10)
... more
Now I do enjoy the MAD MAX films. They're the epitome of Australian cult filmmaking on a budget: filled with uniquely Aussie humour, outlandish characters and plenty of action. In fact, MAD MAX 2 is one of my favourite films ever, finishing with that massive, sprawling chase sequence that's still inspiring filmmakers today (Neil Marshall's DOOMSDAY, anyone?). For some reason, I'd never got around to watching this, the third in the series, although I had seen snippets of it on TV. I wasn't impressed by the scenes I saw: it seemed cheesier and sillier than what had come before, more child friendly. And the presence of Tina Turner seemed a definite distraction.When I saw MAD MAX BEYOND THUNDERDOME was showing on TV again, I decided to bite the bullet and sit down and watch it, fearing the worst. I didn't get that, but this is definitely the weakest MAD MAX film of the series. The heart and soul of the story is missing from this one. It seems like a tired repeat of the last movie, with an unwelcome American presence in the likes of Tina Turner and more Hollywood ideals. Much of the blame must lie on the troubled production: the producer died causing George Miller to back out and only direct the action sequences while another hand took over the character and dialogue moments. The result is a mixed production. The action scenes, of which there are only really two – the 'gladiator combat' scene in the Thunderdome, and the final chase – are exquisite, as good as that which has come before, and very entertaining. Not original, but still entertaining.The non-action scenes drag like heck. The colony of feral children are mostly irritating, with too many attempts to make them 'cute'. They actually reminded me of the Ewoks in RETURN OF THE JEDI. Gibson's character is underwritten in this one, so that he barely speaks and seems like a void at the centre of the film. There's no sense of his desperation or his primal nature here, he's just a stock hero character. I found Tina Turner to be pretty insipid as the would-be villainess, although I was happy to see Bruce Spence returning as the helicopter pilot, albeit he plays a different character this time around. I was also delighted by the casting of veteran dwarf actor Angelo Rossitto who bags something of a swan song performance late on in his career. So, the final result: a hit and miss effort, soon forgotten. The final chase scene, though, is worth watching, even if it is a case of revisiting past glories.
... more
Were it do has elements of a typical Mad Max it also has the lame situation once Max is being exiled and is found by a gang of youth. Were so many franchises failed because they chose for money this is another example. Fans had to wait until Fury Roads (2015) came in to be thrown back to a real Mad Max flick. This was for me even a bit boring and the end scene did remind a bit too much of the truck scene in Mad Max 2. effects were all okay but a lousy script made this rejectable. But it made money, being a major release and having Tina Turner in it at her heydays. Gore 0/5 Nudity 0/5 Effects 3/5 Story 2/5 Comedy 0/5
... more
I've seen all the Mad Max movies and so far, aside from the first one this is the second worst besides the first one. There's nothing in particular that's wrong with this one but I just really prefer The Road Warrior and Fury Road. Basically the plot is simple, someone manages to steal Max's ride and go to a town with it so he has to go get his stuff back. However halfway through doing what the leader of the town (Tina Turner) he decides to leave but that ends up with him walking through a desert which at the last minute gets him to a civilization that believes that Max can lead them to their paradise, 1980's Sydney. However he decides the way to do this after he is reluctantly dragged along is to steal vehicles and other odds and ends necessary from the town and gain numbers from their prisoners. However them doing this means everyone and their brother is out to get them. The movie is stock Mad Max. Basically that's a problem because there is nothing in it as spectacular to look at as the stunts in Fury Road or The Road Warrior, It's just Max walks in this movie like a cowboy, then leaves in the sunset. There are good things like the cinematography, the stunts and the actors are good for the most part. It just has good elements but never goes above and beyond.
... more