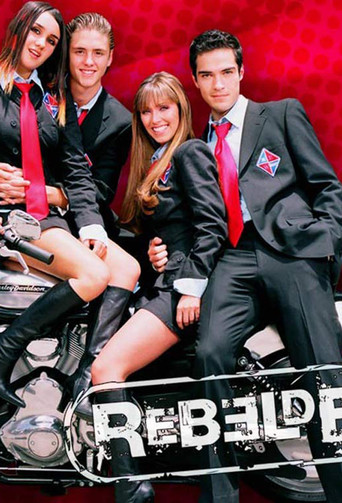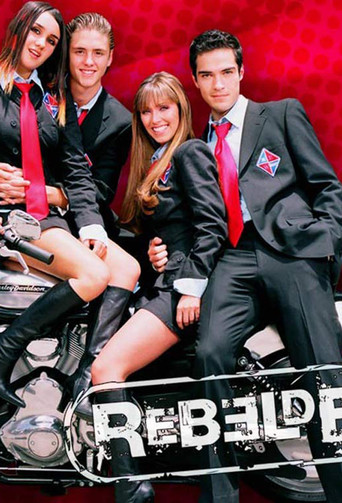 Rebelde
June. 09,2006
AD:This title is currently not available on Prime Video
Rebelde is a Mexican telenovela produced by Televisa and created by Cris Morena. It is a remake of a famous Argentine series Rebelde Way adapted for the Mexican audience therefore leading to differences in characters' backgrounds. The series ran for three seasons, the final episode airing in Mexico on June 2, 2006. Rebelde was replaced in June 2006 with Televisa's new series Código Postal. The series is set at the Elite Way School, a prestigious private boarding high school in Mexico City with a major plot line revolving around a group of students forming a pop band. Additional subplots involve the school's faculty and the students' parents. One trademark of the show is the random use of English words and phrases, often used by fresa characters. A notable aspect of the series is that the actors playing the bandmembers are themselves in an actual band named RBD, and perform most of the music used on the show. They have been extremely successful in their own right, becoming one of the most popular acts in Latin America and touring internationally. Rebelde began airing March 21, 2005 and ended on December 15, 2006. The show was also transmitted in 65 other countries, including Serbia, Peru, Romania on Acasa TV, Brazil, Spain on Antena 3, Slovenia, Bulgaria and from September 2009 in Slovakia on TV Doma, in Croatia on Nova TV and in Albania on Vizion Plus.
Seasons & Episode
Seasons 3 : 2006
|
105 Episode
|
MORE
Seasons 2 : 2005
|
120 Episode
|
MORE
Seasons 1 : 2004
|
215 Episode
|
MORE
Related
Miraculous: Tales of Ladybug & Cat Noir
Normal high school kids by day, protectors of Paris by night! Miraculous follows the heroic adventures of Marinette and Adrien as they transform into Ladybug and Cat Noir and set out to capture akumas, creatures responsible for turning the people of Paris into villains. But neither hero knows the other's true identity – or that they're classmates!
Miraculous: Tales of Ladybug & Cat Noir
2019
Juana Inés
She was a self-taught scholar and a nun. And she refused to apologize for being a woman born into a man's world.
Juana Inés
2016
Rubí
Rubí is a Mexican telenovela produced by José Alberto Castro for Televisa. It is based on a short story by Yolanda Vargas Dulché, published as a serial on the 1960s Mexican comic book Lágrimas, Risas y Amor. Bárbara Mori stars as a dual protagonist/antagonist, Rubí. Canal de las Estrellas aired Rubí from May 17 to October 22, 2004, with Apuesta por un amor replacing it. Univision broadcast Rubí from September 20, 2004 to March 7, 2005, and has named Rubí as the top telenovela of all time.
Rubí
2006
AD