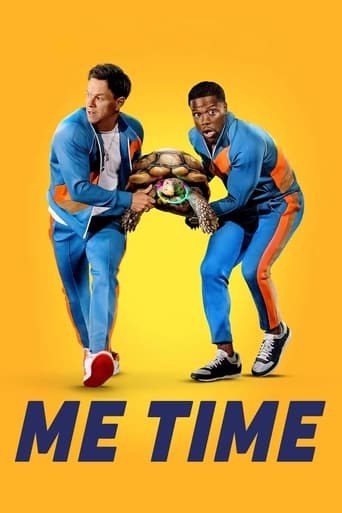 Me Time
August. 26,2022 R

Watch Now
With his family away, a devoted stay-at-home dad enjoys his first me time in years by joining his hard-partying old friend on a wild birthday adventure.
You May Also Like
Prime Video
Samaritan
Thirteen year old Sam Cleary suspects that his mysteriously reclusive neighbor Mr. Smith is actually the legendary vigilante Samaritan, who was reported dead 20 years ago. With crime on the rise and the city on the brink of chaos, Sam makes it his mission to coax his neighbor out of hiding to save the city from ruin.
Samaritan
2022
Netflix
Fenced In
After a nervous breakdown, Walter trades the city for the countryside. But his hopes for a calm life are shattered once he meets his loud new neighbors.
Fenced In
2022
Netflix
I Came By
A rebellious young graffiti artist who targets the homes of the wealthy elite but discovers a shocking secret that leads him on a journey endangering himself and those closest to him.
I Came By
2022
Netflix
Love in the Villa
A young woman takes a trip to romantic Verona, Italy, after a breakup, only to find that the villa she reserved was double-booked, and she'll have to share her vacation with a cynical British man.
Love in the Villa
2022
Loving Adults
The thin line between love and hate turns deadly when a wife discovers her husband's affair — and they both take extreme measures to get what they want.
Loving Adults
2022
Netflix
Day Shift
An LA vampire hunter has a week to come up with the cash to pay for his kid's tuition and braces. Trying to make a living these days just might kill him.
Day Shift
2022
Netflix
Look Both Ways
On the eve of her college graduation, Natalie's life diverges into two parallel realities: one in which she becomes pregnant and must navigate motherhood as a young adult in her Texas hometown, the other in which she moves to LA to pursue her career. In both journeys throughout her twenties, Natalie experiences life-changing love, devastating heartbreak and rediscovers herself.
Look Both Ways
2022
Watch Out, We're Mad
Carezza and Sorriso, brothers very different from each other and in quarrel since childhood, will have to put aside their controversies to recover the legendary Dune Buggy, once belonged to their beloved father and now stolen from him by Torsillo, an unscrupulous building speculator, and his son Raniero. In doing so, they will forge an unusual alliance with a circus community, headed by the beautiful and dangerous Miriam and threatened by Torsillo's dirty business. Between daring chases, memorable fights and delicate meals based on beer and sausages, will the two brothers be able to find their beloved car?
Watch Out, We're Mad
2022
Netflix
End of the Road
Recently widowed mom Brenda fights to protect her family during a harrowing road trip when a murder and a missing bag of cash plunge them into danger.
End of the Road
2022
Easter Sunday
A man returns home for an Easter celebration with his riotous, bickering, eating, drinking, laughing, loving family, in this love letter to the Filipino-American community.
Easter Sunday
2022
Reviews
Really Surprised!
... more
Purely Joyful Movie!
... more
It's simply great fun, a winsome film and an occasionally over-the-top luxury fantasy that never flags.
... more
This is a small, humorous movie in some ways, but it has a huge heart. What a nice experience.
... more