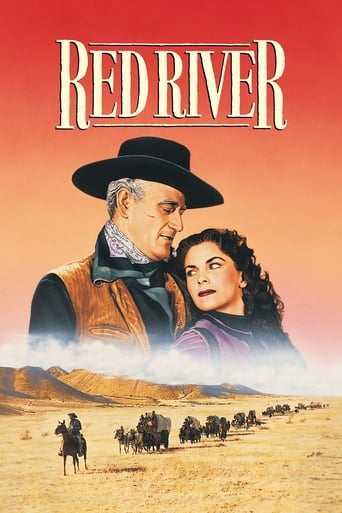 Headstrong Thomas Dunson starts a thriving Texas cattle ranch with the help of his faithful trail hand, Groot, and his protégé, Matthew Garth, an orphan Dunson took under his wing when Matt was a boy. In need of money following the Civil War, Dunson and Matt lead a cattle drive to Missouri, where they will get a better price than locally, but the crotchety older man and his willful young partner begin to butt heads on the exhausting journey.
Similar titles
CineMAX
Tristan & Isolde
An affair between the second in line to Britain's throne (Franco) and the princess of the feuding Irish (Myles) spells doom for the young lovers.
Tristan & Isolde
2006
HBO max
Just Cause
A Harvard professor is lured back into the courtroom after twenty-five years to take the case of a young black man condemned to death for the horrific murder of a child.
Just Cause
1995
Tarantula
A lone-wolf scientist sequestered in a mansion near a small desert town arouses the suspicion of the town's doctor when his lab assistant is found dead from a case of acromegaly which took only four days to develop. As the doctor investigates, aided by the scientist's new, and very female, assistant, they discover that, far worse, something much larger and hungrier than it ever should be, is devouring local cattle - and humans - in increasingly large quantities.
Tarantula
1955
Prime Video
The Four Feathers
The story, set in 1885, follows a British officer (Heath Ledger) who resigns his post when he learns of his regiment's plan to ship out to the Sudan for the conflict with the Mahdi. His friends and fiancée send him four white feathers which symbolize cowardice. To redeem his honor he disguises himself as an Arab and secretly saves the lives of those who branded him a coward.
The Four Feathers
2002
Prime Video
John Tucker Must Die
After discovering they are all dating the same same guy, three popular students from different cliques band together for revenge, so they enlist the help of a new gal in town and conspire to break the jerk's heart, while destroying his reputation.
John Tucker Must Die
2006
Last Man Standing
John Smith is a mysterious stranger who is drawn into a vicious war between two Prohibition-era gangs. In a dangerous game, he switches allegiances from one to another, offering his services to the highest bidder. As the death toll mounts, Smith takes the law into his own hands in a deadly race to stay alive.
Last Man Standing
1996
Prime Video
The Mask of Zorro
It has been twenty years since Don Diego de la Vega fought Spanish oppression in Alta California as the legendary romantic hero, Zorro. Having escaped from prison he transforms troubled bandit Alejandro into his successor, in order to foil the plans of the tyrannical Don Rafael Montero who robbed him of his freedom, his wife and his precious daughter.
The Mask of Zorro
1998
Prime Video
The Last of the Mohicans
In war-torn colonial America, in the midst of a bloody battle between British, the French and Native American allies, the aristocratic daughter of a British Colonel and her party are captured by a group of Huron warriors. Fortunately, a group of three Mohican trappers comes to their rescue.
The Last of the Mohicans
1992
Netflix
Thir13en Ghosts
Arthur and his two children, Kathy and Bobby, inherit his Uncle Cyrus's estate: a glass house that serves as a prison to 12 ghosts. When the family, accompanied by Bobby's Nanny and an attorney, enter the house they find themselves trapped inside an evil machine "designed by the devil and powered by the dead" to open the Eye of Hell. Aided by Dennis, a ghost hunter, and his rival Kalina, a ghost rights activist out to set the ghosts free, the group must do what they can to get out of the house alive.
Thir13en Ghosts
2001
Renaissance
To find Ilona and unlock the secrets of her disappearance, Karas must plunge deep into the parallel worlds of corporate espionage, organized crime and genetic research - where the truth imprisons whoever finds it first and miracles can be bought but at a great price.
Renaissance
2006
Reviews
Undescribable Perfection
... more
Good concept, poorly executed.
... more
Absolutely the worst movie.
... more
Through painfully honest and emotional moments, the movie becomes irresistibly relatable
... more
Top 10 best western movies of all time?! Nope. In my opinion, just an average movie. After Hawks' "Bringing Up Baby", "His Girl Friday", "Scarface", "The Big Sleep"... this comes pretty much as disappointment. :(6/10
... more
Red River is an epic but flawed western which loses focus when it introduces a love interest in the last third of the film which leaves it with an odd and almost absurd ending.John Wayne (Dunson) plays a driven man who has built up a cattle empire in Texas and not through entirely legal means. He has taken land, cattle and killed for it.Montgomery Clift (Garth) plays his adopted son who Dunson took in as a boy. Dunson is in financial trouble, to get the best price for his cattle he embarks on an epic cattle drive to Missouri. The trouble is Dunson is driven to the edge of insanity in his quest, he falls out with his men over the best route, his strict rules and his cruel punishment for rule breakers and deserters.At one point Garth rebels against stubborn Dunson and relives of his herd and drives them successfully to Kansas, on route Garth and his men repel an Indian attack on a wagon train where he meets and falls in love with Tess Millay (Joanne Dru). All the time Garth knows Dunson is following and will want vengeance.John Wayne plays a ruthless man, with a dark underbelly. It is hard to root for him when he his driving his men to question his abilities.Clift in an early film role matches Wayne in his Oedipal struggle to supplant the father figure, get the herd into town and pay off his remaining men. The film should had got to a showdown between Wayne and Clift but it gets rather sidetracked.
... more
Tom Dunston (played by John Wayne) needs to drive his herd of 10,000 or so cattle to market. The market is 1,000 miles away and the trip will be an arduous one. The stubborn, uncompromising Dunston is often at loggerheads with a young man who works for him, Matt Garth (Montgomery Clift), and the rift threatens the expedition. A classic Western. Epic in its plot and canvas. Great direction by Howard Hawks. Takes a while to get going but once it does it moves along briskly. Good action mixed with convincing human drama.John Wayne gets top-billing but Montgomery Clift steals the show. Great performance by Clift. Wayne puts on his usual swaggering performance, but here seems less one-dimensional than usual. Good supporting cast.
... more
. . . explains how RED RIVER director Howard Hawks tried to coach "Tess" actress Joanne Dru to pull off a Lauren Bacall impression during the John Wane-Montgomery Clift Western simply because Hawks had directed Bacall opposite Humphrey Bogart a few months earlier in THE BIG SLEEP. Apparently, Hawks thought of actors as interchangeable widgets (being akin to their cattle co-stars of RED RIVER), a viewpoint he shared with director Alfred Hitchcock. Sadly, Hawks was not Hitchcock, Dru couldn't lift Bacall's jockstrap, and RED RIVER ranch mobster Wayne wouldn't have lasted five minutes in a Bogart gang. Only Trump voters would try to shoehorn RED RIVER between THE MALTESE FALCON and CASABLANCA on a list of Classic American flicks. Maybe there's an Alternate Universe in which Ms. Dru would NOT stick out like a sore thumb if positioned between Mary Astor and Ingrid Bergman, but I'm mighty glad I don't live there. TENSIONS AND TRADITIONS: MOLLY HASKELL ON RED RIVER is a catch-all sort of title, but there's no danger of anyone catching a whiff of Critical Thinking here.
... more