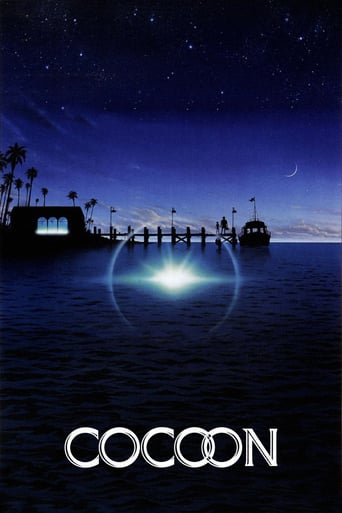 Cocoon
June. 21,1985 PG-13
When a group of trespassing seniors swim in a pool containing alien cocoons, they find themselves energized with youthful vigor.
Reviews
I like the storyline of this show,it attract me so much
... more
Good films always raise compelling questions, whether the format is fiction or documentary fact.
... more
A great movie, one of the best of this year. There was a bit of confusion at one point in the plot, but nothing serious.
... more
The film's masterful storytelling did its job. The message was clear. No need to overdo.
... more
Don Ameche, Wilford Brimley, Hume Cronyn, Steve Guttenberg, Jessica Tandy and Brian Dennehy star in Ron Howard's 1985 sci-fi film. This takes place in St. Petersburg, Florida where we meet senior citizen pals, Art (Ameche), Ben (Brimley) and Joe (Cronyn) who discover a way to feel youthful again when they swim in a pool energized by alien cocoons. Dennehy (First Blood) plays alien, Walter who is trying to save his friends inside the cocoons and take them to his home planet, Anterea. Guttenberg (Police Academy) plays boatman, Jack who is hired by Walter and his crew to retrieve the cocoons from the ocean discovering they're aliens and Tandy (Driving Miss Daisy) plays Joe's wife, Alma. Soon, Walter loses one of his friends as do Ben and his friends making a deal for them to come with him to Anterea where they will never get older or die. Howard's brother, Clint and father, Rance also appear. This is a good, light-hearted sci-fi flick with a great cast & excellent score by James Horner I recommend.
... more
An E.T. fairytale for the elderly with a rejuvenating therapeutic gambit for visual and subconscious entertainment and a belated fulfillment to slam the ageism towards the senior. Setting against a Sci-Fi backdrop, the special effects might not be cutting-edge even at its time (in a post-STAR WARS era, it is an insurmountable pinnacle, the same could be deduced now are in a post-AVATAR era), but serves benevolently to entice the concentrations and unleash a wacky but improbable plot of the expedition to the mystifying eternal longevity. The extra- congenial extraterrestrial Antareans are merely a wishful thinking, as human behavior has no exception will spoil their plan to rescue their companions sooner or later, their counter- behavior is inexplicably dumbfounded to be taken seriously. The film has locked two Oscars, one for the visual effects, another is an utterly surprising Best Supporting Actor win for Don Ameche (whose pivotal showcase is a stupendous street-dance stunt in the film, apart from which there is scant room for him to testify his flair), which could be divined that it is no more than an acclaim to the film's pandering penchant for the demography as most academic members are over-50 white male, this film might help them to mitigate the fear of aging uselessly and hopelessly. Anyway the entire prestigious cast has stuck together to make the indulging fantasy more refreshing than off-putting, ironically the film itself has not aging too well, unlike the characters in the sanitarium, after a minimal 27 years span, it seems that the film backfires on Ron Howard and the team behind it, who in my opinion is an excellent Hollywood hack than a venerable filmmaker.
... more
I recently learned that this film was directed by Ron Howard. Being a fan of his movies, Ron Howard tests his skill in making this sci-fictional film as realistic as possible. 'Cocoon' as the title of the film goes centers on a group of senior citizens who get unexpected vigor on swimming in their neighbor's pool. A superb cast and Steve Guttenberg of (three men and a baby)fame giving that comedy punch. It is a all time family entertainer. The concept original and considering lot of sci-fiction movies emerged in the 80's , this film still stands for three things- oldies coming in form, exploring the unknown and last purpose in life.
... more
Cocoon could have been very depressing and parts of it are very emotional and sad but beautifully handled. It deals with subjects that are quite difficult to sell - being old, facing the death of loved ones or coming to the end of your own time. However thankfully its also very funny contains great well rounded characters and has some great music from James Horner. Steve Guttenbergs character owns a boat and does crappy tours but is struggling to make ends meet and is down on his luck. Enter four mysterious strangers asking him to take them to a certain point in the ocean with no questions asked. He agrees and while spying on the pretty female played by Tahnee Welch (mmmmm!) he finds out they are actually Aliens retrieving Cocoons containing their friends that have lain at the bottom of the sea for thousands of years. Intercutting with this we have the story of an old peoples home and a group of friends biding their time until death takes them as it takes the people around them one by one. Three life long friends (Ameche, Brimley and Cronin)sneak into a local pool and relax but one day find the pool full of cocoons. After their swim they gain a new lease of life - they all get their libido back, their health and their sense of joy in life. I won't go into detail but what made this an enjoyable film for me was the characters. Each of the friends had their own background, their own questions and concerns as to what was happening and their new lease of life had a different effect on each of them. For example I loved how Hume Cronins character at the beginning was dying of cancer - you felt sorry for him as a sick old man, then when the pool cures him you find out as he gets his sex drive back he has an eye for the ladies and cheats on his wife and that its not the first time as he has treat her badly this way before. I also loved the relationship between Wilford Brimleys character and Barret Oliver. You felt a real grandfather - grandson bond between them. Special mention to the other friend in the group - the eternally grouchy Bernie who refuses to go in the pool or let his sick wife. After the old folks run rampant the energy from the cocoons is drained and the pool stops working its magic - then Bernies wife dies and he Carry's her to the pool begging for it to bring her back. Its pretty heart wrenching stuff for the likes of me. Thankfully though although sometimes I did have a tear in my eye there was some laughter to go along with it. The interplay between the old folks is very funny and its a joy to see them change from old codgers to teenagers overnight and I find Steve Guttenberg amusing as well. Overall I found Cocoon a very entertaining film. Emotional, sad, beautiful, funny and above all memorable. Sadly most of the cast is gone but through their work they live on.
... more