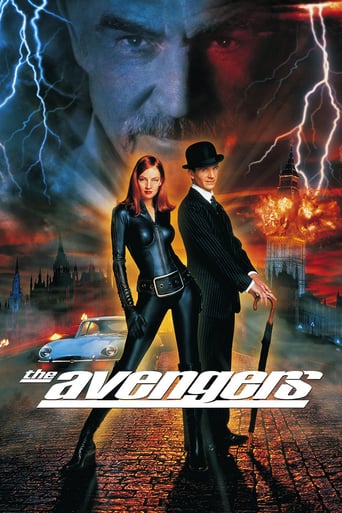 British Ministry agent John Steed, under direction from "Mother", investigates a diabolical plot by arch-villain Sir August de Wynter to rule the world with his weather control machine. Steed investigates the beautiful Doctor Mrs. Emma Peel, the only suspect, but simultaneously falls for her and joins forces with her to combat Sir August.
Reviews
Wow! What a bizarre film! Unfortunately the few funny moments there were were quite overshadowed by it's completely weird and random vibe throughout.
... more
it is finally so absorbing because it plays like a lyrical road odyssey that's also a detective story.
... more
The film makes a home in your brain and the only cure is to see it again.
... more
One of the film's great tricks is that, for a time, you think it will go down a rabbit hole of unrealistic glorification.
... more
It comes to something when the most interesting thing about a film is spotting all the famlliar locations in the south of England, but that's what I ended up doing here! Being a massive fan of The Avengers TV series, I managed to resist watching this film for 20 years. In the end, morbid curiosity took over - just how bad could it be? The main problem here seems to be that the whole film is completely ill-judged. It's like a hotchpotch of lukewarm & half-baked ideas from the 60s TV series - thrown into a melting pot with no real love or appreciation of what made the TV series so special.Ralph Fiennes is miscast as a foppish & smarmy Steed, and never feels like a respected and likeable gentleman from 'the ministry'. Uma Thurman fares slightly better, but there's never any real chemistry between them, and it just makes you long to see the original instead.Why do they drink tea all the time? I don't remember that happening in the real Avengers! Predictable views of tourist London only serve to add to the feeling that someone thinks this will all make it more 'English' & please a section of the American audience who think England is still like how it was 50 years ago.Sean Connery does a good job as the villain bent on controlling the weather with his elaborate machine (nods to the episode 'A Surfeit of H2O' here), but the whole Bond-like epic climax falls flat, & goes the drain faster than rain in a rainstorm. This whole ludicrous film feels contrived, unreal, charmless and cartoonish. Its only purpose seems to annoy & confound long-standing Avengers fans, and to bore contemporary cinema watchers who now probably wonder what all the fuss was about.
... more
Surreal is really the best way to describe this movie. It beautifully encompasses the Surrealism movement that started in the 1920s and continued, in a way, to hint at Dadaism.Even the dialogue in the film reminded me of going to an art museum."How real do you feel Mrs. Peel?" There is a lot of hate behind this film, a 3.7 rating on IMDb and trolls complaining that Thor and Iron Man weren't in a movie based on a television series that had nothing to do with the comic books.Ignore the hate, this is a movie that people walked into expecting a summer blockbuster and walked out disappointed because they got a thematic action movie art film.It doesn't appeal to the masses, but made the mistake of thinking that it did. Because of that it was a flop.But for those of us that don't cringe in horror over the thought of going to an art museum, the movie is beautiful and done in a way that most of the artist-directors out there can only dream of.It looks brilliant, it looks like moving art on the screen and the dialogue fits perfectly into that mold. It is the surreal film that puts so many others to shame.The only fault it has is the marketing. It was marketed for the Rambo crowd that want nothing more to see the blood and carnage, the over-the-top science fiction special effects that has aliens blow up the White House.Instead you get Surrealist special effects and killer teddy bears. They hit the mark well, but only for those of you that real enjoy that sort of thing.If you walk into The Avengers expecting a lowbrow action movie, you are going to walk out of it in the first few minutes. Think of it more as an action sci-fi art-house film and you'll love it.
... more
As I kid I used to really like this film, but as an adult I realise the problems with it are many and notable, both for plot and characters. As a child I liked the idea of there being a film with a primarily British setting, seeing an obvious cultural association, but now I realise that it's doing the exact opposite and straight up making fun of what British people aren't like any more!So what's the ketchup? John Steed is a British Agent working for the secret Ministry. After a weather control project named Prospero is destroyed, the chief suspect and project designer, Emma Peel, is brought in, claiming her innocence. Together, both Steed and Peel are led to the home of August De Wynter, a former agent obsessed with the weather and believe that this fixation may be related to the sabotage of Prospero.Now, the most jarring problem with this film is that it is very, very dated. The way the characters act and their traits are very much based on those of the original 1960's show, where plummy accents and established gentry ruled the waves, etc, etc. The only problem is, most people in the 1990's didn't really know about a show that stopped airing the best part of 30 years earlier, and couldn't really take seriously the fact that the last time British people spoke in such a stereotypical way was when Winston Churchill led Britain against the armies of Germany! Either way, it comes off as terribly out of place, and doesn't make the characters the least bit interesting.Another very jarring point, for some reason London is empty! No cars, no people, no planes landing at Heathrow, nothing! As someone who lives in London, I beg to differ!Sean Connery I give points to though, he carries off the role as the villain very well, and when he's on screen I'm glued! His line delivery, his mood changes, his general air and presence kept me gripped.The story is pretty bog standard, stop the obvious villain baddie, the end! The effects are pretty bog standard. For some reason an invisible man and killer mechanical Bees are thrown into the mix and come off looking totally out of place, it doesn't really hold a consistent tone.Overall, I can't really recommend it, even as a film you can just shut your brain off to. The story's bland, the characters are bland, the effects are bland, the only good thing to my mind is Sean Connery as the villain. Apart from that, give it a miss!
... more
Apparently American's taking the Mickey out of the British has hit an all new low and to be honest, I used to enjoy this film. It had some weird effects, some strange characters and Sean Connery (which is fantastic to begin with), but much like Batman and Robin, when I grew up, I couldn't help but think that this film is just a clumsy mess, attempting to portray the British as a bunch of 'Tea before Scones' types yet again, almost as if it were a propaganda movie. The acting is incredibly half-baked, showing that the actors really didn't put much effort into this film, the special effects aren't that special, the story is your basic 'hold the world for ransom' ploy and the rest I don't care to mention.It's obvious they were trying to make their own version's of the Bond films by making things overly complicated in terms of devices and usage. For example, when Emma Peel is given a package by a secret mailman telling her to answer the phone in order to receive her orders. My question there is, why? Why not just phone her as she would just answer the telephone instinctively like any other person would, she doesn't need to be told how to do basic things by letter unless she suffers from learning difficulties. The instructions they give her are to meet her Secret Agent accomplice John Steed at a Gentleman's Club, a place where no women can go. How stupid is that? Also, when she get's there, John comments on how she doesn't play by the rules. Where the hell was that coming from? They were stupid enough to order her to go to this place where no women can go.Next problem, Peel has video evidence incriminating her for sabotaging her own project and yet this secret Ministy allows her the chance to solve her own crime!!! What in the name of God are they thinking?! They think this is smart? Chances are if she was a real villain she'd head off with Steed before killing him in some dark alley and jumping the country within the first 12 minutes, and this Ministry, which seems to have a thing about giving Male Agents Female titles and Female Agents Male titles, wouldn't have a clue where she's gone. There's also a Clone of Emma Peel, which seems to hark back to the Double Man, and there's an Invisible Man! I though it was bad enough in The League of Extraordinary Gentlemen, but this gag is really too stupid for words! Anyway, this film is just silly, with corny acting, a plain as cardboard story and logic that is illogical, you'd better just give it a miss!
... more