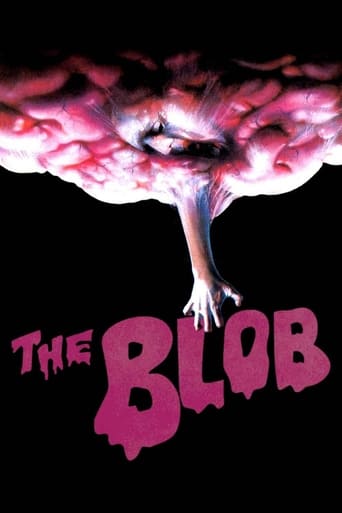 The Blob
August. 05,1988 R
Remake of the 1958 horror sci-fi about a deadly blob which is the spawn of a secret government germ warfare project which consumes everyone in its path. Teenagers try in vain to warn the townsfolk, who refuse to take them seriously, while government agents try to cover up the evidence and confine the creature.
Reviews
It's easily one of the freshest, sharpest and most enjoyable films of this year.
... more
The film's masterful storytelling did its job. The message was clear. No need to overdo.
... more
The film starts off well, but instead of a good, creepy monster movie, it decides it wants to be about a silly government conspiracy. The mixing of genres doesn't work. I see that it totally flopped at the box office. I also see that in the forums I frequent, it's never mentioned as being a worthy remake. Both of these things are well deserved.
... more
Made on a bigger budget with better special effects, this 'Blob' remake from 'A Nightmare on Elm Street 3: Dream Warriors' director Chuck Russell and 'The Mist' screenwriter Frank Darabont is a far creepier experience than the original ever was. Memorable, unsettling moments include an arm being ripped off a teenager that the blob is consuming and the shock reveal of a literally half-eaten corpse on a hospital bed. What truly distinguishes the 1988 version from the 1958 take though are the scattered intelligent attempts to explain the presence of the blob and how it landed in the town. At one point, it is likened to a 'plague', possibly part of the asteroid that is said to have wiped out the dinosaurs; at another point, it is speculated that it is military biological warfare with Cold War tensions hinted at. The remake does little to improve on the characters and the performances though. The notion of a town imbued with cynical adults unwilling to believe any teenagers or kids is sadly missing here and the most likable teen character is killed off very early on. Never to mind, the film is entertaining until the end with lots of well-placed humour (condon-buying shenanigans; horror movie cinema audience reaction shots edited against various blob attacks; a cutaway to red jelly being slurped) and while all the carnage during the final few scenes grows a little recycled and tiresome, the sheer terror of the blob is felt throughout. The ending also leaves open room for a sequel that never eventuated, though a further remake for the 2010s is apparently in the works.
... more
The Blob (1988) is an 80's action horror classic remake from Steve McQueen version 1958 film. I love this film to death. It is one of my personal favorite horror movies. I was 10 years old and a kid when I saw the first time this film and I absolutely loved it. I saw some owner of the video store that was selling movies on VHS one of those films was this film from the 80's The Blob, I wish I could get this film on VHS before it was soled out, but my parents didn't give me the money, than the film disappeared of the air and I have never saw it or watch it. It was never on TV it took me 20 years to watch this movie, recently I found some guys who love this film and I order it on Blu-ray disc and I got it. I absolutely love movie's from the 80's and I love this flick to death it Is my favorite monster movie. I am, putting this flick right between Aliens and Deep Rising right between them as a monster movies. This is my second favorite Chuck Russell film the first one will be A Nightmare on Elm Street 3: Dream Warriors (1987) that I absolutely love to death, this is the second film I love to death. I definitely appreciate what the original did but, yeah, the '88 Blob is certainly a feast for the eyes. I have always enjoyed this movie and I had such a fun watching it. It is fun, exciting and pure entertaining. Simon West want's to direct the remake of the Blob that is coming out I think this year which is a stupid dumb idea! I don't want to see another remake of this film so no!I love Shawnee Smith as a bad ass - tough cheerleader, she is so beautiful, gorgeous and sexy, I am completely in Love with her! I love her to death in this film. Shawnee Smith will always be Meg Penny for me, not Amanda Young from Saw! I don't care about Saw or the franchise none of those horror films are my favorite! I rather watch films from the 80's and the Blob is one of my favorite monster creature movies! I saw this flick as a kid. Shawnee Smith is gorgeous in this film she saved her younger brother, she tried to save a younger kid Eddie as well and when The Blob eats and swallows a younger kid in the sever she jumps in the water trying to saves him and she couldn't. She fires a machine gun on the Blob and say's "come on, you can do better than that!". I love the music score from Michael Hoenig and I love the song on the end of the title Brave New Love by Alien. You also have Paul McCrane in from RoboCop (1987) after seeing him in this film, I recognized him right away, it is Emil M. Antonowsky from RoboCop! The movie has likable characters, fast paced, a lot's of action, fun bits of humor, Paul Flagg (Kevin Dillon) escapes from those government guys, jumps over this little bridge and gives the middle finger when he jumps over the bridge on his motorcycle. I love this scene it was memorable scene I remember it. In the opening scene he crashed down the bridge but now he jumped over which was excellent. Fun bits of dialogue, the budget was used very well against great special effects, I have no problems with them, it is one of my favorites of all time.This film is only shot an hour and thirty-five minutes which is not that long, it is like is said pure entertainment, I grow up with this flick and I love it. I disagree with the reviewers who say the original is much better than this version. I think quite the opposite is true. The 80's "The Blob" along with the 80's "The Fly" are two of the few remakes that I think far surpass the originals. Sure, it's a schlocky 80's horror movie, but taken in that context, it's damn good!A great script, an excellent combination of FX to achieve the look of the Blob, and absolute horror and carnage... I love it! This is a horror movie with BALLS. Within the first half hour, (spoiler alert) they kill off the guy we're expecting to be the star! They kill little kids! They kill off innocents, characters we like and want to live!This movie takes no prisoners and pulls no punches. It takes the idea of the original, puts an interesting twist into the plot, injects it with good FX, good acting and a decent budget, and you have something far superior to the original. Just like "Little Shop of Horrors" -- The cheap and dated original can never hold up to the musical remake.This flick get's a 10 out of 10 by me for been my favorite sci-fi horror flick of all time.
... more
This a great movie. It is one of the scariest movies of all time. 6.3 is underrating it. The 1958 version is very scary. This one is scarier. The 1972 version is just crap. This one is a lot better. The story of a space monster that come to earth one a meteor. This movie has a great story line. It also has great acting. It also has great special effects. This one remake that is better then the original. This one the best scenes fiction movies ever. This is a great movie. See it. Kevin Dillion is a great actor. This is one very scary movie. Shawnee Smith is a great actress. If this movie does not scary you then no movie will. This movie is a must see.
... more