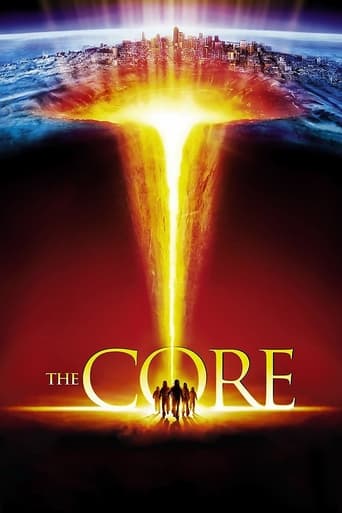 Geophysicist Dr. Josh Keyes discovers that an unknown force has caused the earth's inner core to stop rotating. With the planet's magnetic field rapidly deteriorating, our atmosphere literally starts to come apart at the seams with catastrophic consequences. To resolve the crisis, Keyes, along with a team of the world's most gifted scientists, travel into the earth's core. Their mission: detonate a device that will reactivate the core.
Reviews
This movie is magnificent!
... more
That was an excellent one.
... more
It's entirely possible that sending the audience out feeling lousy was intentional
... more
I agree with fellow guy who thinks 'it is a very very good cast'. Earth magnet is a hot topic right now yet it is interesting. the movie is good overall a fantastic cast carries the movie, starts with a biblical phenomena yet it is so annoying the writing is insulting viewers brain. spoiler (when 25 people dies in a short given radius the first thing you do not to grab 2 scientist from their classroom,) you do an authopsy. so We would rather see some doctors in the sea at least mention, 'our doctors could not find the cause' morover, it seems like a characteristic scenerio for save the earth type of movie to not to reveal what is coming to the common people.I guess out of given time 2 hrs 17 min. the producers did not wanted to spend the given 200 mil budget. Well, I m not a movie major but when you have a solid interesting fact about radiation waves, turnados, acid rains, and traveling to the core of the earth, you expect much more realism. the sense of humor of the main charactors is enjoyable... well comparing the success of 2012, the marketing was over the budget for that movie, full page of newspapers, a disaster movie with character could have made a bigger bang if followed as I outlined earlier. a sea captain in dead calm.a prodigy to earn 2 oscars for women, french, and stanly tucci, 2 black actors at their finest time. what else do u want ? it is not a cheesy movie. yet does not have the wow effect.
... more
While some may pan this one for being campy, I disagree. If, as some have said the deleted scenes would have added more depth to the characters, by all means, offer a directors cut, or a version WITH the deleted scenes. Aaron Eckhart & Hilary Swank, and the entire cast should be given their due. While the vehicle being able to bore thru solid earth may seem far-fetched by today's standards, so was the "earth is flat" over five hundred years ago. Great entertainment, and a little faster moving than "Passengers".
... more
This movie had great potential going and they went out the window with it. The movie has a messy script and I find myself somehow lost watching it (judge me if you want). It takes awhile for the movie to actually get going and by the time you get into it the movie is over. I really wanted more with this and was excited to see a movie based off such a concept, expecting a really cool yet scientific movie. Instead I got a completely random assortment of events with sometimes no explanation whatsoever the whole movie. I am giving them credit for trying and still putting (some) heart into it, and still having some creativity.
... more
This story is hokey in its first premise, the "science", even if it is science fiction, is still hokey and the characters are extremely stereotypical and hokey. The interaction between the heroic woman and the chauvinistic men is hokey. The self-centered plagiarist of a scientist is hokey. The heroism of the heroes is even hokey.But I enjoyed it. I think the movie makers knew how hokey it was (they had to) and made it anyway. It was a fun adventure. I loved the male and female lead, and the geek and the Black scientist. The geek's role was dramatized to the last degree, but was fun to watch. I always like it when a geek plays an important role in a film or book. That's as much as I can say without spoilers.
... more