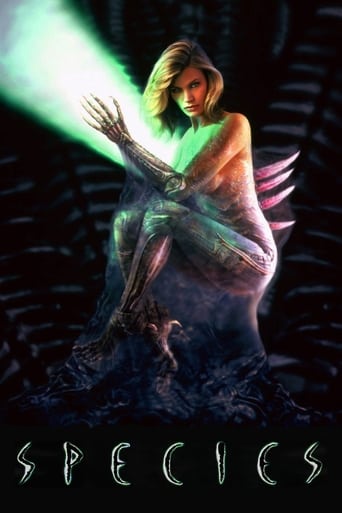 Species
July. 07,1995 R

Watch Now
In 1993, the Search for Extra Terrestrial Intelligence Project receives a transmission detailing an alien DNA structure, along with instructions on how to splice it with human DNA. The result is Sil, a sensual but deadly creature who can change from a beautiful woman to an armour-plated killing machine in the blink of an eye.
Reviews
the audience applauded
... more
If you don't like this, we can't be friends.
... more
It's not bad or unwatchable but despite the amplitude of the spectacle, the end result is underwhelming.
... more
There's no way I can possibly love it entirely but I just think its ridiculously bad, but enjoyable at the same time.
... more
Does this movie have anything unique about it? Let's see how similar it is to The Thing:1. Alien a pure mixture of Xenomorph(looks like Giger isn't that inventive after all) and tentacles from The Thing.2. Alien disguises as a human.3. The trick is in the DNA.4. You get a doofus team of "experts"5. Alien's goal is to reproduceHowever, if Alien(the movie) was original, dreadful and with a lot of acting, Species is a, quoting the movie, "wild (monster) goose chase". And, unlike the real horror of the Thing, with endless thrill and plot twists, this movie doesn't even try to be predictable.The whole movie revolves around just look at... nothing really. With a few cheap jumpscares. And a finale that... well, really, fits more for a 2010+ Sci-Fi movie than for a pre-2000. Really, the stupidity is palpable, it's in the air, in every shot. Practically every action is entirely nonsense. Let's put that into the perspective: the person, who has been tracking the alien - suddenly gets left behind, while the "big guy" goes in. Surprise, the next minute the tracker finds the alien. Of course, he doesn't shoot, why would he? This causes the third person to slip and fall, and spend the next few minutes crying to help, saying she's stuck. After that - she will get out by herself and... well, not contribute to the final scene NOT EVEN ONE BIT!Michael Madson playing himself mostly, Ben Kingsley... well, really, I couldn't imagine a terrible performance from Ben, but he doesn't deserve a point here. He was totally wasted, his whole point was - to NOT CHANGE A FACE, not even once, in the entire movie. That was literally everything he did, besides embarrassing himself in the plot for... no real reason.But, there is something in this movie that deserves 3/10. The proof that this a pre-2000 Sci-Fi movie. It has ti.... Nudity. Plenty of it. Now where was that in Ghost in the Shell...
... more
Not all movies have to be intense and hard to figure out. Sometimes they can just be fun, and this one is.You have to suspend disbelief on a few technical scientific things, such as sending a message from SETI into outer space, remember that radio waves travel at the speed of light, and the nearest star to use is 4.3 light years away. So at BEST it would take 8 years to send/receive a message, but most stars in our galaxy are 50,000 light years away or so, so the message to one of those would take 100,000 years to send/receive.Then we can't create DNA of a human, how are we going to create the DNA of an Alien species from scratch given just the data about it? But don't worry about those details, just have fun with it, watch the pretty little half-alien girl kill with much gore.. And the team of experts they send to catch the now fully-grown woman/alien is kind of fun too. Very cliché characters, but still fun.I like the deep, hard-to-understand movies as well, but this one kept me entertained all the way through. Not the greatest movie ever made but not boring either. A fun B-movie type science fiction/horror movie, but with good actors.I'm giving it an 8, which to me means, "liked it", whereas a 6 to me would mean "it was OK". It was more than OK so I give it an 8.
... more
Species (1995): Dir: Roger Donaldson / Cast: Natasha Henstridge, Ben Kingsley, Michael Madsen, Marg Helgenberger, Forest Whitaker: Laughable thriller lacking the intelligence and payoff of Alien. It features a breed of alien that dines on people and looks exactly like Natasha Henstridge. With that respect she ages rapidly until reaching the Henstridge stage. She escapes from a lab that was to abort her and she stalks about in search of eager males and breeding, which leads to a nasty sexual encounters that are deadlier than any sexually transmitted disease. Perhaps she should get a guest spot on The Dating Game to help her chances. Lousy recycled peep show reduced to formula and predictable stupidity. Directed by Roger Donaldson who previously made The Bounty, and whose best asset is the special effects. Henstridge spends most of the film having nasty sex and displaying a look on her face that indicates that her underwear might be jammed up her crack. File in as the morons who test death are Ben Kingsley, Michael Madsen, Forest Whitaker, and Marg Helgenberger whose roles are reduced too running and either dying or narrowly avoiding it. One thing is for sure, and that is they didn't narrowly avoid the casting call for this trash. Had the film analyzed the reproduction aspect it might have been more interesting, but instead it becomes an aimless parade of violence that results in an array of guck. Score: 2 / 10
... more
I think it's fair to say that you can't spell 'Species' without a capital B (and that's B for 'B-movie'). And, for an out and out B-movie, Species has to be up there with the best of them.There is nothing particularly 'stand-out' about anything in it. An alien – or rather the most ATTRACTIVE alien you've ever seen – is unleashed on an unwitting L.A. population and we follow the rag-tag bunch charged with the task of tracking her down before she reproduces (and, if you're interested, the 'reproducing scenes' are worth watching this film from most red-blooded males' points of view!).Absolutely nothing new to see, just a hell of a load of cheesy fun that, albeit quite serious, never gets heavy enough to drag the film down into a melodrama. It just manages to stay slightly above 'tongue-in-cheek' to allow everyone (and when I say 'everyone' I probably just mean men) to enjoy the crazy, corpse-strewn ride.There are plenty of memorable moments, but most of those involve a nude woman. Yes, you're completely right in thinking that 'Species' is hardly a deep and meaningful film, filled with Oscar-worthy dialogue and complicated character arcs. It's cheesy, tacky, low-brow, but ultimately great fun.Enjoy with popcorn.http://thewrongtreemoviereviews.blogspot.co.uk/
... more