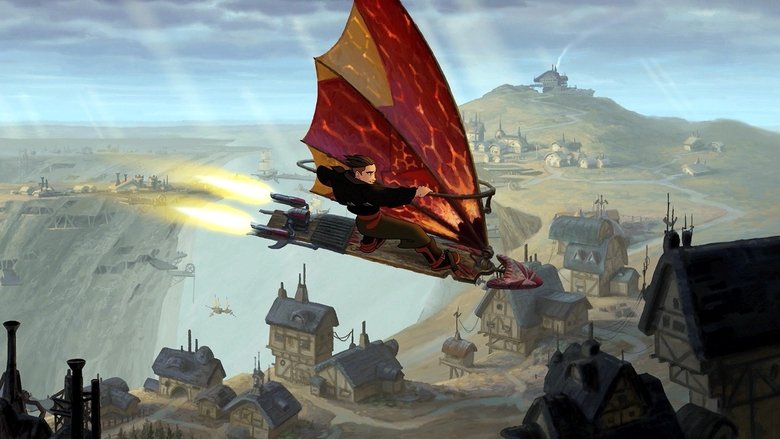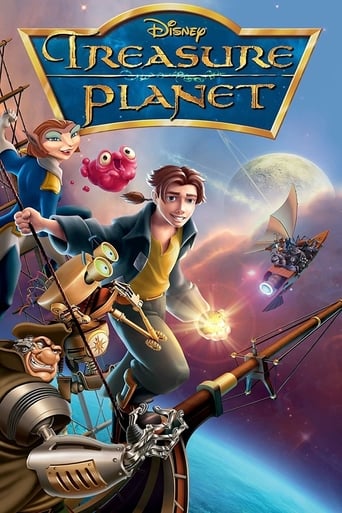 Treasure Planet
November. 26,2002 PG

Watch Now
When space galleon cabin boy Jim Hawkins discovers a map to an intergalactic "loot of a thousand worlds," a cyborg cook named John Silver teaches him to battle supernovas and space storms on their journey to find treasure.
Reviews
Nice effects though.
... more
Good movie, but best of all time? Hardly . . .
... more
The film creates a perfect balance between action and depth of basic needs, in the midst of an infertile atmosphere.
... more
The film never slows down or bores, plunging from one harrowing sequence to the next.
... more
Disney is my least favorite movie company, and hardly any of their movies are good. But this was awesome! And it gives me the vibe of Titan AE, another good movie! (This and Titan are like star wars, except for the part that they are actually good movies) and everything about this movie is awesome! I am surprised that such a good movie as Treasure was made by Disney, which is, like, the worst movie company ever in my opinion. And even better, video games! The games that spawned off of this movie were just as awesome. You need to see the movie and play the games. Some say this is a rip off of Titan. It has a lot in common, but it is not a rip off. They are both some of the best movies ever. I guess I like Titan more. Idk. But check this movie out!
... more
There are a few problems: I didn't like B.E.N., the plot wasn't the best, and I'm not a fan of the early-2000s trope of putting CGI animation over standard animation. But Jim Hawkins was a great protagonist, Captain Amelia was wonderful, the animation was still good despite the CG, and Long John Silver is one of my favorite Disney villains of all time.
... more
When this movie released I was too young to give it the support it deserves. Now looking back, having watched this movie more than 10 times in the past year alone, I wish it got more love at release. If you haven't watched it I highly recommend it. The animation is breathtaking, the story is well written and the sound track fits perfectly. If you have seen it go watch it again. You know you want to.
... more
Treasure Planet (2002) was one of those turn of the century hand drawn Disney movies that were released just after the computer animated boom. Along with Atlantis: The Lost Empire (2001) and Brother Bear (2003), Treasure Planet was one of the nails in the coffin of traditional animation due to its poor box-office returns. Now does that mean that the movie is bad? No, but its not great either.The story begins with young Jim Hawkins (Joseph Gordon-Levitt) as a boy reading the legend of Captain Flint and his infamous band of pirates. Years later the boy turns into a rebellious young trouble maker desperate for adventure. How can you tell he's rebellious? He has a rat tail in the future! After coming across a map to the legendary treasure planet, he and a family friend commission a ship from Captain Amelia (Emma Thompson) and her first mate Mr. Arrow (Roscoe Lee Browne). Things however aren't what they seem aboard the ship as the crew led by John Silver (Brian Murray) are actually pirates in hiding.Like a massive man-o-war in a modern harbor, the film is impressive to look at but listless and mostly for show. The visuals are the only thing that gets the star treatment while the script itself is lacking anything that isn't dated Disney fair or clunky exposition. There also seems to be a problem with general writing mechanics. When Jim tells his mother that he wants to go on his grand adventure she doesn't seem that adamantly against it. When the Dr. Doppler character (David Hyde Pierce) seems distracted by Captain Amelia we get nothing to show a growing romantic relationship. When the film should emotionally invest in the characters of Jim and Silver, we instead get montage. In other words this movie has a hard time getting from point A to point B.Still It's not like Treasure Planet was a failure of epic proportions. Say what you will about Disney, if this is the worst it can get than I'm actually impressed.
... more