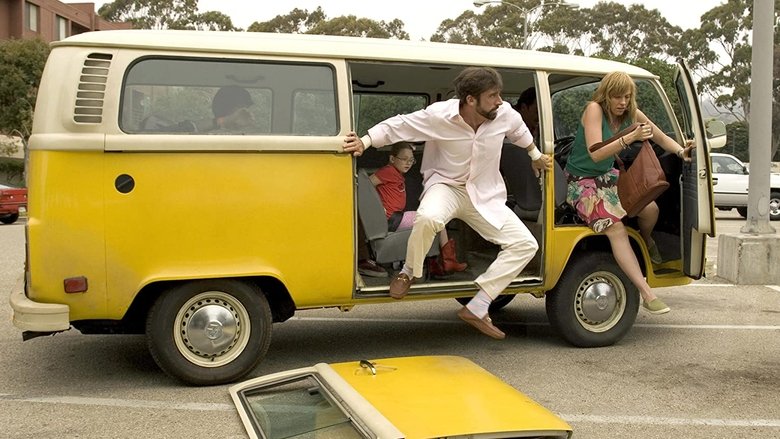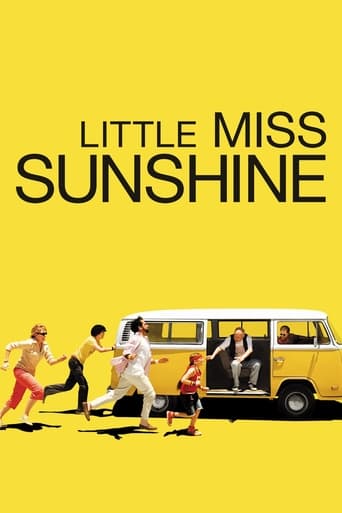 Little Miss Sunshine
July. 26,2006 R

Watch Now
A family loaded with quirky, colorful characters piles into an old van and road trips to California for little Olive to compete in a beauty pageant.
Reviews
Memorable, crazy movie
... more
Excellent but underrated film
... more
By the time the dramatic fireworks start popping off, each one feels earned.
... more
When this movie came out I saw the reviews, heard the hype, knew it was nominated for top awards and just didn't see the reason for it. It didn't interest me anymore than Juno and I still have not watched that. Probably never will. I do wish I had continued to listen to my intuition, but this movie is on my shelf, having been given to me as a gift somewhere along the way and I happened to see a trailer for it here last night as I was looking at something else, so I thought, what the heck. Maybe. What was I thinking? Definitely not. This movie did not leave me feeling good. It left me actually feeling repulsed and a bit like I needed a shower. There is not much I can say nice about this movie. I'll try. I don't know the young man who played Dwayne (or was it Duane), but I love every other single actor in the movie. They are all wonderfully talented. How anyone could manage to put them together and come away with a movie so jaw-droppingly bad is beyond me. I actually enjoyed Duane's little bit in the movie a bit, but it was only a tiny piece almost unrelated to the story and it wasn't much of a story at all. There isn't much more to say that is nice, unfortunately and other critics have said it all. The jokes are lame and stolen from other shows. The end routine is not funny, it is stomach turning. I was rooting for the horrible lady to shut it down. The grandfather was disgusting and I am far from a prude - but seriously, you left that man alone with your seven year old when he talked like that in front of you with her present? How do you think a man like that talked when the parents weren't in the room? I love Steve Carell, even though I despise his trite sitcom, The Office, (see note) but he had absolutely nothing to work with here. His story was trite and 'Jonah and the Whale tale' unbelievable. Toni Colette probably does ditzy lady better than any comedienne in the business since Carol Burnet retired, but you have got to give her something to work with and though Greg Kinnear's comedic chops are far inferior, he does make a good straight man when he has a good partner. But, again, you have to have an actual script to work with and a director with some respect for the actors he/she is directing. Obviously these actors had neither. A couple of other things: If I have to watch them push that van one more time I think I'll barf. We get it. Enough already. Not funny the first time . But neither was stealing grandpa's body, the cop not noticing it, or six dozen other stupid jokes. And for heaven's sake, you are driving through some of the most beautiful country on earth and all you show is gas stations and asphalt? The cinematography is atrocious. Especially the little girl make up in the end. Yes they wear too much make up. Not that much. Enough rehash of what all this movies critics have already said more eloquently than I can. I hated the movie. I felt bad for Abigail who is a doll. Next time my gut says don't bother; I resolve to remember to listen, even over a decade later. If you've never made the mistake of watching this- Don't. Note: Don't read anything into my not liking The Office. It's just me. I haven't liked a sitcom since Mash except Will and Grace and Third Rock and I only kind of liked both of them. I didn't like W&G well enough to tune back in to the reboot...
... more
Before I watched the movie, I had hear a lot of good things about it so I was really looking forward to watching it. However, it was very difficult for me to watch it until the end. The story line was pretty easy to predict and tediously slow. There was nothing in particular in the movie that was outstanding or interesting. It wasn't particularly attractive visually, nor very humorous or touching.But still there were some unexpected parts that could be entertaining or touching after you think about it again. The characters were all very distinct and familiar in real life, and the few darkly comical scenes made me smirk. Also, the acting was great, and I was especially impressed by Paul Dano's acting. Overall, it wasn't a bad movie, but I wouldn't necessarily watch it twice.
... more
I just realized that three of my favorite films ever (Eternal Sunshine of the Spotless Mind, Broken Flowers and this one) come from a three-year period. And I've been watching movies since the 1960s. You would think 2004/2006 was a golden period in the history of movies -yet I feel there was a whole lot of crap too, these three were just jewels in the mud.LMS is, in many ways, like many other indie movies. Characters are dysfunctional, weird, losers -in other words, ordinary humans. There is a lot of comedy, some drama, and some variable material that can make you laugh or cry depending on your mood. Family members hate, ignore and sometimes tolerate each other. And then comes the unlikely, improbable, crazy happy ending -one that must have seemed so ridiculous in words, in a script, that I am amazed a crew of directors, actors and producers made it into a movie, no matter how indie minded they were.And yet it is believable in a way a group embrace and a chorus of tearful "I love you!" would not be. It is screw-it-all liberating, something that rarely ever comes out that neatly in real life. But it is heart warming as very few other movie endings, yet crazier than most. If the standard Hollywood recipe for losers-turned-winners is just silly, and the most common indie "it is what it is" finale is typically bleak though believable, this one broke the mold. In a good (great!) way.
... more
The Hoover family is having problems, and the word "dysfunctional" is woefully inadequate. Mom Sheryl is trying to hold it together, but her brother has just been released into her care following a depression- suicide attempt, son Dwayne hasn't spoken to anyone for a year as part of some teenage nonsense, Grandpa Edwin is an irascible old devil who is a poor example to his grandchildren, and Dad Richard delivers poorly-attended self-improvement seminars (which he then also inflicts on his family) for a company which is just about to fire him. And youngest daughter Olive has, unlikely as it may seem (because she is not especially talented or beautiful), obtained a place in the final of the Little Miss Sunshine beauty pageant. So, obviously, a road trip is on the cards. What could possibly go wrong? The set-up hardly seems ripe for comedy development, yet this character-driven drama is often very funny. It is also frequently very moving (sometimes to the extent that you're in tears) and delivers a very clear message - just because you're dysfunctional doesn't mean you don't love one another.The first-rate cast are all excellent in this well-written, well-acted ensemble piece. It frequently goes in unexpected directions, and is perhaps a little swearier than it needs to be but, ultimately, it leaves you uplifted and with a sense of hope.
... more