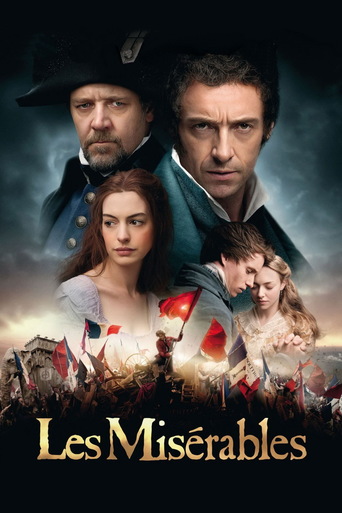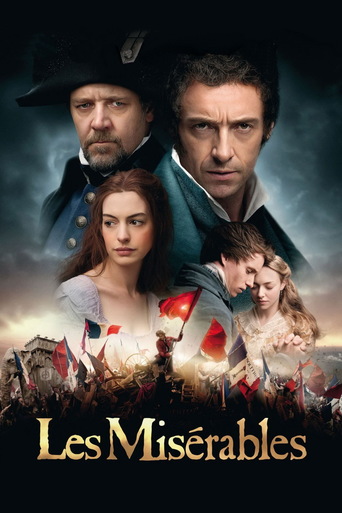 Les Misérables
December. 18,2012 PG-13
An adaptation of the successful stage musical based on Victor Hugo's classic novel set in 19th-century France, in which a paroled prisoner named Jean Valjean seeks redemption.
Reviews
I don't why no one told me about this movie. I love movies with a beautiful cinematography and this is one of them. So I had a spontaneous experience. I had no idea they would be singing. It sounded ridiculous for a few seconds but then I understood the tone, and there's so much energy in this movie I wanted to behead some kings then. The music is just awesome. It's still in my head. It's really powerful, because it's enhanced by a really clever staging. The first scene with the boy is a pure joy. I was surprised to see all these actors I knew singing perfectly well. The cast is unbelievable - Hugh Jackman, Russell Crowe, Eddie Redmayne, Anne Hataway...and my favorite, Helena Bonham Carter which is incredible in its grotesque character, you can tell the same king of vilainy from her character Bellatrix in Harry Potter. There is a lot of astounding scenes, and Bellatrix and his husband stealing choregraphy is one of them. It's not about choosing popular actors though. I think they perfectly fit the story and the tone, especially Jackman and Carter. Redmayne choice is kind of weird, because he's really soft, as a leader of Revolution, but maybe that's the point ? Anyway, this movie is so ambitious, the staging is epic, like the cortege scenes in exterior. Interesting cinematography because a lot of wide angles lenses were used, even in some dialogs and close-ups, to enhance the grotesque of French poverty, diseases, and mischief that emerges from the hobble life conditions. But the higher class takes its toll too, thanks to the Revolution and the powerful songs. Everything is described with a harsh eye. And yet it's aesthetically neat and enjoyable. My only cons: I don't like the theatrical tone much, especially when everyone wants to die for no reason. Dying from love ? I just don't buy it. The most ridiculous death is Crowe suiciding because...being in debt of a thief ? Come on. It lasts more than 2 hours but I wish there were more. I recommend.
... more
The idea of a story being told by people singing to each other is rather silly on the surface, but it can work amazingly well with beautiful/soulful or catchy music and an engaging story. I watched Les Miserables mostly on the strength of the reviews and found it perfectly awful. The story was so so, the acting was blah, and the singing was cringworthy. Producers of musicals tend to cast singers who can also act to some degree because a "musical" mostly relies on the music. Here we have decent actors who can't sing and consequently seem out of their comfort zone in the acting department as well . Listening to them struggle thru their various songs was more tortuous than watching the terrible injustices their characters were living out in the story. I've seen high school musicals with more impressive talent and with a far more engaging production. A sympathetic 5 out 10 stars for this waste of 2 hours.
... more
The story is a powerful one, but I don't want to share any spoilers here, so I won't. If you're unfamiliar with the plot, I suggest you google it (or watch the movie).I found singing on the set rather than using a sound studio and dubbing it in made the movie more like a "live performance". Hugh Jackman and Anne Hathaway deliver tremendous performances. The music is inspiring, and the choreography is very good.
... more
Victor Hugo's 1862 novel "Les Misérables" (which means "the wretched ones" in English) is one of the most famous French novels of all time. I haven't read the novel, but I've seen the 1998 and 2012 movie adaptations. The 1998 movie, starring Liam Neeson and Geoffrey Rush, is a direct adaptation of Hugo's novel (and is a good movie). The 2012 movie is based on Alain Boublil's and Claude-Michel Schönberg's musical adaptation of the novel. While I've never seen the stage version, I can say that this is a good movie, detailing protagonist Jean Valjean's redemption as the dogged Inspector Javert pursues him over the course of several years.While I'm not usually into musicals, this one does a fine job connecting Valjean's life to the political turmoil that dominated France in the early 1800s. Indeed, Valjean spent years in jail merely for stealing a loaf of bread to feed his sister's children (showing the hardship that most people in France faced at the time). It was understandable why the revolutionary zeal that brought down Louis and Marie Antoinette stayed alive for decades afterwards.I wouldn't call the movie a masterpiece, but I think that they accomplished something with it. Very well done. It stars Hugh Jackman, Russell Crowe, Anne Hathaway, Amanda Seyfried, Sacha Baron Cohen, Helena Bonham Carter and Eddie Redmayne. Put another way, it stars Wolverine, Gladiator, Catwoman, Linda Lovelace, Borat, Bellatrix LeStrange and Stephen Hawking.
... more
AD