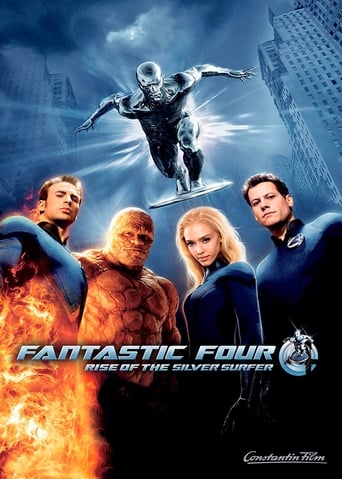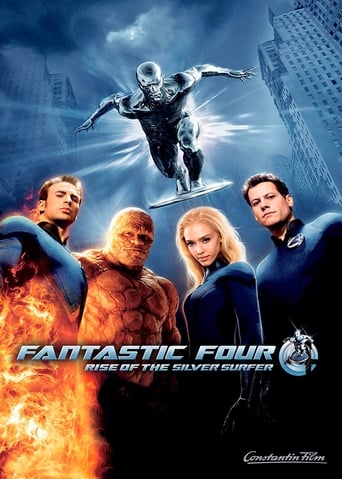 Fantastic Four: Rise of the Silver Surfer
June. 13,2007 PG-13
AD:This title is currently not available on Prime Video
The Fantastic Four return to the big screen as a new and all powerful enemy threatens the Earth. The seemingly unstoppable 'Silver Surfer', but all is not what it seems and there are old and new enemies that pose a greater threat than the intrepid superheroes realize.
Reviews
Good movie, but best of all time? Hardly . . .
... more
Actress is magnificent and exudes a hypnotic screen presence in this affecting drama.
... more
I don't even need to talk about anything that happens in the first half, because it's all dumb, boring, and visually looks really bad. The second half is where I wanted to lose hope in humanity.Around the start of the last half of the movie, they begin to tease Galactus. If you've never read a comic with him in it or never even played Marvel Vs Capcom 3, you probably don't know who that is. In essence, he's a giant man in a blue and purple suit under a big goofy purple helmet. He was once known as Galan in a universe before the prime one in the comics. He somehow survived the death of said Universe and was merged with an entity known as the Sentience of the Multiverse to become Galactus, the Devourer of Worlds, the Monster of All Worlds, The Hunger That Does Not Cease, etc. He's quite possibly my favorite villain in the entire Marvel franchise. You can't even kill him by conventional means. He can only be defeated by using The Ultimate Nullifier, and even then he manages to live on anyways. You can negotiate with him to become his Herald in exchange for your planet's safety, but you literally don't have an afterlife if you do so. And what Galactus hungers for, he takes without question. If your planet is the one he's after, your basically screwed. He's the final boss in Marvel Vs Capcom 3's arcade mode (and UMVC3), and while they did screw up his AI to the point where he's too easy, he still has some of the best lines and one of the best music tracks in the entire game. "You dare pit your mystic arts against the Power Cosmic? ARROGANT FOOL!" -Galactus. I'm just gonna copy and paste a link for the music at the bottom of this review so you can understand what we're dealing with here. Just listening to it without any knowledge of his actual design gives off a menacing vibe. Better still, you can actually play as him in all his glory in Ultimate Marvel Vs Capcom 3! And it might be one of the most fun experiences you'll have in a while. Giant lasers, screen wide punch attacks, one-hit-kills, it's so much fun! God I love that game. Please purchase it! You will not be let down, unlike with this movie.So you can imagine my disappointment and rage when, in this garbage film, he's just a cloud of smoke.That's literally it. He's just a cloud of smoke. They tease his helmet in a scene where he goes over Saturn, and his helmet looks pretty okay. Then he actually arrives at Earth. There's no indication that he even has a helmet. There's no indication that he's even a he. He's just a cloud of "cosmic" vapor. And it kind of looks like a hand when it looms closer to the Earth. I don't- I DON'T KNOW! This is possibly the worst redesign a movie has ever given a villain. At least in Doctor Strange, Dormammu may look really bad compared to his actual comic book design, but they made up for that by having one of the coolest sequences in any movie, maybe ever!Botched design aside, whatever. Galactus is on Earth, and unless Reed Richards over here wants to give up his afterlife then Earth is about to be torn apart. Get ready for really cool destruction!...Oh wait, that didn't happen either.Literally all that happens in the climax where the cloud of smoke draws near is just that; the cloud of smoke draws near, the sky darkens... and that's it. No destruction, nothing cool, just a waste of time. And as Doctor Doom is fighting a powered-up version of The Human Torch, Silver Surfer flies up to stop him. Hah! What an idiot! He's already given up so much, and now he's trying to kill the unkillable!Oh. It actually worked. He literally threw his Silver Surfer brand Surfboard into the "Heart of Galactus" and blew up. Then Galactus went bye-bye. Wow. Just... wow.Please don't watch this movie. I don't even have anything else to say. I just... I just really want there to be an actually good version of Galactus in some movie soon. Read up on his history, I'll provide the link. Please do your research on the greatest Marvel villain of all time, and stay far away from this film.https://www.youtube.com/watch?v=glT8P09WC3Ihttp://marvel.wikia.com/wiki/Galactus_(Earth-616)
... more
First off, I don't like most comic book movies as they don't translate to movies well and far too much is changed. And, that will probably never change so I am now criticizing them on a curve.Two of the biggest flaws in this movie and the previous one, are the portrayal of Dr. Doom and the dialogue. Doom is played like a bad spin on Gordon Gecko and not the terrifying crazed armored scientist. And the sophomoric comic book dialogue doesn't mix very well with the "real world" look of the heroes. This makes for some cringe worthy moments like when this Doom is being chased by the FF and he yells "Let's go a spin!" right before he puts them in a whirlwind.The Surfer is somewhat acceptable and Galactus, IMO, should have either not been included or played exactly as he is in the comics. In short, the movie was mediocre. The effects kept it from being panned even worse.
... more
The Fantastic Four learn that they aren't the only super-powered beings in the universe when they square off against the powerful Silver Surfer and the planet-eating Galactus. Fantastic Four: Rise of the Silver Surfer might not be the greatest Marvel film of all time but for sure it's way better than the reboot which was boring and killed the F4 once and for all. Chris Evans, Jessica Alba, Ioan Gruffudd and Michael Chiklis return as the Fantastic 4 once again and they are all great in their roles as for Julian McMahon as Dr. Doom? So far he is the best Doom we got and that says a lot he also looks like Doom and not a kryptonite robot and i loved Silver Surfer with this whole shiny metal that he is covered with and he rides his board and he becomes cool in less than 2 seconds he is played by Doug Jones and voiced by Laurence Fishburne. Now the problems with this film is easily Galactus himself cause instead of a giant purple/blue guy we get a cloud and it makes no sense, also the film has some pretty laughable cgi mostly upon Mr. Fantastic and it doesn't have a lot of action as it should but overall it's a nice pop corn movie that it does it's job well unlike the remake 8/10.
... more
Perhaps the dopiest supervillain or superhero depending on the point in the film in the Marvel universe is the ridiculous Silver Surfer. Literally he's a spaceman on a surfboard. One imagines Stan Lee struggling with a looming deadline ahead of a beach vacation and just rolling with whatever the first idea that came to mind. Given a whole movie around this loser concept, the film had an institutional upper limit on quality. Not that it worked hard to overcome the Silver Surfer handicap. The film growns under the weight of extensive product placement for some reason mostly around mediocre products most notably Dodge motor cars (one imagines the Fantastic Four quickly tired of going to the dealer to solve minor quality hiccups with their Dodge Fantasticar). It also struggles with Chris Evans and Michael Chilkris clearly feeling upstaged by their more talented, attractive and necessary members of the foursome so much so they spend a distracting amount of the movie breaking the fourth wall. While o plot, characters, acting and advertising all come in sub optimal, it would be remiss to not notice the smaller, inferior details. Why did Costume Design just recycle the one-piece blue and black unitards from "Stark Treak Next Generation". More importantly, did women have to take the whole thing off in order to pee? The Silver Surfer most remains unresponsive to the hero's questions but he does answer some queries particularly around his romantic interest back home. Does he just not understand the heroes or is it that he finds their dialog not worth of responding to much like most of the audience feels about the script? The film poses many questions, the most of important of which is whether you can get some of your ticket price back. In short, keep in mind that Marvel produces so many superheroes that most won't be that good.
... more