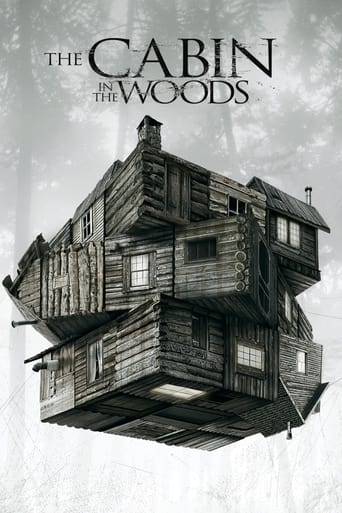 Five friends go for a break at a remote cabin, where they get more than they bargained for, discovering the truth behind the cabin in the woods.
Reviews
Overrated and overhyped
... more
All of these films share one commonality, that being a kind of emotional center that humanizes a cast of monsters.
... more
It's sentimental, ridiculously long and only occasionally funny
... more
A terrific literary drama and character piece that shows how the process of creating art can be seen differently by those doing it and those looking at it from the outside.
... more
I see a lot of hate in these reviews which is, in my opinion, out of place. Sure, the movie isn't a masterpiece, but I think a lot of people don't see this as it is. It's a mix of satire, spoof and homage to all the horrormovies (and their clichés) we've been served since the beginning of cinema. And in that, the movie doesn't take itself serious, just as an 'original' horror movie mustn't be taken serious. So watch this as a fun, entertaining homage with all the cliches of those movies we all know. And in that, they did a fine job.
... more
I think my title says it all. It is a marvellous story about some teenagers, going on a vacation in the woods. It beautifully builds suspense from the opening scene to the bloody twist.No annoying jump-scares, that are just meant to be jump-scares, to build suspense for no reason, but really great direction with a good story as a basis.As a horror genre lover, I really enjoyed the twist from, having a great time with friends, to monsters killing everyone in just a stupid quick death way.There was some blood and I enjoyed it... I said to myself: "well-done guys, well done..."And then ****spoiler****the stoned guy comes back and ruins the movie. I mean, it just went downhill from there. OK, there was this amazing "show all monsters that ever existed" scene, and kill everyone in a big blood-bath. But they just kept explaining the plot. Nothing seemed believable after that.And the ending... OMG... just doesn't make any sense. This is their explanation: "Every attempt in every country in the world failed, to give a sacrifice to the almighty old ruler of the world, so you have to kill that boy, so he won't destroy the world"NO WORDSIn summary: "Could have been a great movie, but just didn't care for the ending".
... more
Being frightened is a peculiar emotion. I'm sure there are hundreds of psychological and philosophical theories and papers out there dealing with this subject. We could say that "scary" is generally a negative adjective, but you can't argue with the thrill we feel in situations as such, be it a ghost story, a roller-coaster ride or even witnessing a car crash. Horror movies, I guess, are one of the safest ways of experiences these emotions. There are different methods of going about making a successful horror movie, successful in the sense that they manage to effectively scare the audience and please them at the same time.This movie has the "scary" part hands down, the beginning of the movie is a mix of calm scenarios intersected by sudden scenes changes, usually accompanied by music. I guess its a good setup, and they managed to glue my eyes to the screen. But as the story unfolds, it becomes more and more idiotic, with the last scene completely destroying any chance the movie had of being even remotely thought-provoking.If you're interested in the horror genre, I'm sure you can find much better options.
... more
It is supposed to be a parody but it is not funny. It is supposed to be a horror and it is not scary. It is supposed to be a fantasy.. well i guess that is the only part they got right. It looks more like a copy cat than a parody. Many effects are cheesy. Acting is not the worst but it's close. It is a complete disaster.
... more