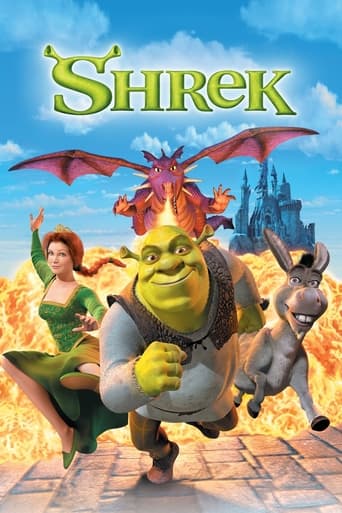 It ain't easy bein' green -- especially if you're a likable (albeit smelly) ogre named Shrek. On a mission to retrieve a gorgeous princess from the clutches of a fire-breathing dragon, Shrek teams up with an unlikely compatriot -- a wisecracking donkey.
Reviews
It's not bad or unwatchable but despite the amplitude of the spectacle, the end result is underwhelming.
... more
Great example of an old-fashioned, pure-at-heart escapist event movie that doesn't pretend to be anything that it's not and has boat loads of fun being its own ludicrous self.
... more
It is neither dumb nor smart enough to be fun, and spends way too much time with its boring human characters.
... more
I remember seeing this in the theater when I was in high school. My friend suggested we go, I was hesitant, but we were laughing throughout the entire movie! I love how many hidden jokes there are for adults to enjoy while watching with younger kids. I now watch this with my own kids and remember the fun we had watching it for the first time in the theaters all those years ago.
... more
Shrek (2001) is a fantastic, awesome, excellent and amazing movie. I love the writing of the movie. I adored and love this movie. I love the characters, the pop culture songs, the computer animation, the scenes and the comedy. This movie has great voice acting, hilarious pop culture references, an outstanding music score. I love the settings and character relationships with Shrek, Donkey and Princess Fiona which is believable and convincing. I love the main characters Shrek, Donkey and Princess Fiona. Lord Farquad makes a great, hilarious villian but not really much to do. I loved Fairy Tale characters such as Gingy, Pinocchio, The Three Little Pigs, The Big Bad Wolf, and The Three Blind Mice but not a lot of screen time. Dragon was a fantastic character. And overall Shrek is a classic. 10/10.
... more
I saw this when I was 7 on TV and got it for my 8th birthday. I still love it today! This is one of Eddie Murphy's best films. ("I'm making waffles!") Some jokes are groaners but then I giggled and thought-okay, it's still funny. This also introduced me to the songs All-Star, Hallelujah, and I'm A Believer. There are also adult jokes that make the movie better as an adult . Note: There is some cursing like the D word and a$$. Enjoy and have fun!
... more
This movie is so gud cuz of the memes. It is extra crispy and shrek gave me some valuable life lessons. such as ogres being like onions, because they have layers.The characters are great and i especially enjoy the scene where shrek jumps into a onion-powered mech suit and punches a giant pepe while karate-chopping a t-rex into space. Great movie, 10/10.
... more