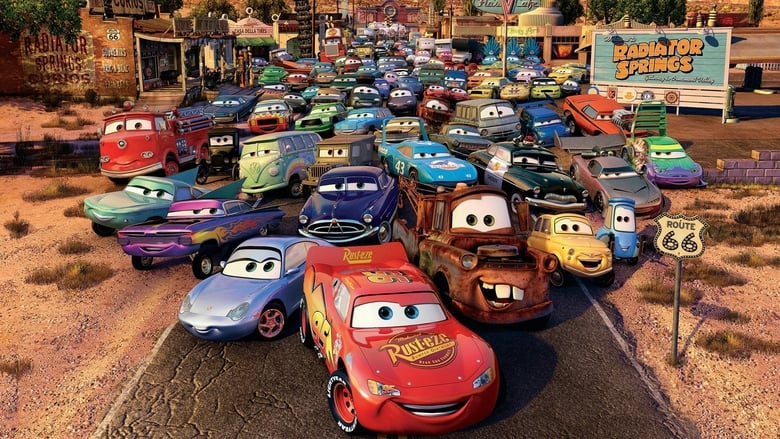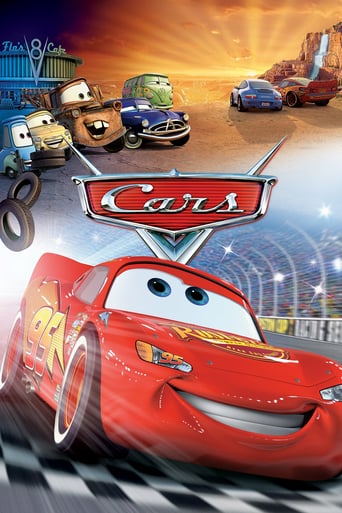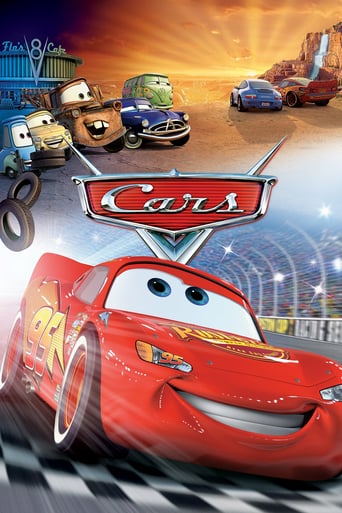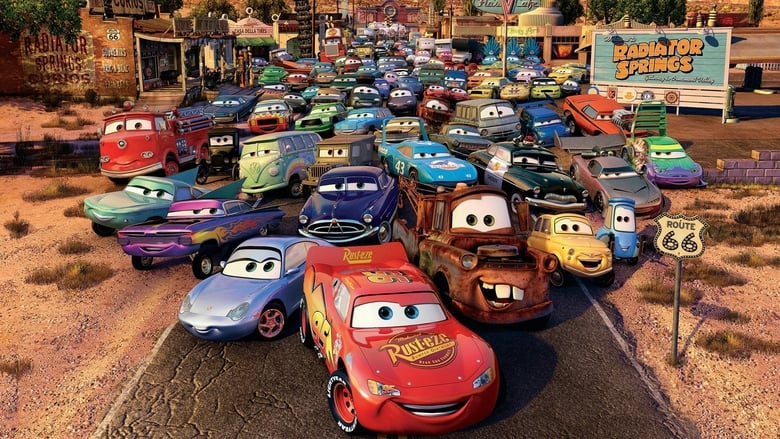 Cars
June. 08,2006 G
AD:This title is currently not available on Prime Video
Lightning McQueen, a hotshot rookie race car driven to succeed, discovers that life is about the journey, not the finish line, when he finds himself unexpectedly detoured in the sleepy Route 66 town of Radiator Springs. On route across the country to the big Piston Cup Championship in California to compete against two seasoned pros, McQueen gets to know the town's offbeat characters.
Reviews
I watched this movie very often when i was young. Very good humor (especially from Mater), characters voice actors and graphics. The story is ok but it dosen't matter, i still love this movie.
... more
This movie is a great foundation of what will surely be a successful saga in years to come!Dads will enjoy taking their kids to the nearest theater or living room to watch this one. In the first minute, we forget that they are animated cars and we can see them like real actors developing a story of speed(!), friendship, camaraderie and dare I say love?The 911 girl is a special touch for me as a Porsche enthusiast. And I can't help but laugh every time (Tow) Mater enters the room and steals the spotlight from Lightning McQueen. The movie every Dad wanted to see when they were their kid's age has to be a good one!10 out of 10 to a movie I enjoy 'revisiting' from time to time.
... more
Of all the films made about racing, or NASCAR in general, this is one of the best, if not the best. Even though it is animated, the story is incredibly moving and well paced. The actors who voice the cars, Paul Newman, Owen Wilson, Bonnie Hunt and Larry the Cable Guy do a spectacular job.The studio that created this film, PIXAR, has come long way. No one thought that films about Cars and Toys wold be this great, but they really are. In the eleven years since this films release, it is now a trilogy and one of the best franchises Disney has to offer.Paul Newman, having starred in this film, is a great parallel to his real life self being a racecar driver. And the film is a great parody/homage to Doc Hollywood, as it has been compared. Two major stars of this film have passed since its release, Paul Newman and George Carlin. However, they wrote Newman's character of Doc Hudson out of the sequels, but not Carlin's character of Fillmore. It is the start of a great trilogy!!
... more
Lightning McQueen is not stopping for anyone until he finds himself stuck in the old town of Radiator springs. McQueen talks Mack into driving through the night to his tiebreaker race with Chick Hicks and The King, in Los Angeles. On the way to car race, Mack who is holding lightning in the back falls asleep due to his lack of sleep, and the other cars around him playing lullaby's. The cars on the highway find it fun to push Mack back and forth over the rumble strips, that cause the button for the back trunk to open. Lightning is sleeping, and slowly drifts back off Mack and left in the dust. Shortly after Lightning awakens and is not able to find Mack again. Lightning McQueen is the fastest car around, and is very proud of what he has accomplished so far. This being said, he gassed it all around and even to a near trailer yard where Mack could have been sleeping. After he drove around, and found himself on a deserted highway to what it looked like. He approached a small town that had beaten and rusted radiator Springs sign. When Lightning first arrives in radiator Springs, he is arrogant, cocky, and overconfident. So confident that he believes that he can win the Piston Cup on his own without help from any pit crews or a coach. During his stay in the old run down town, he is not able to maintain his racing needs like practice, tire changes, car maintenance, and most of all the love of his fans. Lightning is not liked that much in the town because he treats some of the cars as if they are unequal to him. Although Lightning is not the most interested in the town, he learns new things in the town, and grows a stronger and greater heart. The sheriff whose name was Doc, makes lightning redo the roads for the town and the people for what he has put them through. Lighting does not want any part. He is certain that he would never do such a thing. Although he is self-centered, he is a perfectionist and takes pride in what he does. Therefore his work ethic and pride gives him the strength to repave the road to perfection. After he had accomplished that, the town people started to appreciate lighting. It was because of his actions that the others started to respect him enough to thank him. After he has wondered into the sheriff's garage, he sees that he had won many races himself, Doc was a Six-time Turismo Carretera champion. Not long after, Lighting and the sheriff have a lot in common, and Doc ends up helping lightning understand the roads, and gives his old knowledge to Lightning. A key lesson in the movie was when Doc taught McQueen to turn on dirt. McQueen could not perfect it, and Doc knew how to exceptionally well. This was the first time Lighting was listening to someone else and learning. This opens his mind to how much better he could be as a racer if he had people to learn from. He also finds a car that he likes who lives in the town whose name is Sally. Lightning learns new things and improves his racing abilities by going to the worn down town filled with the great cars of Radiator Springs. Lighting had created a negative to positive relationship with the town, that the town shop Rust-ESE repainted him and gave him a new look just in time for the Piston Cup. Lighting also find himself with a coach, and a Pit team at his next race. Lightning couldn't be any happier, and it was because of his personal attitude that life was so jolly. He also meets one of his bests friends in the town Matter. Matter is a tow truck who is not the brightest, but has a good attitude, and is stoked on life. He does not seem like a huge factor to the story, but Mater is the friend that Lighting can go to for anything, especially when he needed him to tow him out of the mud.McQueen and Mater create a best friend relationship because they are the complete opposites, but both want to have fun.
... more