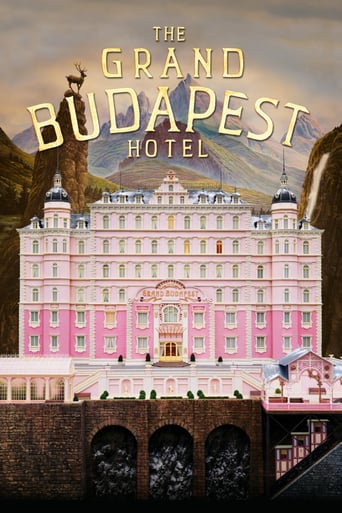 The Grand Budapest Hotel tells of a legendary concierge at a famous European hotel between the wars and his friendship with a young employee who becomes his trusted protégé. The story involves the theft and recovery of a priceless Renaissance painting, the battle for an enormous family fortune and the slow and then sudden upheavals that transformed Europe during the first half of the 20th century.
Reviews
At first rather annoying in its heavy emphasis on reenactments, this movie ultimately proves fascinating, simply because the complicated, highly dramatic tale it tells still almost defies belief.
... more
This is a coming of age storyline that you've seen in one form or another for decades. It takes a truly unique voice to make yet another one worth watching.
... more
Although I seem to have had higher expectations than I thought, the movie is super entertaining.
... more
The film may be flawed, but its message is not.
... more
This show is amazing. The acting is superb, the plot is convulated, absurd but captivating. The film is also filled with humour, sometimes dark. Wes Anderson really did a good job.
... more
This is simply another marvelously crafted piece, specifically the 8th, by auteur Wes Anderson, whose artistic flavor and ability manifest in its meticulously arranged camerawork and grandiose sets, the rich nature of the soundtrack, and the gliding pace, given even more vitality by the performances of a straight-up stupendous cast. The combined presentation is phenomenal, I'll argue. From the opening shot, all attention is placed on the scenery, a motley of color and positively baroque environments. From the floridity of the Grand Budapest Hotel to the brutalist nature of the prison, there's intense mise en scène all around; Wes Anderson did incrediblely well to build a world, boxy yet vast. All of this is well-framed under the lucid camerawork, a sort of hovering betta delicately absorbing both the most penitent scenes and most beautiful scenery at once as it follows the cast throughout, as they indulge in their eccentricity and plots, to the tune of the balalaika-heavy soundtrack, which can range from bubblingly mellow to bubblingly anxious. The acting is mostly underplayed but by no means diluted; the humor and general dialogue is executed in a natural yet purposeful cadence, coupled with fluid motion. I've had a couple of chortles watching, and was heavily invested throughout. I honestly can't recommend this enough. Now, issues some might have: The plot acts only as a vehicle for all other facets of the film itself, and by extension the characters may come across as superficial. I honestly don't view this as a defect; I figured the intention was to impress the audience with an absurd caper and enjoyed it greatly under that assumption. All the same, because of this, the film is sorta hit-or-miss, depending on what you're looking for or to resonate with. I suppose most of all Wes Anderson films are. Still, I recommend giving this a watch, if only to appreciate the style that penetrates this film immensely.
... more
I write a yearly book for listing 2000 of the best films of all time at Amazon. This film not only makes my top 2000, it makes my top 100, which is very difficult to do. And I do not usually give out tens for ratings as well. A ten represents a perfect film, which this is. Films like Cinema Paradiso, Lawrence of Arabia, Lost Horizon, and The Producers get 10s. This is a comedy as good as The Producers. The actors in this film really stay in character, and no one hams it up. Brody came close, but his role called for someone over the top. Everyone else was extremely professional and low-key. It's the best thing that Goldblum has ever done. And several of the cameos are absolutely first-rate. This is a film not to be missed by any serious filmgoer. Fiennes deserved an Oscar for this role.Dr. Arthur H Tafero Author: 2000 of the Best Films of All Time
... more
Every moment of this is fantastic. All of the characters have something special about themselves. Whether it's Dmitri and his gang who are quite frightening. Mr. Gustave who steals every scene he's in, or Zero who's awkwardness makes him a great suppor to Gustave and even better when he's on his own. They all come together to form one truly unforgettable and entertaining film that will be a classic in the years to come.
... more