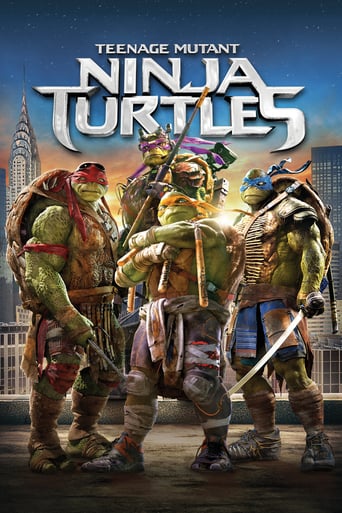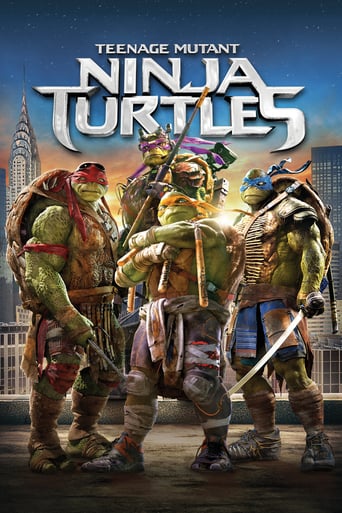 Teenage Mutant Ninja Turtles
August. 07,2014 PG-13
AD:This title is currently not available on Prime Video
The city needs heroes. Darkness has settled over New York City as Shredder and his evil Foot Clan have an iron grip on everything from the police to the politicians. The future is grim until four unlikely outcast brothers rise from the sewers and discover their destiny as Teenage Mutant Ninja Turtles. The Turtles must work with fearless reporter April and her wise-cracking cameraman Vern Fenwick to save the city and unravel Shredder's diabolical plan.
Reviews
I really enjoyed this movie despite it almost being ruined by Whoopi Goldberg's terrible acting. How does someone so awful keep getting cast in films. Thankfully her scenes are over quickly and Megan Fox performs wonderfully in one of her best roles thus far. The graphics of the turtles are amazing and definite eye candy.
... more
Im an old fan of TMNT.i dont know why there are so much bad reviews, this is awesome
... more
This film is absolutely disappointing in a lot of ways. It completely goes against what made the TMNT awesome. First things first, this film is really boring. And the reason for that is that the story is not only average at best, but it also drags on a lot. There's no where near enough action for this to be a true TMNT film. Or a decent one, at least. The acting is so- so as well. Megan Fox, while she is pretty good in some scenes, she doesn't come off as believable for the most part. I will be honest and say that the voice acting is pretty good. The CGI is pretty great as well. But other than that, this film is extremely dull and disappointing, and I honestly can't recommend this to anyone, as it will most likely not fill the expectations of viewers expecting a great, action packed TMNT film. This film will also most likely just make those who aren't fans of TMNT just wish the film was over sooner due to how dull and surprisingly not interesting this film is.
... more
Hands down, even many decades after their creation, everybody still knows and somewhat appreciates the "Teenage Mutant Ninja Turtles". That's why many, especially the fans I guess, must have been curious when they heart that the franchise is going to be rebooted in live action back two years ago. And this first film must have been successful enough as a sequel was greenlighted not much later. But in terms of quality, it is really far from enough unfortunately. The fact that I did not like the looks of the Turtles that much is purely subjective I guess, but the story just felt so generic, predictable and there is absolutely nothing individual to it I must say. And is this really a Turtles film? I must say I felt that it was really more "April O'Neill: The Movie". The reason for that may have been that they got Megan Fox to play the character and she is still quite a huge star, so probably demanded lots of screen time and a plot that revolves around her in order to say yes to this franchise. But apart from the fact that Fox is not a very talented actress, the story about her character also isn't effective at all. The plot about her dead father and with Fichtner's character responsible for the death feels so predictable and desperate to evoke emotions that it's almost cringeworthy. I think Fichtner is a fairly solid villain actor, even if he occasionally feels like a poor man's Christopher Walken, but he is still one of the better things about the film, even if he has very little to work with here. It is all about putting Fox in the spotlight, never about a good story.Now about the Turtles: I think that neither they, not Splinter and especially not Shredder fulfilled the great potential they had in terms of filmmaking perspective. Of course, it is quite a difficult challenge to construct a film about a life-sized rat and four life-sized turtles (especially with the joking around) as you have to give it the comedic approach at times. But here it did not ring true for the most part. The balance between comedy and moments where the film takes itself so seriously went pretty wrong most of the time. It is very shocking to see so many writers busy with the script here and the result is such a very weak outcome. About Will Arnett ("Arrested Development"), who is basically included for the human comic relief, the film intensified my opinion about him as an actor. His comedy can work in the right context and setting and some of his jokes work too, but most of the time you can feel the writes' desperate attempt at going for some cheap laughter. But what distracted me the most about him is the make-up and how they tried so hard to make him look 10 years younger than he actually is, so that we can accept him as a love interest for Fox' character. It's just another from a long list of oddities (in a negative sense) when it comes to this film. I saw the sequel received slightly better rating and reviews, but after seeing this one, I must say I have very little interest to check out movie number 2. The Turtles are a great challenge from a cinematic perspective, no doubt about it, and the people who made this movie here weren't up to it. I give these 100 minutes a thumbs-down. The title characters deserve much better. Not recommended.
... more