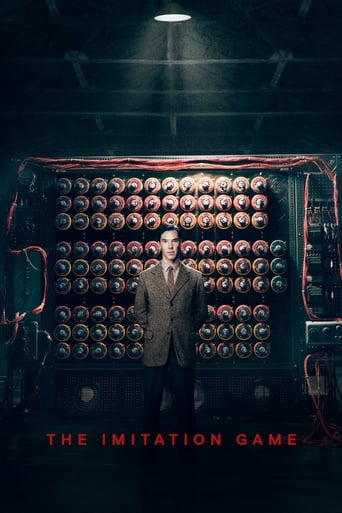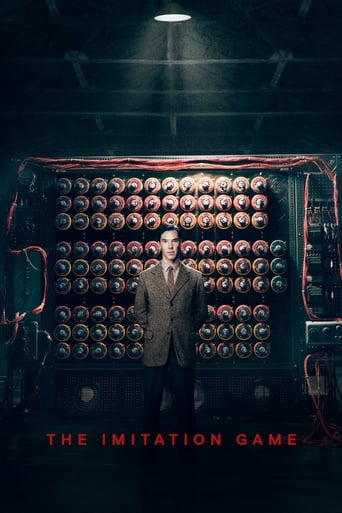 The Imitation Game
November. 14,2014 PG-13
Based on the real life story of legendary cryptanalyst Alan Turing, the film portrays the nail-biting race against time by Turing and his brilliant team of code-breakers at Britain's top-secret Government Code and Cypher School at Bletchley Park, during the darkest days of World War II.
Reviews
The acting in this film is intense and poignant and beautiful. This is a rare film that makes you want to cry out in anger at the injustice and at the same time revel in the wonder at the amazing feats that human brains are capable of. Any other year, Benedict would have been a shoe-in for the Oscar for best actor but to come up against Eddie Redmayne in his outstanding performance as Stephen Hawkings was just cruel timing. If ever there was a year for a tie for best actor this would have been that year. And this takes nothing from Kiera Knightley who is fantastic in the supporting role. She shows here true acting prowess in ensuring that the importance of Joan Clarke's role in the work at Bletchley Park, all to easily attributed to the men, is not diminished.Simply put; a must watch film.
... more
The movie is good and the performance is charming by Benedict that you feel he broke another Enigma which was Alan's character. The music is very good written and added to the value of the scenes. However the direction was average and the story really didn't present that historical incident well and focused more in Alan's sexuality. Also it was predictable and had no worries watching it knowing that it will happen and they will break the Enigma code and that was the challenge to make you doubt that it will happen and present the suffering and work done to achieve it and focusing on it's result and on the war too and it's effect on it. The characters were very full of stories and feelings that could have been used instead of having unnecessary scenes and focusing on how to present the smartness of Alan's mind not telling us he is a smart and has a different attitude than others and you know that it will work in the end. Also small Alan was different than the big one that I felt the small one was performing another Alan with a mental disorder.Also Keira's character wasn't powerful or had any difficult scenes to present her well. However the movie is full of good scenes with performance and music and irresistible to watch.
... more
The Imitation Game is a drama about the efforts of Alan Turing (Cumberbatch) to break the Enigma Code, which plays a significant role in ending WWII.The Imitation Game has the elements to be a boring drama, with standard cliches and some story elements that feel rushed. Turing is portrayed as an autistic person, unable to work with a team and unable to have social relations. So of course a big part of the story is how he creates a relation with his team and future (ex) wife. Needless to say there are elements of betrayal. Such as Turing ending his relationship because he is gay. Sarcificing soldiers in order to protect their decoding success. And of course the spy who leaks to the Russians. All these parts are rushed and don't add to the story, partially because of historical inaccuracies.The reason why that doesn't bother the movie, and why I still rate it an 8 is for the simple fact that Benedict Cumberbatch is nothing short of brilliant. Rarely have I seen anyone playing such complex emotion in a person who is unable to emotionally connect. Cumberbatch acts with his body language, words, voice, eyes, stutter, and with compelling silences. Cumberbatch, and Cumberbatch alone is the reason why the movie becomes compelling and interesting from the start to the end.
... more
The geek in me loved this film. This is a biography of Alan Turing (Benedict Cumberbatch), told with flashbacks. The film opens in 1951 where he has experienced a break-in. As the police investigate this man, we flashback to his work on cracking the Nazi code as well as his time as a student in 1928.The film brings out the genius and unusual character of Alan as he leads a team to build a machine to crack the Enigma code. Alan must keep all kinds of secrets, both personal and at a government level. It is estimated this man who received no recognition during his lifetime saved 14 million lives and shortened the war by two years.While I have heard the name Turing as the inventor of the modern computer during WWII, I had no notion about the man behind it.Guide: No f-bombs, sex, or nudity. Good geek film.
... more