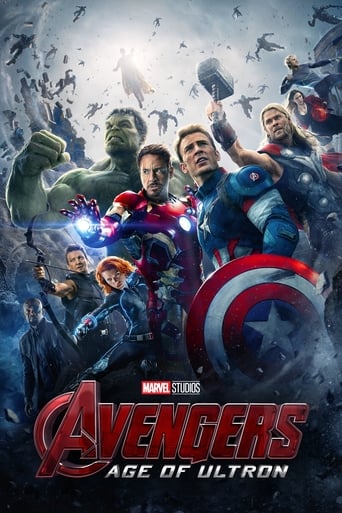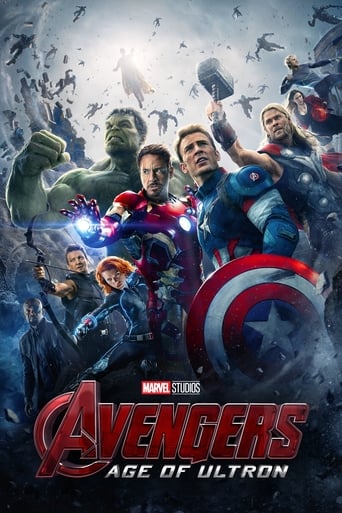 Avengers: Age of Ultron
April. 22,2015 PG-13
AD:This title is currently not available on Prime Video
When Tony Stark tries to jumpstart a dormant peacekeeping program, things go awry and Earth's Mightiest Heroes are put to the ultimate test as the fate of the planet hangs in the balance. As the villainous Ultron emerges, it is up to The Avengers to stop him from enacting his terrible plans, and soon uneasy alliances and unexpected action pave the way for an epic and unique global adventure.
Reviews
Must See Movie...
... more
If the ambition is to provide two hours of instantly forgettable, popcorn-munching escapism, it succeeds.
... more
It's the kind of movie you'll want to see a second time with someone who hasn't seen it yet, to remember what it was like to watch it for the first time.
... more
Following the events of The Winter Soldier, the Avengers infiltrate a Hydra facility where they come across twins who have superhuman powers. It starts off big, loud and over-the-top, complete with a slow-mo money shot of the team. Big opening scenes like this are usually a risk as they can make the rest of the film feel underwhelming. Thankfully that isn't the case here because it's filled with relentless action sequences throughout. A few standout moments include a penthouse surprise attack, an enraged Hulk destroying a city and a chase scene in Korea. Some of the action scenes have choppy editing but the majority are well shot where we can see what is going on. The plot centres around Tony Stark/Iron Man who creates AI robot Ultron. To disastrous results he becomes an evil version of Stark hellbent on destroying the world. Perhaps their hardest obstacle yet, he's intelligent and always one step ahead of them. He uses the super twins as his pawns whilst also using his own robotic army to wreak havoc on everyone else. James Spader steals the show, he is intimidating, creepy and often amusing. It's a little more grounded this time as the Avengers try their best not to cause any civilian casualties as they know it will only have repercussions. It also has a darker palette which makes it look better than the previous film which was very colourful and bright. The dark tone isn't for everyone but it works well within the story. There are some grim moments including one scene where they all get warped visions of their past. It's full of exciting action set pieces which take us to other places in the world rather than just the US. It's not without flaws though, there are a few new characters introduced which makes it feel overstuffed. It loses focus sometimes because there are so many subplots -Natasha suddenly has a crush on Bruce Banner, Clint/Hawkeye has a secret family and Stark learns nothing from his mistakes deciding to make another robot midway through. However one good thing about delving into Hawkeyes personal life (everyone's least favourite Avenger) isn't a bad move and makes us root for him. But there are just one too many character storylines which the film could have done without. The final showdown is great showing them working as a team to stop Ultron from destroying the world. But like most comic book films, it wraps things up too fast.
... more
Honestly i wanted ultron to be more than just a tony stark robot and act like an actual robot instead of the realistic animation ultron has, and the love relationship with banner and black widow just came out of nowhere with no development. So this one is the worst avenger movie out of the three. I love Marvel but this movie isn't good, not as bad as dark world though.
... more
Pure ,Unadulterated, and True vision of what superhero movies should be. The heroes come off the page so well in this second film featuring the Avengers. After the first one which was mostly introductory and formation, this film offers the Avengers in their prime and flourishing as a team. Because the cast is so big, each hero (and villain) gets adequate time to shine and really develop in this film. Especially Hulk and Black Widow. Ultron is a believable and entertaining villain upping the stakes as the film moves forward. Joss Whedon is here to stay, his direction and vision for the MCU is without a doubt unbeatable. Cinematography and SFX were flawless and the scene where each member of the Avengers attempt to pick up Thors hammer after a night of partying will stick in my memories for a long time. The plot really sets up well for future installations of upcoming Avenger members and the 3rd installment Infinity War. Not much more can be said about this movie to protect you from spoilers. Cinematography: 9/10 Production design: 8/10 Score: 9/10 Acting: 8/10 Screenplay: 8/10 Editing: 8/10 Sound and SFX:10/10
... more
This is REALLY good. Much better then the first. My one problem is that they killed off Quicksilver too quick.
... more