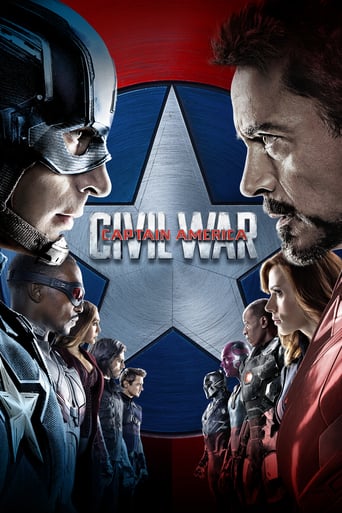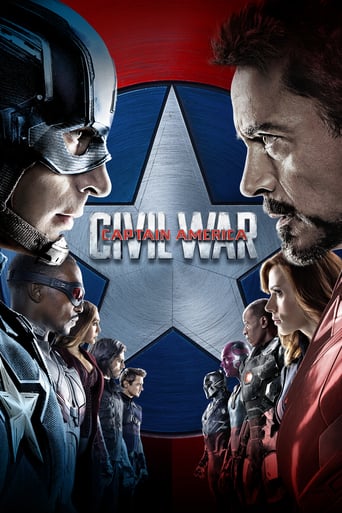 Captain America: Civil War
April. 27,2016 PG-13
AD:This title is currently not available on Prime Video
Following the events of Age of Ultron, the collective governments of the world pass an act designed to regulate all superhuman activity. This polarizes opinion amongst the Avengers, causing two factions to side with Iron Man or Captain America, which causes an epic battle between former allies.
Reviews
Collateral damage comes home to roost for the Avengers. Some agree to being controlled others do not. It's an interesting, topical story direction and it's a more mature and substantive picture for it. This time all the fighting sequences have a little more purpose, showing the dynamics of their abilities, and while the set pieces go on too long, they are impressive. One drawback is tension dwindles because we are not convince why these allies are opposing each other with lethal intent. Also, what the producers gain in satisfying its growing audience, those unaccustomed to the Marvel Universe films will feel its overstuffed with characters.
... more
...the underlying theme is the clash between American exceptionalism (we know best and we'll do what we want, when and where we want) and, on the other side, responsibility to the people and the rule of law, both nationally and internationally. And unfortunately the writers appear to have opted for the plot to make the former appear to be the correct attitude, in compliance with the US Republican Party agenda. I believe that is why so many people were profoundly disappointed with this film, despite the opportunity to see their favourite superheroes in action again. It actually started out on a positive note, reminding people that combating the bad guys should try to take into consideration the citizens they're there to protect and to avoid all the mayhem that has so far been written off as unfortunate collateral damage (too bad, sniff, tear). Remember how Hancock was told: you can't go around doing things like that! And the last time 'that' meant a city being dropped from a considerable height. Not only does that sort of thing cause serious loss of life - remember the role to 'protect humanity', not spin another sequel (if these films are to have any relevance to humanity beyond simple escapism) - but it also has other consequences, like sparking resentment and a desire for revenge. And that is ostensibly the subject of this exciting episode. But then there's that nasty subplot...
... more
With amazing, heart-pounding action sequences, an intriguing character-driven storyline and several fantastic character introductions, 'Captain America: Civil War' is definitely of the MCU's best and also one of the very best in the genre. This is largely due to the way in which its 'superhero' aspects come second to its 'thriller' ones, meaning that the film is about much more than CGI extravaganza. All of the action feels entirely grounded, despite the inclusion of various clearly ungrounded superpowers, and the focus on practical hand-to-hand combat makes the film feel much more palpable. The movie is also full of emotion, as we see characters that we have grown to love pushed to their limits and forced to do things that go against their 'hero' personas, which again adds a sense of weighty realism to the picture. It's a constantly enthralling political thriller, and a lot of fun that never drags, despite its 147 minute run-time. 9/10
... more
Most of the critical reviews are by fanboys. For the most part they're right about the silly premise. If you're in the business of saving the world/galaxy/universe, you are the competent governing authority philosophically, morally, legally. By what right can the UN claim authority? They have no mandate or competence to deal with such tasks. Many of their members are illegitimate or obsolete shells. The US isn't really a country anymore than the EU is. Feudalism 2.0 has landed in the West with both feet. With geography being much less important to the wielding of power than feudalism's first go round. Then we're treated to Vision's brilliant theory that since the number of heroes has increased that's responsible for the increase in super villains and ET invasions. Now you could have had realistic premise for an internecine conflict. The Avengers stage a false flag attack to raise money for their retirement. Ironically that's what this movie is really about anyway.
... more