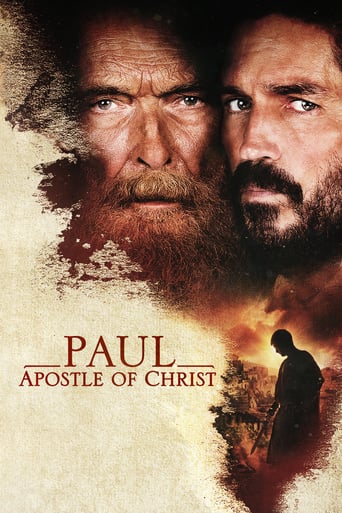 Paul, Apostle of Christ
March. 23,2018 PG-13

Watch Now
Risking his life, Luke ventures to Rome to visit Paul -- the apostle who's bound in chains and held captive in Nero's darkest and bleakest prison cell. Haunted by the shadows of his past misdeeds, Paul wonders if he's been forgotten as he awaits his grisly execution. Before Paul's death, Luke resolves to write another book that details the birth of what will come to be known as the church.
Reviews
Sadly Over-hyped
... more
As Good As It Gets
... more
Absolutely Fantastic
... more
Tells a fascinating and unsettling true story, and does so well, without pretending to have all the answers.
... more
The movie in short: Romans are bad, Christians are good. A movie that completely ignores the historical context, and is unfaithful to historical truth. Very boring pace and unremarkable screenplay.
... more
The movie was good and I liked it, as others said, it's a human based story and you are not just watching a christian movie. but the movie didn't show anything about Paul. because there is so many things wrong about this person. all you know that Paul was the first one who said Jesus is son of God and before him no one ever told that. Paul made many changes in Christianity that it was more on Jews will till Jesus will. those who read the history without prejudice name Paul, Paul the Lier. again I say, this movie did not show anything about lies Paul said and wrong changes he made in Christianity.
... more
For me, it was source of joy. first, for the presence of James Caviezel , giving a splendid Luke. for the courage to be more than expected Christian film. for realism. and for Paul by James Faulkner.for Joanne Walley and Olivier Martinez. and, sure, for cinematography. honest portrait of a period and comunity, it is the right film for understand the essence of Christian faith. and that did it special. for many reasons. first - for the emotion defining it. for dialogues. for characters. and for accuracy. a confession film.
... more
One of the problems with having a pastor as a parent is you have to sit through Christian films to keep them happy. 1st, this is not a historical film. There is no single shred of historical evidence to support any of the Christian faith. The entire new testament was written 50+ years after Jesus supposedly died by 2nd and 3rd hand writers. None of the writers were the original apostles albeit they had the same names... strange right? But they were not the original people and even the church will acknowledge it. So basically, everything in the new testament is hearsay.Anyway, the movie itself was a drag. Very slow paced and the writers obviously added blood and gore to try and keep the viewer awake. Too bad its the 21st century and such things in cinema are more common than cylindrical cups. It simply was not enough to hold my attention any more than nude women or pointless action in other films. My mom liked the movie but then again, any Christian propaganda is a-ok by her so I suppose if you are a Christian, you might enjoy this though I would invest in caffeine drinks before taking a seat.
... more